And One - Diary Of Dreams - IAMX - Apoptygma Berzerk - Rabia Sorda - Mono Inc. - Absolute Body Control - Solar Fake - Autodafeh - Burn
Schandmaul - Eisbrecher - Combichrist - Letzte Instanz - Assemblage 23 - A Life Divided - Reaper - Sono - Stahlmann - Blitzmaschine
[Psycho] This year's edition of BLACKFIELD FESTIVAL was kind of star-crossed. There's first to mention the billing: as for me too little surprises and/or exclusive acts. Seems I was not left alone with this opinion, the crowd was manageable.
[Dajana] In fact a lot of bands on this year's billing already played the BLACKFIELD FESTIVAL in the past, we can easily compare since we attended all festivals so far. Same bands play also the other festivals and events, all in a quite short period of time. The summer festival season… you know. So I once again have to state that also the Electro scene is big and rich enough of interesting and unique bands worth to be seen live on all these festival stages without repeating them year by year.
:: Live stories :: Saturday :: Sunday :: Pics :: Saturday :: Sunday ::
[Psycho] Another thing to notice were technical problems as during the set of Apoptygma Berzerk show or during the change-over to IAMX.
[Dajana] Technical problems? That's said way too lenient! Let's face it: stage tech and stage/sound procedures were the most unprofessional and half-assed I ever experienced at a festival! Really. Both days have been affected by mishaps, missteps, and misfortune. Micros failed, PA failed, instruments fell down… and no one cared. Stage crew? Negative report. Stage-techs? Negative report. Stage PA? Too often unfilled, despite bands playing. Much more, at this beastly weather the stage PA was left uncovered. Ergo, especially on Sunday we had to go through many sound problems, short-circuits and feedbacks thanks to a foundered PA. Sound generally left a lot to be desired. All in all… Sit down - that's a fail! Organizers should quickly search for another, professional company taking over these duties.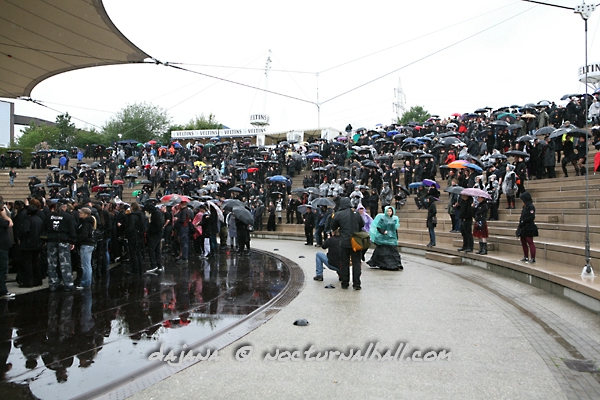 [Psycho] Apropos… beastly weather… it truly went on nerves. Totally. It was raining ALL day. Not that heavy but enough to feel permanently cold and damp. It happened that rain stopped first during Diary Of Dreams co-headlining show. But right after a choppy and cold wind came up… perfectly made for all these clammy people.
Despite of adverse circumstances there are still enough reasons to take the ride towards Gelsenkirchen. Beside the bands the location is just beautiful and perfectly made for such kind of festivals, the security is as nice and relaxed as possible and the markets at BLACKFIELD FESTIVAL are huge.
Though I think they should not leave their concept on the current level but continuously develop.