Not really back from Rock Hard Festival, not to mention being recovered, and off again to start my personal revival-concert-run. My first heroes of the 80's are METAL CHURCH (getting followed by Exodus and Armored Saint later this month). But to tell the truth, the time wasn't chosen that well, as there were many festivals over the Pentecost weekend and people rather like to recover back home than to head out again for such show. Second disadvantage: King Diamond played at the same time in the same town, more or less just around the corner, reducing possible audience. So I actually didn't wonder that there were just a handful of people roaming around when I arrived at Zeche Carl…
:: pics ::
:. GORILLA MONSOON ~ kicked off after traditional schedule-confusions in front of approx. 50 mates and delivered a 30-minutes set of finest, raunchily rocking Doom Metal. Most songs came from the band's debut album Damage King, released back in March that got critically acclaimed. Although most of the fans were here for 80's heroes with an average age of 35+, GORILLA MONSOON ("what spring chickens…") was warmly welcomed. These cats loved to play and did it with much enthusiasm, what got passed immediately on the audience. Just take Entombed, St. Vitus, a little bit of Kyuss and Crowbar and let it rock as hell. GREAT!!! It was really ass kicking! But how GORILLA MONSOON got this tour slot, that's cryptically to me…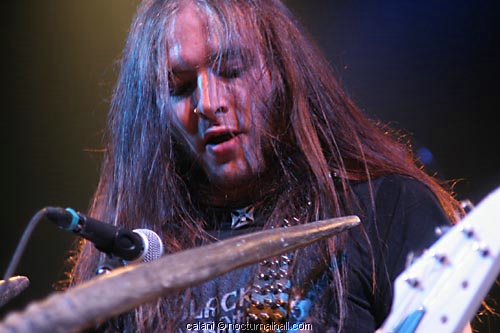 :. VICTORY ~ then heralded the revival feeling. VICTORY had its best days in middle/late 80's, getting together in 2003 with the original line-up for a special one-off-show (Night To Remember) at Wacken Open Air. This show went down so well, that the band decided to try it again, but with a new singer… they found in Jioti Parcharidis. That Greek-based guy has everything a frontman of a Glam/Hard'n'Heavy band needs working up the audience energetically. The band around founder Herman Frank was nothing short of him either. They are of course getting a bit long in the tooth but agile as always the doubled crowd knew how to honor. Most songs came from the come-back album Fuel To The Fire that are in fact re-recorded classics of the band. Two tracks I didn't know, so I guess that's brand new material ;) Since that is kind of music I grown up I couldn't elude… ;) Rock on!
Setlist: Take The Pace, Power, No Way, Backseat Rider, Standing Like A Rock, On The Loose, Temples Of Gold, Don't Tell No Lies, Chicks On Display, Check's In The Mail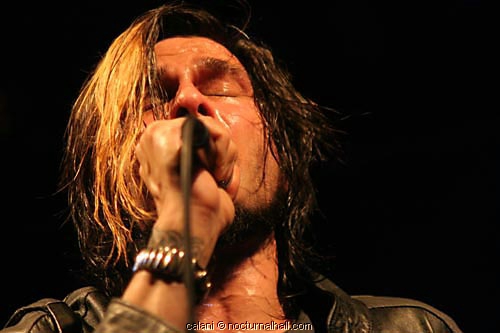 :. METAL CHURCH ~ needed an half hour to get their backline changed. That at least was good for the guys coming over from the Kind Diamond show that has found its end even earlier. With the title-track of the brand new album A Light In The Dark, unleashed next week, and three new band members METAL CHURCH got in, already followed by the classic Badlands. That made clear that fans were here to hear the classics from the first three albums Metal Church, The Dark and Blessing In Disguise. However, new singer Ronny Munroe surprisingly sounded especially at the old songs much like late singer David Wayne (RIP). Wow, that caused gooseflesh! Could a bit grittier maybe… Great show with a fantastic best-of setlist *wallowing in memories*… With Mirror Of Lies another brand new track got presented but two of them are not enough to get an impression what the new album will be about. Check it out next week I'd say ;) The last efforts anyway (Masterpiece and The Weight Of The World) were definitely not bad but couldn't reach old magic.
Setlist: A Light In The Dark, Badlands, Ton Of Bricks, Start The Fire, Leave 'Em behind, Watch The Children Pray, Mirror Of Lies, The Dark, Cradle To The Grave, Date With Poverty, Gods Of Wrath, Beyond The Black // Metal Church, Highway Star
To get an end: great show and a nice trip back to the past! A good thing after such exhausting festival weekend but though something completely different. The feedback was amazing making the bands giving their best.