To start into a new year without a KILLFEST isn't any promising. Too bad when the working schedule is so packed that you might be apt to give up. Hmm… no. No way! ;) It took some efforts, pains and fights, but at the end I got what I wanted and everything turned out fine :) YES!!! KILLFEST here I come.
:: pics ::
It was the very last show on the KILLFEST tour I caught up and which brought me to Enschede in Holland. Of course, not without a little bit of chaos… I tried my car to be a bus, the British style *laughs* Quick shock, but nothing bad happened. We arrived early at Atak, which was a good thing, since we got free parking close the venue. We went around the corner for a beer and then headed into the pleasure.
Well… that was the plan. Doors opened at 7:30pm, show was set to kick off at 8pm. I got in at 8, no prob, so I thought, I entered the hall and… witnessed the very last song of Belgian thrashers :: AFTER ALL :: The last song of their 20 minutes show. WTF??? Well… that was quick amusement.
Ok, leaving the hall again, taking a breath and ordering tokens for beer. First gulp and :: HEATHEN :: enter the stage. For only 20 minutes too. It's just enough for four songs, all taken from the band's new album The Evolution Of Chaos. I don't know why, but here I can sense out some bad temper within the band. Never mind, the show kills! HEATHEN just blow everything away, delivering an asskicking performance, worth to take the ride for them only. Very intensive 20 minutes, I tell you! So, and now please explain, why a Bay Area band gets send over the pond for only 20 minutes playing time???
Setlist: Dying Season, Control By Chaos, Arrows Of Agony, No Stone Unturned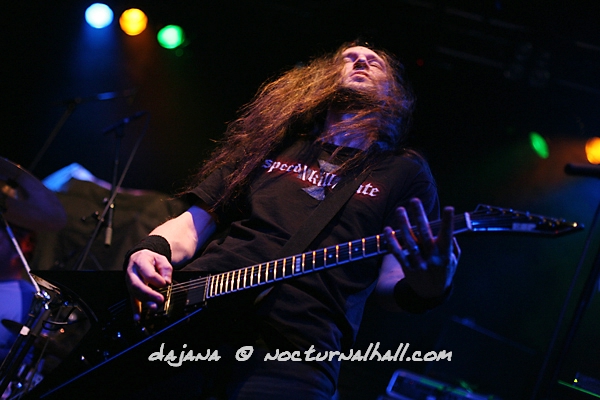 Another beer and German thrash legend :: DESTRUCTION :: More of bad temper and some sound problems that lead fronter Schmier to snub the sound guy in publicly. Bad behavior. As read later he seemingly did that at every show. I have no idea, was that a tour game? Star allures? However, DESTRUCTION don't reach level, energy and intensity of Heathen, although tracks like Thrash Till Death extremely kicked ass. Fans obviously like the performance, mosh and circle pits now got in full swing, while first crowd surfer plump like plums onto stage. Next step of aggression: the security seemed to be pissed off too and acted far in excess of their duties. Much in regret of people in the front rows, who didn't have any chance to get their arms up fast enough to save themselves.
Setlist: Curse The Gods, Mad Butcher, Armageddonizer, Tears Of Blood, Thrash Till Death, D.E.V.O.L.U.T.I.O.N., Bestial Invasion, Hate Is My Fuel, Nailed To The Cross, The Butcher Strikes Back
Short break and then the Atak turns into a… um… bloodbath! :: OVERKILL :: declare the Endless War and stake off the battlefield. I have to say, it wasn't any more than the standard program OVERKILL delivered, but again with so much dedication, power and energy, that's a hell of pleasure :) Also OVERKILL have sound problems but take it easy. Only the security gained brutality against the fans. In return, guitarist Derek Tailer bothered a security girl on stage ;) Fans were going wild, as usual, while the band played their asses off. Great action, great movement. And Bobby Blitz always leaves me stunned. The setlist is - as always - debatable. Many fans screamed sacrilege, because In Union We Stand was not played. Besides, no surprises, nothing special. I also expected some jokes and fooling on stage, because it was the very last day on tour. But… nothing happened. No gathering of all band members, no aftershow party, nothing. Just a short thank you for the tour crew. It was said, that the US bands had to catch their planes early next day… Too bad.
Setlist: The Green And Black, Rotten To The Core, Wrecking Crew, Infectious, Bring Me The Night, Bastard Nation, Hammerhead, Ironbound, Blood Money, Endless War, Hello From The Gutter, Give A Little, Necroshine, Old School // Deny The Cross, Elimination, Fuck You
All in all a nice evening though. I like the new Atak. There is just some bad habit I absolutely don't like. I actually find it totally stupid to give out bottles and duroplastic cups, which of course were thrown around and broke. Here the security did not pay any attention. And there were a lot of drunken kids going on the rampage. There was no photo pit, means, it was literally a killfest for me ;) And lights, well, you know. Luckily no one cared about the 3SNF rule. Audience was motley, many known faces and half were Germans ;)