Finally! The wolves are back and unleashed again. For quite some time silence covered THE VISION BLEAK. But it does not mean that its members twiddled their thumbs, not at all. Though it's great to see them playing live again. And perhaps… just because their latest record Set Sail To Mystery dates already back on April 2010, perhaps we get to hear something new, or at least just told.
:: pics ::
It's a sunny Saturday that brings me back to the venue called • Schacht1 • Some cool brewski and then the evening gets kicked off by :: AGRYPNIE :: who are actually the ones presenting new material. But first we get pleased with known tracks from the last full-length and the current EP Asche. AGRYPNIE can't do it any better than to get with Der Tote Trakt. In a twinkling of an eye and thoroughly a special atmosphere was created. Intensive and gooseflesh causing. Stirring! Time has come to play a brand new song entitled Sinnflut, but unfortunately a string on Martin's guitar breaks and, contrary to common habits, AGRYPNIE don't have other second guitars. It takes time and cause an unpleasant break but singer Torsten "Der Unhold" turns into Torsten the "stand-up comedian" and tries to save the day. Well done mate! Discordius ov Helrunar helps out with another guitar and finally AGRYPNIE can play Sinnflut. As it took too much time this song is already the last one. What a pity. This show was way too short. *sighs*
Setlist: Der tote Trakt, Augenblick, Morgen, Sinnflut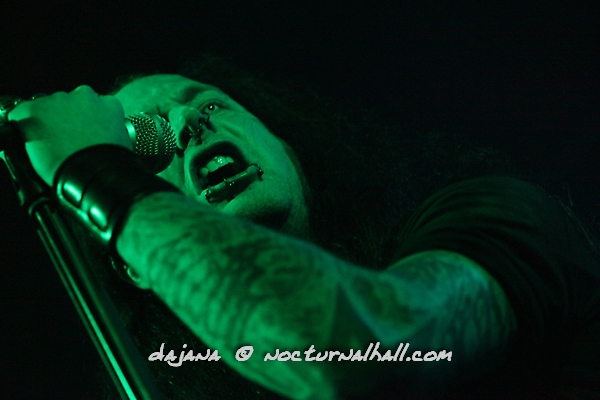 Next up is :: HELRUNAR :: and they don't have any difficulties to keep up the dark atmosphere. They can even intensify. The Black metallers mostly play songs from their current double album Sól, but go through their entire history. Singer Skald Draugir explains that he is lacking of activity due to a painful herniated disk, but guitarist Discordius and 4-stringer Samiel make up for that. Second guitar player Harcon gets lost in shadows and darkness. The grand finale comes with a classic: Älter Als Das Kreuz, a song perfectly made to sing-along. But the crowd is lame in this matter. Much more people spend their energy in almost frenetic applause at the end. Too fast this show is over too. Dammit!
Setlist: Kollapsar, Unten und im Norden, Unter dem Gletscher, Schwarzer Frost, Nebelspinne, Aschevolk, Ich bin die Leere, Älter als das Kreuz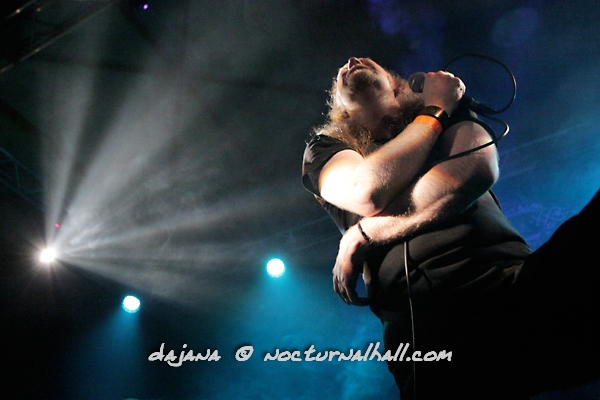 During the change-over the location empties dreadfully and I hope that all the people just went out for a cig. Hah… yes, they do. Would have been too bad for those as :: THE VISION BLEAK :: play such an awesome and rocking show again. I can hardly focus on my own job taking photos, I swing and sway and sing along. Can't help… THE VISION BLEAK have to face some sound problems, but they get solved quickly and don't do any harm to the show. They wolves also play through their entire history and it's easily to notice that the older songs are popular then the ones from Set Sail To Mystery. Just let me mention Kutulhu and Wolfmoon and the Deathship Symphony as first encore. No doubt, THE VISION BLEAK rock the house. They have a blast on stage and so the crowd has a blast too, leaving with happy faces ;)
Setlist: Intro, Descent Into Maelstrom, Night Of The Living Dead, Carpathia, The Black Pharaoh, Kutulhu, Wolfmoon, A Romance With The Grave, I Dined With The Swans, The Grand Devilry, By Our Brotherhood With Seth // Deathship Symphony, The Lone Night Rider
It was clear right from the beginning that this evening would be awesome. The billing speaks volume. Though it's great to get proved right ;) Okay, a last beer and many talks, time to drive home to catch an hour or two of sleep. Well… F**k, why did not nobody tell me about this fkg clock change? No sleep, but a lazy early shift on a Sunday morning… Hope to see you guys live on stage soon again!