And One - Anne Clark - Blutengel - Welle:Erdball - Ashbury Heights - End Of Green - Din [A] Tod - Zin
Skinny Puppy - Project Pitchfork - The Crüxshadows - Solitary Experiments - Faderhead - Destroid - Miss Construction
[Dajana] The AMPHI FESTIVAL got a new institution: the New Talent Special. Beside the "blockbuster line-up" the organizers made it to their business to find new and fresh talents and to expose them to a wider audience. Well, generally a good idea I really like to support, but here it got just half-hearted realized. If you really wanna give new bands a chance, why not one new band each day? Even better would be 2 opening newcomers each day. Instead we got the same bands from the last year's billing… *yawns*
:: pics ::
[Dajana] However, German act :: ZIN :: won the first competition, out of four, on the day before and opened the first festival day on the main stage. I was quite surprised and really liked their blend of Electronics and Alternative. Placebo obviously left a huge impact, especially on singer Iven Cole, who really sounds like the little brother of Brian Molko ;) But also a bit of IAMX was to sense out, especially when it came to the synth parts. Though ZIN have an own sound and an own attitude. They might sound a bit reserved, melancholically nonchalant on CD, but live the gents have a much gruffer approach and rocked the stage at this early time. Yeah, I think there's a bright future ahead for the band :)
Half of the songs came from the 2007 debut record Tourists To This World, the other half from the brand new album The Definition, set to be released in October 2010. Great band, great show to open a festival!
Setlist: 2010, HSH, Pilgrim, Kiss The World Goodbye, Symbiosis, Swim!, Tourists To This World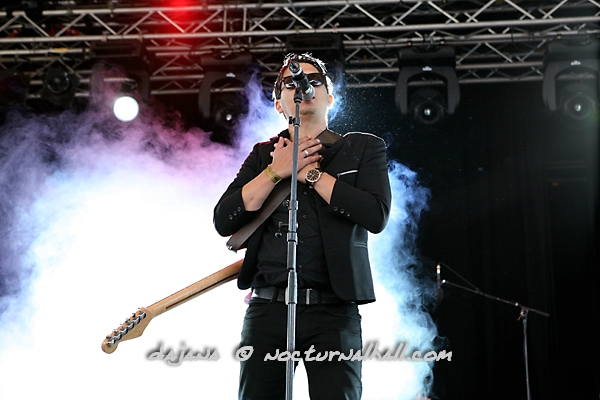 [Janine] The first day started for me in the Staatenhaus with :: MISS CONSTRUCTION :: The planning did not intend for the visitors to have any quiet start of the festival. Their show was absolutely a musical wake-up-call, which worked! The people woke up very early and pointed out their enthusiasm with clapping hands. If the Staatenhaus had been brighter, you surely have had seen shining eyes when MISS CONSTUCTION entered the stage – wearing nice costumes and with cool projector pic's. MISS CONSTRUCTION also understands how to entertain people - singer Gordon took time to talk to the people and give some extra-ordinary interludes. One example was the song Hass & Liebe, which was sung in a suspicious way. Yes, he got talent for acting as an actor – he also has got the mimic for that. In the Staatenhaus I saw many Cyber-Goths dancing (e.g. at Kunstprodukt - such an irony) - that fact would give you an impression of what the music sounds like.
Setlist: Slaughterhouse, Fuck You BITCH, Totes Fleisch, Hass & Liebe, Lunatic, Kunstprodukt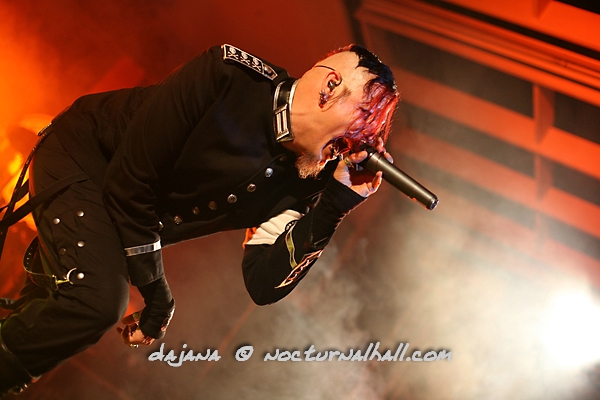 [Dajana] Next up on the main stage was :: DIN [A] TOD :: The Berlin-based duo first shocked with the outfit by sound wiz Sven, who actually appeared in shorts on stage, showing his hairy and pale stork-like legs. Female singer Claudia cut a much better figure, visually, but when it came to their live performance both pretty statically stood behind their keyboards. Their blend of Electro and Wave might be much danceable on the dance floors and perfect for your good-mood-home-entertainment but live on stage DIN [A] TOD remained just unspectacular. Out of sight, out of mind. Aside from these hairy legs…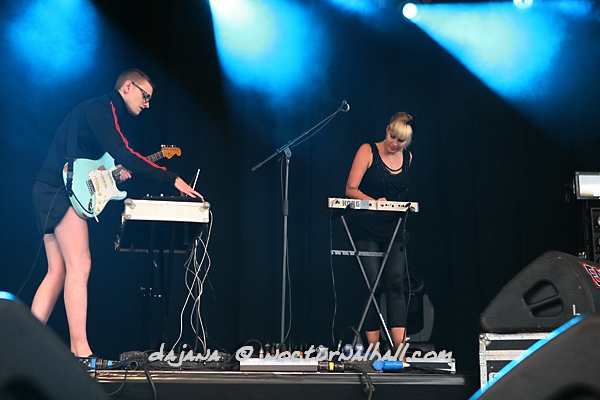 [Janine] I always love to see :: DESTROID :: and so it was this time again. I highly expected Daniel Myer entering the stage. While they did the sound check he joked with the audience, but then the show begun. After a long intro they finally broke the silence with the song Silent World – from the homonymous EP which DESTROID had released in February 2010. Daniel Myer screamed out the lyrics with a vehemence and power that was absolutely remarkable. Judgement Throne is one of my all-time DESTROID favorites I can't listen to often enough. That was the absolute highlight of this show and made everybody (at least these ones which surrounded me) overjoyed. This song always indicates a total explosion of emotions. At the last years Blackfield Festival they played only with computers, but at this year AMPHI FESTIVAL, Daniel is supported by two men, responsible for synthetic sounds. Even with live drums, which made DESTROID one of the highlights this day.
Setlist: Silent World, Friend Or Foe (The Betrayal), Revolution, Run And Hide, Mourn, Leaving Ground, Lucretia My Reflection, Judgement Throne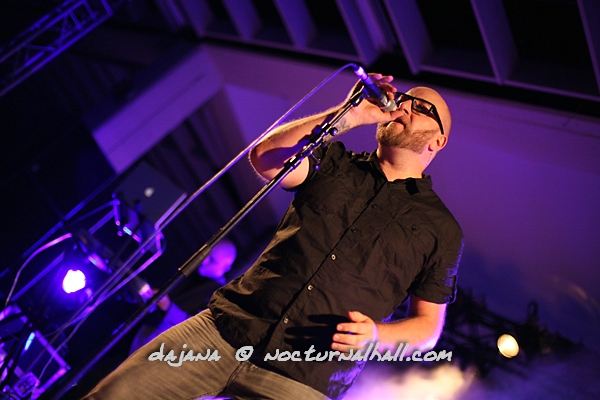 [Janine] The first time I saw them was in 2008 when :: END OF GREEN :: performed their Dark Rock music on a sunny afternoon at the Blackfield Festival in Gelsenkirchen. This time on AMPHI it was also a sunny afternoon – which is probably not the perfect setting for END OF GREEN's sound, which the band itself labels "Depressed Subcore". Well, this term wouldn't tell you too much about the music - just image a morbid mix of Gothic, Metal and Grunge. And I appreciated it a lot that with a band like END OF GREEN brought some variety to the festival's line up. I always love their songs like She's Wild or especially Drink Myself To Sleep. A lot of people obviously agreed. But in the back, where I stood, you saw only a few people dancing or head banging. By comparing the mood of the listeners, I can tell you that the performance of the crowd at the Blackfield Festival in 2008 was much better. What a pity because END OF GREEN proved that they know how to deliver a good show. But they performed as I already said in the early hours of the first festival day…
I had to leave, because I had another appointment at the Staatenhaus now. So I finally saw just 20 minutes of the set, but the songs I heard, are my personal favorites.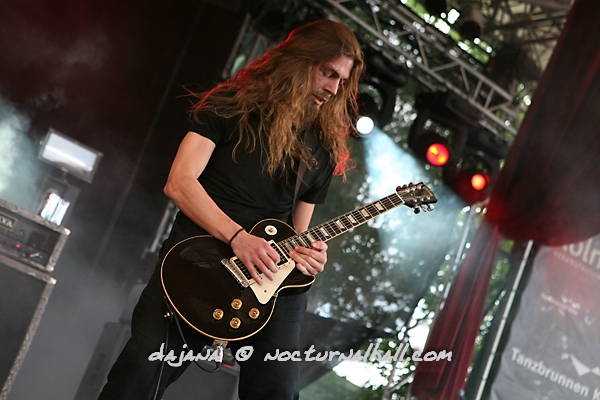 [Janine] Hard-hitting club tracks and balladry ones are remarkable for :: FADERHEAD :: But he's not one of my favorite artists so I didn't set high expectations… As better as otherwise, because he did a "remarkable" show - a bad one – in my opinion! But the crowd although had fun - especially Cyber-Goths! One of these less songs I like Horizon Born was sung in such a bad way, that I already wanted to leave… Maybe it was just the bad sound in the hall that gave me this opinion… maybe it was his miserable voice… His live crew was Alex Montana und Marco Visconti. Nevertheless - he rocked the stage and the reaction of the listeners was fantastic. There's no need for discussion, the crowd had fun!
Setlist: Girly Show, Acquire The Fire, Electrosluts Extraordinaire, Zigzag Machinery, Destroy Improve Rebuild, Horizon Born, Houston, O/H Scavenger, Dirtygrrrls/Dirtybois, TZDV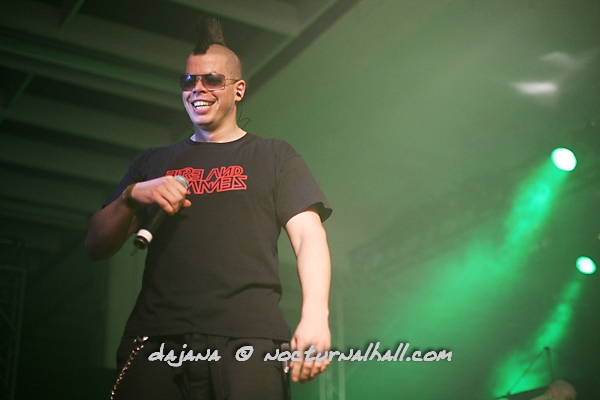 [Leo] After the change over :: ASHBURY HEIGHTS :: entered the stage in the afternoon and pleased the crowd with their set. After the first song they had some problems with their new equipment but after a short break the next track started and the show went on. The freshly sound, the pushing rhythms and the pleasing voices of the both singers which harmonized perfectly together enjoyed the crowd and infected the legs to move. The set ran about 50 minutes and presented songs out off the already released albums and very new stuff from the Origin release. The set finished with danceable Spiders when Kari - wearing some kind of Japanese Kimono - was even stealing the Cowboy hat from keyboarder Johan.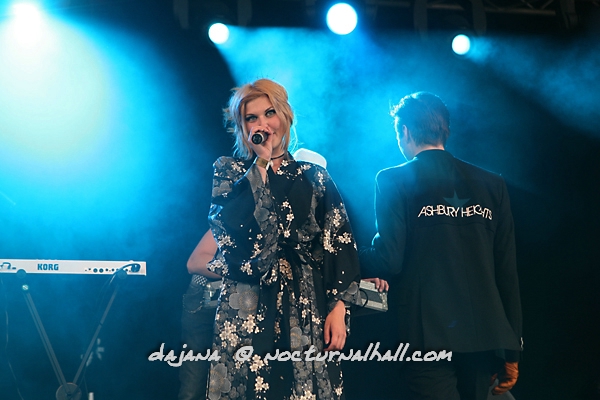 [Janine] I highly expected the show of :: SOLITARY EXPERIMENTS :: because I missed the chance to see them live, the announced show in Krefeld I was expected to attend was cancelled… Lots of fans of Berlin's Electro formation SOLITARY EXPERIMENTS took their places right in front of the stage to celebrate the band. The members were dressed as normal - in red shirts with black ties with the band logo. As they started the melodic Electro sound coupled with hard EBM tones went straight to the legs. The band delivered crackers like Delight or Homesick and a grandiose show. Especially Dennis' deep, memorable, not too raw voice was a pleasure for my ears. The catchy melodies and massive beats were going down well with the audience. Singer Dennis kept heating us up and animated to dance along. My fear – I always have, when I see one of my favorite bands live for the first time – they could disappoint with their live shows wasn't justified.
Setlist: Road To Horizon, Pale Candle Light, Immortal, Déjà vu, Delight, Seele Bricht, Point Of View, Rise And Fall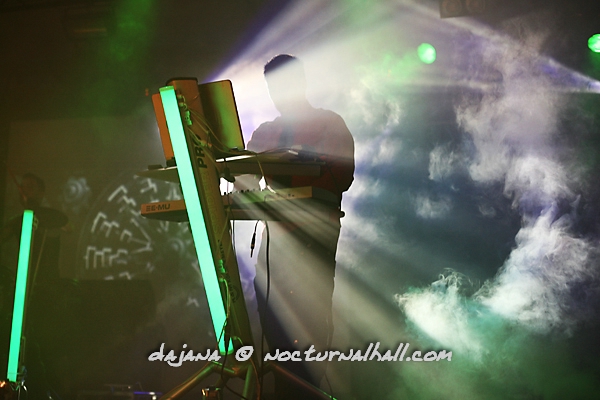 [Dajana] The next both bands - Funker Vogt and Nachtmahr - don't get reviewed on our magazine. First one for their right wing tendencies. No matter what singer Jens Kästel might say, if one has tattooed Nazi runes on his arms one disqualifies itself.
[Leo] After the next change over :: WELLE: ERDBALL :: entered the main stage and entertained the crowd with their funny show. The set was started by a cover version of Wir sind die Roboter (Kraftwerk), performed with a kind of slow motion dance performance by the both female band members before the both male band members completed the line up for the second song. Like usual WELLE: ERDBALL impressed with a crazy performance, the usual show elements of a WELLE: ERDBALL show like sparklers, balloons, paper planes or flying C64s didn't miss and the crowd was pleased by the show. Own songs like Schweben, Fliegen, Fallen, Ich bin aus Plastik or Starfighter F104G were alternated by some nice cover versions like Fred vom Jupiter and Es geht voran, highlighted by a cover version of Ein bisschen Frieden – the winner song of the Eurovision song contest 1982.
Setlist: Wir sind die Roboter, ?, Es geht ab, Fred vom Jupiter, Poupee De Cire, Es geht voran, Ein bisschen Frieden, Schweben, Fliegen, Fallen, Ich bin aus Plastik, Die falsche Front, 0173-1923954, Die Stunde: NULL, Monoton und Minimal, Starfighter F104G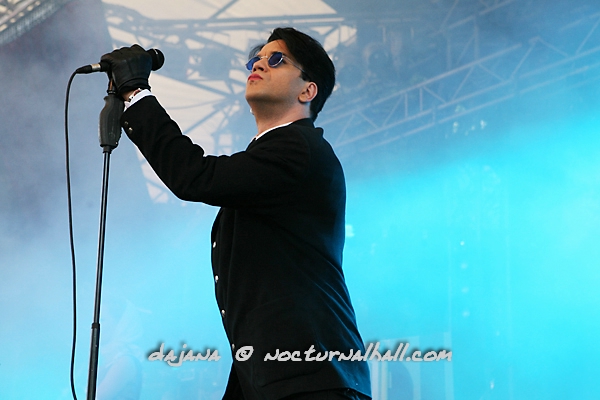 [Janine] Berlin Dark-pop band :: BLUTENGEL :: came up with their appearance at this year's AMPHI FESTIVAL with a special surprise. In collaboration with the Dance Theatre Of Quilla the Swiss choreographer Sarah Keusch with the dancers of Naway Dance Company transported the audience into a different world. Dance performances by world-class in a stunning combination of concert was really eye-catching!
With his side-project Miss Construction, Chris Pohl activated the people really early this day, and then with entering the stage with BLUTENGEL he reactivated the crowd. The stage decoration was sappy but got the expected attention. Many people shot pics; Chris joked on stage with their fans and distributed water. Constance wasn't on stage this time; many men waited for her and expressed their displeasure with shouting for her. But Chris and Ulrike played very well together and the dancer fitted totally to their style. It was an erotic show, with some "games". That's everything…
BLUTENGEL is a phenomenon in the Goth scene that actually isn't so phenomenal if you just take a closer look at it. It's a cavalry of clichés from death to suicide over fallen angels to Lucifer and on a related note. Why is it that BLUTENGEL enjoy such popularity in this scene, while other bands have to struggle? I saw them the first time and the next time I'll be better with using the time to have some drinks. Really, that's jut show…semi-good rating because of the good light show and the enthusiastic dancers!
[Dajana] Oh yes, the dancers were absolutely lovely, also the scenery and the wonderful background images (by Annie Bertram). Only that guy in the front went on nerves while always stepping into the picture… who the fucking hell was that? *lol* Ok, joking… One good thing I can Chris Pohl certify for: he has the right touch for his stage scenery.
Setlist: Behind The Mirror, The Oxidising Angel, Soul Of Ice, Winter Of My Life, Schneekönigin, Dreh dich nicht um, Vampire Romance, Soultaker, Bloody Pleasures, Love Killer, Engelsblut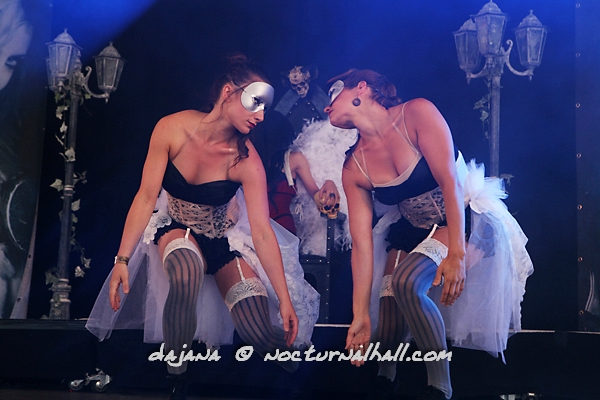 [Leo] The show was started by Quicksilver, followed by Immortal and right from the start the whole crowd was bewitched by the rousing and charismatic performance. The people were dancing and singing along and had a good time. Like usual :: THE CRÜXSHADOWS :: impressed with a fantastic stage performance and once again Rogue was climbing the stage and walking through the crowd.
Setlist: Quicksilver, Immortal, Solus, Sophia, Deception, Avalanche, Dragonfly, Winterborn, Happy Birthday, Marilyn, My Bitterness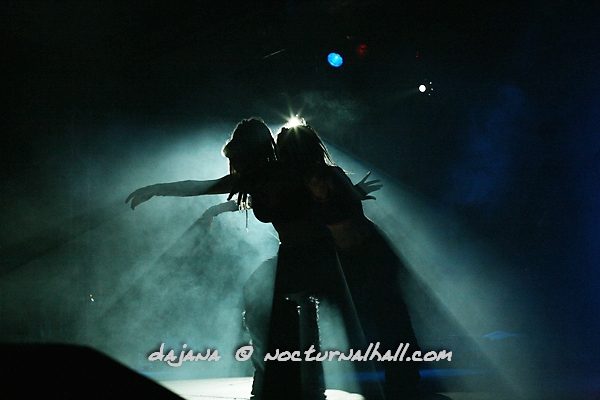 [Dajana] :: ANNE CLARK :: is without a doubt one of the heroes of the glorious 80's. And finally I could see her playing live. Unfortunately Anne got the full afternoon sun in her face, so she stood like nailed behind her micro, with closed eyes and spoke. Her voice is still so mesmerizing, so clear and expressive… just magical. And I liked that cello, which added such an emotional touch. I guess an ANNE CLARK show works best in a small and intimate club than on a huge open air stage on a sunny afternoon. Too bad I was again in a hurry due to overlapping stage times and could not experience the grandiose classics ANNE CLARK played at the end of her set :(
Setlist: The Third Meeting, Killing Time, Echoes Remain For Ever, Alarm Call, Short Story, The Healing, Waiting, Off Grid, Heaven, The Haunted Road, Size The Vivid Sky, Full Moon, Our Darkness, Abuse, Boy Racing, Sleeper In Metropolis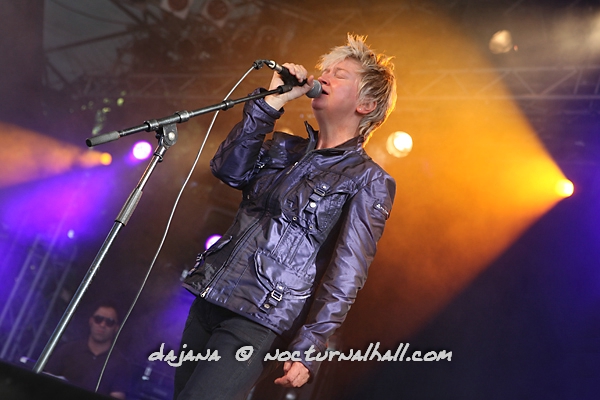 [Janine] Well, with this part of the festival I highly expected to hear some of the songs from their new album Continuum Ride, which is from my point of view absolutely fantastic. Finally I left this concert with just one performed song of this album - Endless Infinity… at least. Timekiller, an absolute anthem of the band, was played really badly, from my point of view. Generally I would say that this wasn't one of the good :: PROJECT PITCHFORK :: concerts, I've seen a "few" better performances of the band. The sound in the Staatenhaus was miserable, the show was not good, not bad, but the fans were really awesome and did a big party. I saw dancing people around me all the time and many exercising a rather little urge to move.
Setlist: God Wrote, Conjure, Timekiller, Endless Infinity, Carrion, Teardrop, I Live Your Dream, Mine, Darkness, Souls, Steelrose, I Am, Existence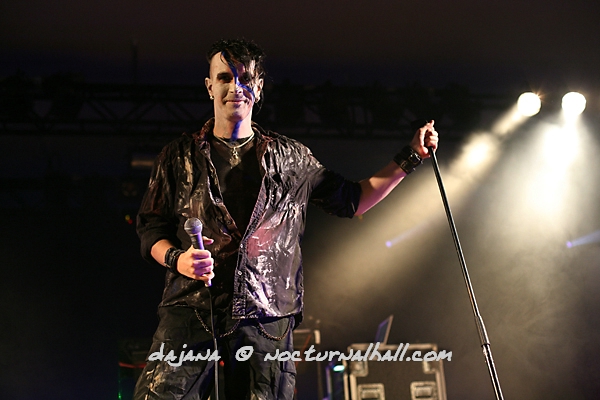 [Leo] Saturday evening, half past 8, the stage was ready for the headliner and hidden behind a red curtain, which was removed at the start of the show. In the centre of the stage a big "Y" (this letter is a synonym for the German army) was arranged and the keyboard racks too were formed like a "Y". The background of the stage was military painted and the band members were clothed in military outfits. Quickly the spirit went over to the crowd and the people celebrated a big party together with :: AND ONE :: The set list included beside a lot of own songs the AND ONE remix of Timekiller (Project Pitchfork) and cover versions of The Sun Always Shines On TV (a-ha) and The Walk (The Cure). For the pleasure of the fans Steve announced a new album, which will be called Tanzomat soon to be released. After about 80 minutes the show was finished by Für, an encore was not allowed because it was 10 o'clock and open air music after 10 was prohibited by the authority, wherefore Steve performed a part of Klaus as an acoustic version unplugged before they finally left the stage.
Setlist: Die Mitte, Deutschmaschine, Timekiller (And One Remix), Love To The End, High, The Sun Always Shines On TV, Traumfrau, Sometimes, The Walk, Schwarz, Over There, Steine Sind Steine, Body Nerv, Military Fashion Show, Get You Closer, Techno Man, Für
[Janine] :: SKINNY PUPPY :: once founded back in Canada, was great to be expected, since the Belgian Gothic Festival in Waregem a week earlier, which they have already cleared powerful, as I was told. The stage consists of a drum set, one hung with white sheets cage decorated as keyboards, a video screen and a number of beamers. The lighting system created a totally surreal atmosphere, the effect on the tissues and body of Ogre is absolutely intoxicating. A scary mask on the face, the head is a huge pointed hat, joined hands, and an equally veiled body as well as numerous blood stains. The outfit and the music made you feel like a horror movie or a bad nightmare. With Brap and Shore Lined Poison the audience was then released into the cool night in Cologne. What a crazy good show - it seems impossible.Their kind of music is nothing I prefer to, but it was definitely something for my eyes.
[Dajana] Aaaaahhh yes… SKINNY PUPPY. Finally, after 3 years I got to see them again :) And yes, this show was likewise grandiose! Different outfits and different stage scenery but the same kind of crazy show. Unfortunately lights and sound was pretty bad and did not give us the visual and aural pleasure we were longing for. But since SKINNY PUPPY is not touring that often I'm happy with what I get ;) And I could not stand still any second. Awesome show worth for a headliner of the first festival day. Loved it :)
Setlist: Love In Vein, Hatekill, Addiction, Dogshit, Deadlines, PolitikiL, Pedafly, Rodent, Tormentor, Pro-Test, Morpheus Laughing, Ugli, Assimilate, Worlock, Brap, Shore Lined Poison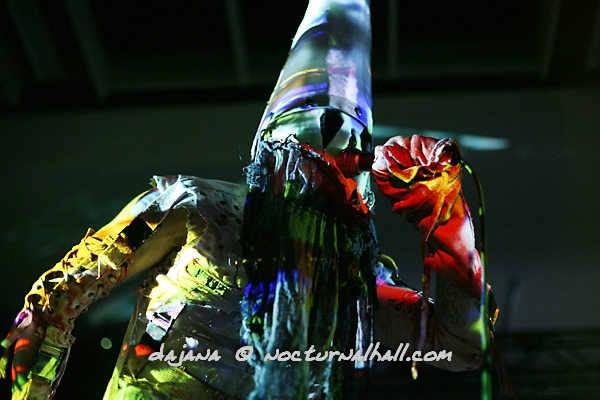 [Dajana] Ok, that was the first day of AMPHI FESTIVAL 2010. Exhausted the league of photographers met at the new VIP area for a few beers and nice talks. It took not a long time till we got swept out by the security. Back in the hotel we immediately started watching TV to learn that the rumors about the mass panic at the Love Parade were true with already 19 attendees confirmed dead…