My first ARCHIVE show in 2013 was kind of a revelation to me. I fell madly in love with the band and it didn't change since then. It took me four years to get another chance to see this exceptional London-based collective live again. And this happened just because their 2016 European Of The False Foundation Tour, I actually had to miss out, was so phenomenal successful that they added a second string of shows after the festival season in 2017. Consequently, most of the autumn shows were sold out too. So it happened to the :: Zeche :: Bochum and we had to face a cuddly evening. Not too bad, since it was quite cold outside and I was thankful for a heated location ;)
:: pics :: ONE SENTENCE. SUPERVISOR ::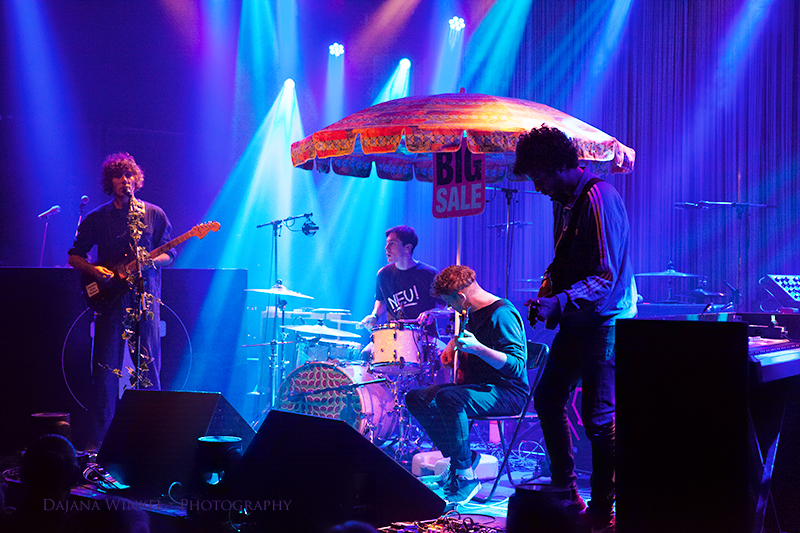 As the Zeche is known for, shows always start early, especially on a Saturday (disco/party night afterwards). Thankfully, they kicked off the show only a few minutes before the announced stage time. I've known it to happen differently, missing the first band although I arrived early. Anyway, support tonight came from Swiss band :: ONE SENTENCE. SUPERVISOR ::. Never heard of them before and they truly surprised. I would describe their music as an easygoing blend of psychedelic Indie Post Rock, OSS call it "temporary music", which is the title of their 2016 released sophomore Temporär Musik 1-13. Their music spreads strong 80s vibes, next to shimmering Post Rock guitars with much delay and a lot of vocal reverb. Drum and bass rhythms add a driving force that made people moving. Saw dancing people everywhere and even caught myself dancing. Such great music. Really. The stage was already packed with the equipment of the headliner and left only a tiny space for OSS. But they did their best and even brought a sunshade on stage, protecting the drummer and bass player ;)
Unfortunately, ONE SENTENCE. SUPERVISOR played only five songs, barely summing up to 30 minutes. Way, way too short! Highly recommended though! Check them out, listen to ONE SENTENCE. SUPERVISOR on bandcamp and buy their CDs! Seriously!
Setlist: Algo Rhythm, Hedera Helix, Live Jam, TBA, Yélena
:: pics :: ARCHIVE ::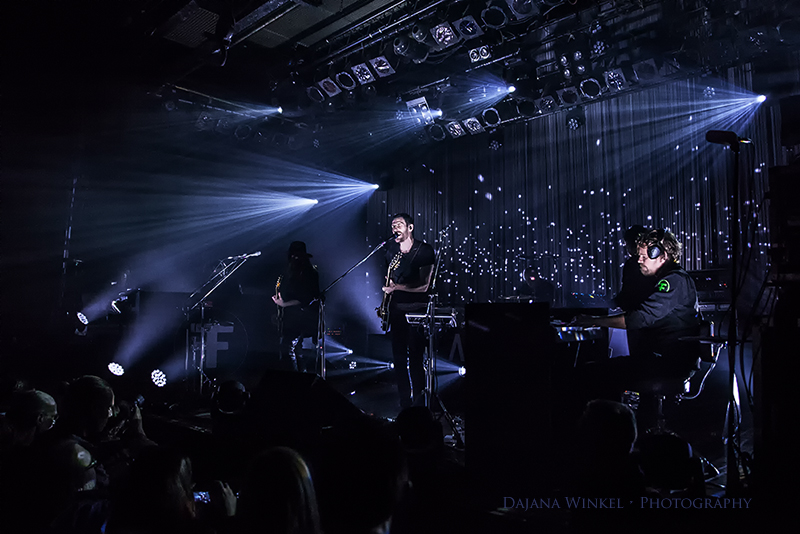 After a short break, sweetened with the music of Slowdive's self-titled comeback album, time has come for :: ARCHIVE :: to enter the stage at 8pm. Wow, this is really early for a headliner. The show was sold out, so it became really packed and crowed now, while the fresh air vanished and the first girl passed out.
ARCHIVE kicked off with Driving In Nails from their current effort The False Foundation, they played most of the songs from. They also fancied their Controlling Crowds double feature with four tracks and played many highlights from the previous records. Of course, every song was frenetically welcomed and sang along. The crowd either listened mesmerized and captivated or responded unleashed. Amazing atmosphere at the Zeche, I tell you.
ARCHIVE create such wonderful soundscapes, live interpreted differently, but always surprising with artful breaks and thrilling twists and turns yet never sounding overly progressive. And then the tracks unfold to a cinematic width, supported by an effective lightshow and visuals on the back. There was no female singing, means, Maria Q and Holly Martin didn't take part in this tour (they did not in 2013 either), so Dave Pen and Pollard Berrier had to run the show. And how they did… Awww ♥ You know… ;)
David Penney always reminds me a bit of Coldplay's Chris Martin. Dunno why. Darius Keeler was moving like a maniac behind his synths. I wouldn't wonder if he has muscle aches after every show. The rest of the band acted quite stoic and remained in the background. Well, there was still not enough space to go wild. After around an hour the ARCHIVE show came to a formal end with the rather quiet Blue Faces.
Unfortunately, there have been some twats that didn't want to silence their boozy gaggle what led to a brawl. The short break and the security put oil on troubled water and we all could enjoy three wonderful encore tracks.
Ah, this was for sure a stunning concert night. ARCHIVE were outstanding, once again, and ONE SENTENCE. SUPERVISOR a surprising support act. Light and breezy with a big smile on my face I left the Zeche towards home.
Setlist: Driving In Nails, Words On Signs, Stay Tribal, The False Foundation, Fuck U, Splinters, Sane, Bullets, Ride In Squares, The Feeling Of Losing Everything, Empty Bottle, Blue Faces // Bright Lights, Feel It, Numb