Schandmaul - Saltatio Mortis - Namnambulu - Gothminister - Feuerschwanz - Austerity Complex
VNV Nation - Front Line Assembly - Diary Of Dreams - The Beauty Of Gemina - Diorama - The Other - Torul - Slave Republic - Orange Sector - Terrolokaust
ASP - Fields Of The Nephilim - Anne Clark feat. herb - Megaherz - Haujobb - Heldmaschine - Tyske Ludder - Legend - Herzfeind - Formalin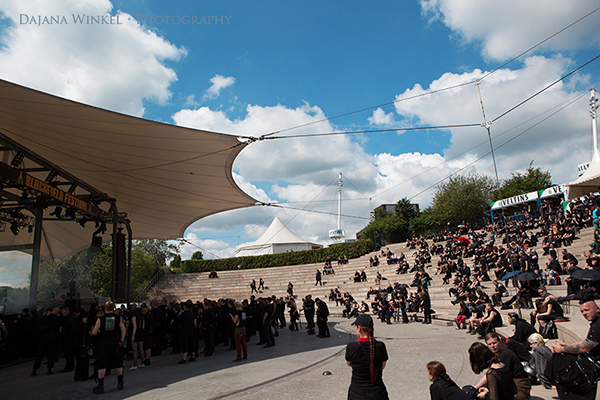 Two weeks after the extremely hot Rock Hard Festival the NOCTURNAL HALL makes a pilgrimage back to the lovely • Amphitheater • Gelsenkirchen. Itís about time to celebrate the black scene. Itís about time to visit the BLACKFIELD FESTIVAL. Unfortunately, there was only one day left to attend, the Saturday, which was the one with the best band selection, if you ask me. Ok, I would have loved to see Legend too, but well, you canít have it all.
:: Story :: Saturday :: Photos :: Saturday ::
As in all the years before, the BLACKFIELD FESTIVAL takes place during a special period of cold days in June (a specific German countryside phenomenon). Weather forecasts made us expect a cold and rainy festival weekend, and thatís what the Friday actually proved to be. But hey, someone thwarted those plans. The Saturday was surprisingly dry and sunny (Sunday too I think), so sunny that quite many people got sunburnt (me included). Talking about the billing organizers were reserved with repeating bands this year. Only 9 of the 20 bands have already played this fest (some of them now for the third time). In return, the World Cup took its toll. The Saturday had a German tournament, much noticeable during the FRONT LINE ASSEMBLY show, when many people left the arena towards the tent for a World Cup live broadcast. Generally the first couple of bands were poorly attended and the BLACKFIELD FESTIVAL not sold out on this Saturday.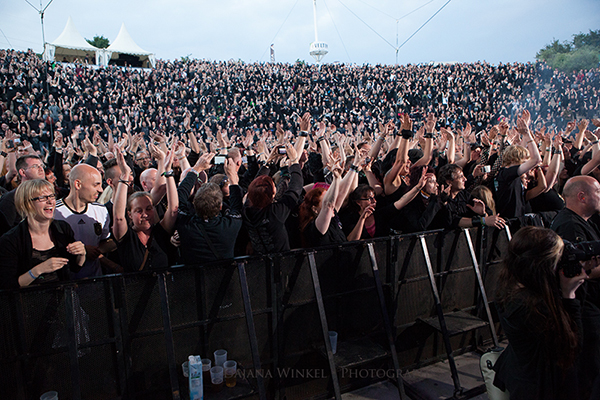 From an organizational point of view there was once again nothing to nag about. The shopping mile was huge, and so was the food/drinks offer. I wish some of the food-booths would be booked for the RHF too. And finally, the Goths and Electroheads had to pay the same for beer and water compared to the Rock Hard Festival (the other years beer and soft drinks were around 1 Euro more expensive). For it ticket prices have increased for average 3 Euros. I think, thatís ok, isnít it? Parking fees at Nordstern were more expensive during the BLACKFIELD FESTIVAL compared to the RHF two weeks ago (1.50 Euro more). For everybodyís safety once again • CCS • took lovely care. Thanks guys, you are truly wonderful :)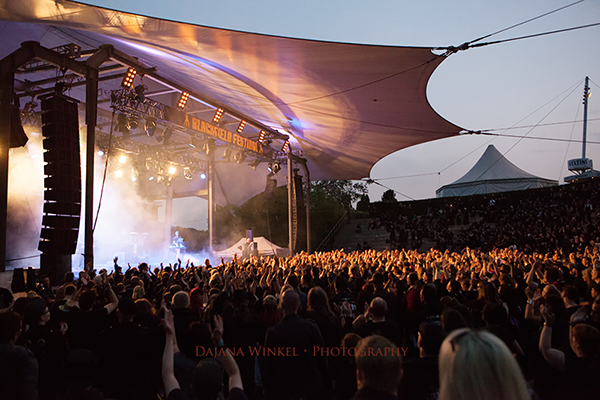 To sum it up right here and now: It was a wonderful festival day with bands I love to see playing live (DIORAMA, SLAVE REPUBLIC, FLA) and other ones I discovered (TORUL) ;) The 9th edition of BLACKFIELD FESTIVAL will take place on June 12 Ė June 14 2015.