Carnival Monday. A perfect day to give comfort with dreariness. A day for the ones seeing black (doomster/gloomster/crepehangers) and red. A day for men at the bar united in the triad boozing-failing-wailing. And a day for girls to emigrate (to the US) and go rack and ruin. Too lazy today, too sick tomorrow… Yes, that was pure fun!
To see BOHREN UND DER CLUB OF GORE playing live is always something special. An extraordinary highlight that lasts for years. Yes, I would love to see them at least once in a year yet I know that exactly this would make their shows a common event. So I guess I should be thankful for their irregular touring habits and thus much happy for the pleasure when it happens again.
Last year I saw BOHREN UND DER CLUB OF GORE performing as a special guest in the wonderful Balve Cave. Tonight I got to see them at the likewise great :: Christ Church :: in Bochum.
This church is a culture church with regular live events. I have already seen quite a few great musicians and bands playing live there (Opeth and Anathema for example). The sound in the church is just brilliant.
The BOHREN show tonight happened as part of the "urban urtyp spezial". :: urban urtyp :: is a discovering series of events of the church – urban urtyp is Jazz and Post, Electro and language, Classic and Minimalism, Ambient and Pop and more. Style that is not committed to be a style. Listening to what one does not know. Urban urtyp plays with our curiosity. All that in a special room, a 10x10m cube where music gets intensified, built up and down for every event.
:: pics :: BOHREN UND DER CLUB OF GORE ::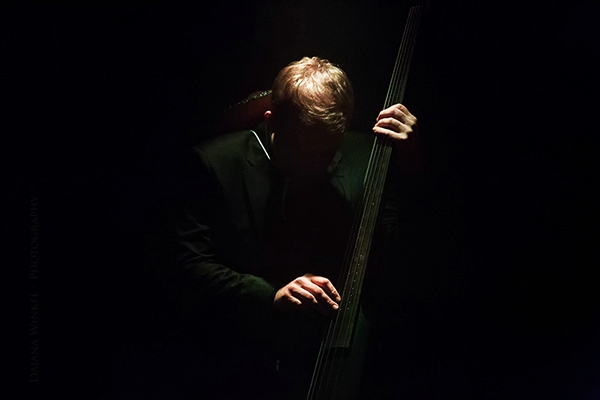 The actual urban urtyp event already happened on Sunday (#53 Gregor Schwellenbach). :: BOHREN UND DER CLUB OF GORE :: were the Carnival Monday bonus. So the cube was still built up but the room way too small for the audience. The cube was just a part of the whole room.
After some delicious food I – of course – caught the heaviest part of the rainstorm while walking to the church and stumbled over the doorsill exactly on 7pm, soaking wet, like a drowned rat. There was some confusion on the beginning about door and show time. I took 7pm as door time but it turned out to be the show time. Lucky me, there were so many people still arriving that the show time was pushed back to 7.30pm. Gave me a moment to wring all the water out of my hair and clothes.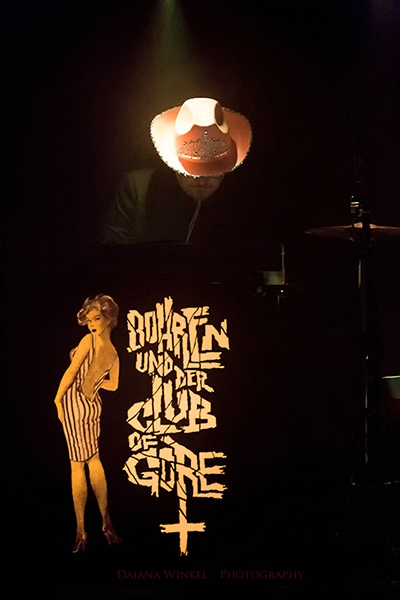 A short announcement was made by the organizer and then it became pitch-dark and BOHREN UND DER CLUB OF GORE literally started up in smoke. Much according to the special day the gentlemen Clöser, Gass and Rodenberg appeared with pinkish and glittering hats ;)
It followed a typical BOHREN-like energetic eruption of trivial merriment with announcements as dry as a bone, spoken as slow as the music is, so that some might have lost sight of the punch line. Yes, BOHREN are challenging and need a bigger attention span ;)
BOHREN UND DER CLUB OF GORE served a set with tracks from the most recent records back to Sunset Mission, with a clear focus on the band's 2002 masterpiece Black Earth. Of course, on this special day the song Still am Tresen couldn't be missed. You know, the triad… see above ;)
It's also due to the Shrove Monday that BOHREN did something they normally do not: an encore. They said, the day made it appropriate. They did it, of course, not without playing the last song Midnight Black Earth to the full and to bow afterwards. Several times. Out of thankfulness. And because it was such fun.
After the last song of the encore BOHREN UND DER CLUB OF GORE became even playful. On a gushily whim they throw their pinkish glittering hats into the crowd for even more amusement. You now, as a replacement, because BOHREN can't express their emotions properly ;) The power of sound in the church was immense. As expected. Maybe a little bit overamplified and with one or two stumbles in rhythm.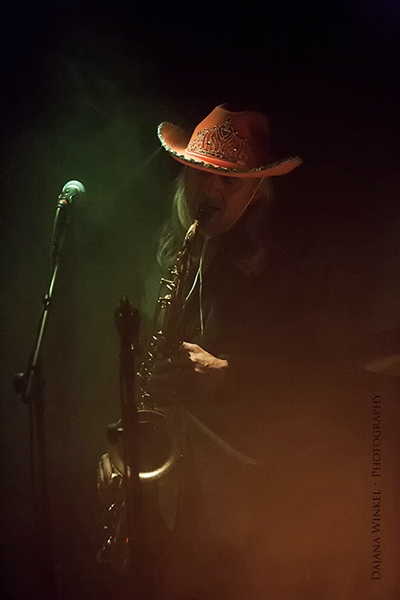 My dears, yes that was once again an exceptional concert night in a special ambience! Who still wants and can… and you should!… BOHREN UND DER CLUB OF GORE play more shows in February and March, without false noses and glitter stuff. And probably without encores. I will stay with them anyway ;)
Setlist: Im Rauch, Prowler, Unkerich, Ganz leise kommt die Nacht, Karin, Still am Tresen, On Demon Wings, Grave Wisdom, Constant Fear, Midnight Black Earth // Destroying Angels, Dead End Angels