Viking hellions claim musical hell upon California.
Unleashing their harmonious sounds of sadistic pleasure Norway's own DIMMU BORGIR hits California's historic Warfield Theatre in San Francisco on Sunday, May 13th bestowing a night of hades inspired activity. Hitting the above ground status with their eight installment In Sorte Diablo the Norge cats pile on rage with their present US tour The Invaluable Darkness bringing comrades UNEARTH, DEVIL DRIVER and KATAKLYSM.
:: pics ::
Canadian gents :: KATAKLYSM :: opened the show with an onslaught from their latest In The Arms Of Devastation, pile-driving their songs with momentous flavor winning over the crowd. Whirlwind thrashing from the audience warmed up the atmosphere with a few riveting tunes just in time for the second opening act.
Mosh pit specialists California's own :: DEVIL DRIVER :: lay on the extremities with harsh overtones of guitar crushing chops along with unstoppable drumming creating a highly charged vibe. Frontman Dez Farara belted vicious growls from the bands current material The Last Kind Words, singing songs from previous releases to two new songs Not All Who Wander Are Lost and Clouds Over California ultimately left the fans speechless.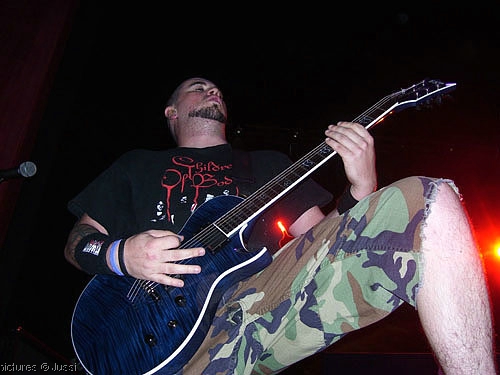 Untamed energies awakening the night senses third band Massachusetts metallers :: UNEARTH :: open with a groundbreaking entrance of raw stage presence leaving the on goers at a standstill. Captivating the eager hungry fans the group played a list of songs from previous albums to their present In The Eyes Of Fire which included The Glorious Nightmare and Sanctity Of Brothers. Undoubtedly the group wins over new fans setting forth a new step in their domination.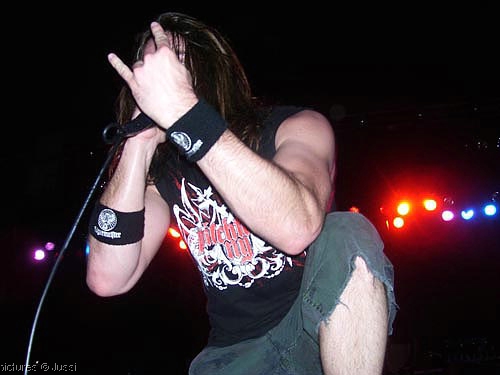 Breathtaking excitement filled the air as the curtains were pulled back to introduce Norway's best music product :: DIMMU BORGIR :: presenting their black metal supremacy. Distributing equal amount of chaos these talented gentlemen adorned in black leather gear with spiked boots to ghost like face paint enthralled the deprived audience to embers kicking off the set with Progenies Of The Great Apocalypse. Revered for their sound the band pushed the limits into hyper drive guitar works blending with heavy bass-lines adding to the erratic touches of Cataclysm Children, Indoctrination and The Serpentine Offering.
Vocalist Shagrath gave a sinister vocal performance along with Vortex who displayed his operatic tones offered something different then the previous performers, but nonetheless each artist displayed their own distinctive sound. Sheer wicked delight mixed with intensified desire the band finished the set with an outstanding killer Hellhammer drum solo following five ominous tracks. Truly an awesome night filled with some of the best extreme music around with some viking hellions claiming the lands of California.
Setlist: Progenies Of The Great Apocalypse, Vredsbyrd, Cataclysm Children, Kings Of The Carnival Creation, Sorgen Kammer-Del II, Indoctrination, A Succubus In Rapture, The Serpentine Offering, (Hellhammer drum solo), The Chosen Legacy, The Insight And The Catharsis, Spellbound, Mourning Palace, The Fallen Arises