[Dajana] Yeah! What a package! Not only that GHOST BRIGADE is known for playing gooseflesh causing, emotional shows. This time the support bands attract even more attention than the headliner itself. AGRIMONIA already achieved kind of an underground cult status. And I heard a lot good things about TALBOT too. Yes, this evening is filled with high expectations.
[BRT] On a Sunday afternoon when everybody else has its tea, coffee and cake, a bunch of Rock musicians from the Baltic Sea area is about to enter our second home, the • Turock Club •. The club is surprisingly well-filled and quite many friends and mates are around. What better conditions can you have for a great evening? Ok, a show on a Friday or Saturday night maybe…
:: pics ::
[Dajana] It is actually a packed concert day. 4 top-class shows in the Ruhr area made decisions difficult. Good to know that there are labels/bookers/agencies that make decisions for you ;) However, I had to work on this Sunday and headed towards the Turock directly after work as the doors opened at 5pm already. Well, that means an early end… ;)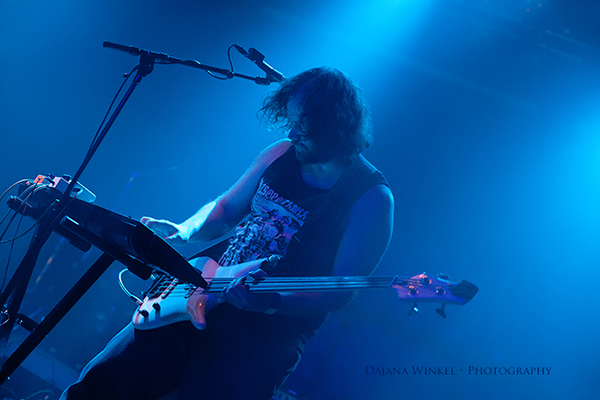 [Dajana] :: TALBOT :: enter the stage at 6pm. Hailing from Tallinn, Estonia, the duo consists of Magnus Andre, playing bass guitars and keys at the same time while singing, and Evgeny Mikhailov on drums and vocals.
[BRT] TALBOT played a psychedelic Stoner Rock mix that was quite entertaining but didn't really captivate me. Stageacting was very limited and the music every now and then vanished into psychedelic spheres. Sounded and felt like a stoned version of Mastodon and Baroness. I guess I should take some time and listen to the band's latest record Scale.
[Dajana] I absolutely liked it. Ok, sound wasn't the best. Add an extremely low-tuned bass guitar, some Drone and Doom to the mentioned style mix. And I really like the voice and singing of Magnus Andre. Just what I like! And yeah, need to grab me Scale too.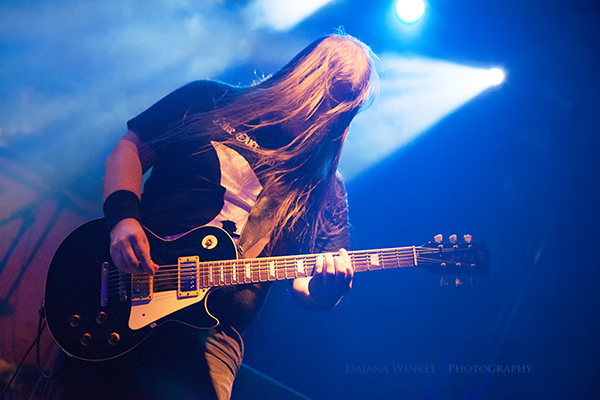 [Dajana] Now I was really curious and excited. Many people told me how great :: AGRIMONIA :: are, how unique and exceptional. Ok, I'm ready ;)
[BRT] Ah, I guess I'm not able to tell you anything unbiased. To me AGRIMONIA's latest full-length Rites Of Separation is by far the best album in 2013 and still one I listen to the most. Before I pushed myself into the front row I had a bulk purchase at the merch. And the Swedes did not disappoint. Front woman Christina and her mates rocked the hell out right from the beginning and directly started with Talion. Epic Crust. Awesome! Christina seemed to be a bit breathless at times and her growls sometimes sounded as if she needed to vomit. Never mind! It was an amazing show! Period! Okay, I can already hear Psycho's voice from the off that fine ribbed undershirts ain't any sexy…
[Dajana] Being unbiased and filled with high expectations I can say, it was a great show! Really! I'm blown away. And epic is the perfect term to describe what AGRIMONIA is about. EPIC! Martin Larsson did not take part in this tour as he is on tour himself with At The Gates. I got not disappointed at all. I only missed a bit the atmospheric sounds. If they were there, they went under. On the other hand, that way the show had a much harsher and heavier approach than the music on CD ;) It was easily to realize that most of the attendees tonight were here to see AGRIMONIA playing live. So it doesn't wonder that the Swedes got an almost frenetic applause. Bugger! I forgot to buy me the AGRIMONIA shirt…
Setlist: Talion, While Life Lies, The Battle Fought, The Decay
[Dajana] :: GHOST BRIGADE :: is a band that makes themselves scarce. No band to see umpteen times a year playing live; a band that takes years to record the next album. Seems like the Finns completely bowed out from society and live now anywhere deep in the Finnish forests. They look beardy and somehow grumpy, like hermits, suddenly dragged out of the forest and put onto stage, shying the lights. The band's communication with the crowd is reduced to a minimum. Ok, it's the music that counts. The atmosphere. The melancholy. And GHOST BRIGADE came, played and caused gooseflesh all over the body. GHOST BRIGADE start with two brand new songs from the band's fourth record IV – One With The Storm, once again a masterpiece of sorrow, and then already offer my personal fave super hit Into The Black Light, from the band's sophomore. They won! I expected this song, if at all, during the encore. Generally it was a great setlist, consisting of old and new tracks, perfectly balancing mood and pace. Awwww, what a great show…
[BRT] I'm surely no expert when it comes to GHOST BRIGADE. I got me two records and those ones I like but don't listen that often to them. Besides, at this time I was already boozed. I had fun though and the mood during the show was great;)
Setlist: Wretched Blues, Aurora, Minus Side, Into The Black Light, Stones And Pillars, Breakwater, Clawmaster, Electra Complex, Divine Act Of Lunacy, Elämä On Tulta // Deliberately, Suffocated