[Dajana] On September 4, 2015, IRON MAIDEN had released their 16th full-length The Book Of Souls, which topped the album charts in many countries for weeks. Since then IRON MAIDEN tour around the globe, made a stop at last year's summer festivals (Rock im Revier among others) and now return to Europe with a handful of shows to finish their European tour circuit.
[Psycho] My very first IRON MAIDEN show indeed dates back to 1986. Who would have thought that this already famous and successful band back then would still have such a huge career lying ahead? A spontaneous offer for tonight's sold out show did not make me think long to grab the opportunity to see the British veterans once more live again… Many thanks to Webster and Andy for this!
[BRT] Despite of money-related doubts, to see IRON MAIDEN playing live the third time (after 1988 and 2011)… I could not resist. In my opinion, the band's new record, Book Of Souls, is a surprisingly strong effort, so it does not harm to raise the expectations.
[Dajana] Next to Frankfurt and Hamburg, the :: König-Pilsener-ARENA :: in Oberhausen invited the fans not only on one but two days to take part in the IRON MAIDEN ceremony. The first announced show was sold out so quickly that organizers added another one the day after. The arrival at such big event was, as usual, tough. Long before the arena the traffic stopped, causing quite a mess. Outside the arena, many fans tried to snatch a ticket (hopefully not at a rip off price) and regarding their faces… it seemed to work ;)
[Psycho] According to Eventim there were still tickets available on the Sunday before the show. Despite steep ticket prices between 75 and 95 Euro a fact I honestly did not expect. Those prices might be almost standard at such shows of established bands but it is still a lot of money.
[Dajana] Also the prices for drinks and food inside the arena were steep. 4.50 Euro for a cup of silent water I call a rip-off. 2 Euro for the cloakroom is moderate I think and there was no fee for parking.
[Psycho] It seems an overpriced soft drink wasn't even enough, the Coke I had tasted pretty much watered-down. And there was no ice in it. Another bummer was the fact that the way back to the parking house was blocked after the show. It took us quite some time to find a solution. No signs anywhere. Regarding traffic, we had luck, before and after the show, even if we weren't the only ones who wanted to go home afterwards as fast as possible. It was a working day and many fans accepted a long ride to attend this show.
[BRT] Yes, I agree with the pricing. It starts with the ticket prices, merchandise and also food and drinks. Such big events are like money printing machines. Many fans can't even afford such show.
[Dajana] True. Unfortunately. That's the way it is these days, at least in Germany. I have experienced this many times at various big shows, no matter what venue or city. But I also experienced it the better way abroad. Ok, and now letís get the party started ;)
:: pics :: SHINEDOWN ::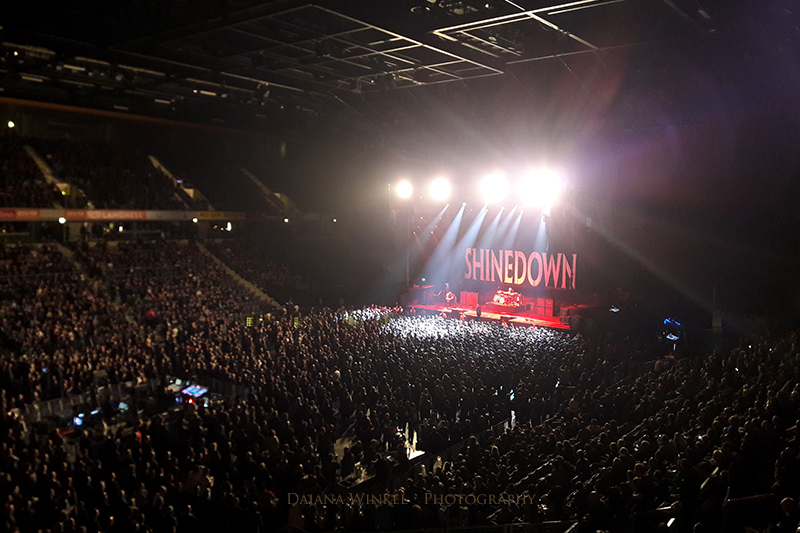 [Dajana] As appetizer Iron Maiden have chosen multi gold and platinum selling band :: SHINEDOWN ::. And they really surprised me. The guys were in high spirit, played tight, with a lot of energy and with delight. Singer Brent Smith even welcomed every photographer in the pit by handshake and also personally welcomed fans in the front rows, as far as he could reach out. Wow. Likeable. He generally interacted closely with the audience.
Unfortunately, the response by the majority of the crowd was lame. Ok, fans were here to see Iron Maiden and to open for such a band is always a challenge. And SHINEDOWN isn't even Metal. It's a melodic mix of Hard Rock, Grunge and Alternative. I especially like this musical contrasts during shows, where I can discover something new (didn't deal much with SHINEDOWN before). I really enjoyed watching and listening to them.
SHINEDOWN played a 45 minutes best-of set with only two songs from their current album Threat To Survival, some tracks from previous releases and The Expendables soundtrack Diamond Eyes (Boom-Lay Boom-Lay Boom). Yeah, I think it was a great show.
[Psycho] Well… I can't follow your enthusiasm for this band. Ok, SHINEDOWN probably made the best out of this situation but I'm not sure if it is such a good idea to put two bands on a bill that are musically so divergent and appeal to a different kind of audience. New fans the support act probably won't gain. For most of the Maiden fans the waiting time got just extended. At least, SHINEDOWN had fair live conditions, regarding sound and lights. That isn't a matter of course either.
[BRT] Iron Maiden and their support acts… a never-ending story that always causes discussions. To me the American radio rockers SHINEDOWN were out of place. I found their show rather bad…
[Dajana] Pff… Philistines… :P
Setlist: Adrenaline, Fly From The Inside, Diamond Eyes (Boom-Lay Boom-Lay Boom), How Did You Love, Unity, Enemies, Second Chance, Cut The Cord, Sound Of Madness
:: pics :: IRON MAIDEN ::
[Dajana] Ok, here we go. Time has come everyone was waiting for… British NWOBHM veterans :: IRON MAIDEN ::. As expected, the guys still focused on their current album The Book Of Souls and played half of the songs from. Again I noticed how well old and new material harmonized live on stage and got likewise well received by the fans.
Compared to the festivals shows last summer nothing has changed much. Only two songs in the setlist were replaced, that's all. Same stage, same outfits, same ceremony. Ok, I guess they don't have much space to change things and settings at such huge production, were everything is timed and choreographed. Every song got supported by a huge cover on backdrops behind. Singer Bruce Dickinson was waving flags at The Trooper and romping around with a black mask at Powerslave. Eddie, of course, appeared as well, causing trouble till Bruce ripped out his evil heart ;)
Once more energy and vitality of the band left me speechless. During their 2 hours show everybody (except drummer Nico McBrain) was running and jumping over the stage, whirled and danced and threw instruments into the air. With no fail. And IRON MAIDEN does so for one and a half year already, every night. My deepest respect for this effort. Honestly. Stage, lights and show were awesome. Sound needed to be optimized.
[Psycho] I agree with the facts but my rating is different. It might be a matter of perspective as we sat high above in the background.
I indeed expected some changes in the show, alone for the die-hard fans to offer some variety. Ok, might be a matter of taste, but the backing catalogue offers enough material to put something special and different in every single show. The show was, except for the mushy sound, almost perfect. Only the fidgeting of Janick Gers plagued me within 5 minutes.
I don't agree that old and new material "get along" well. Where older songs were coherently composed, the new tracks offer a great beginning but then fall short and paint a picture of instrumental monotony. Lengthy passages are massively rolled out to place all kind of leads. Enthusiasm in the crowd I only could see during the classics. And rightly so.
Regarding the band's condition, I take my hat off to the old gentlemen. Many other bands, decades younger, may learn a thing or two from them. My respect!
[BRT] There is not that much to add anymore. Great show, awesome lights, definitely an eye catcher. But the show wasn't an ear catcher. The sound was a disaster. Too loud, overdriven and indifferent. During the second half of the show, I always had the feeling that one of the instruments was way too loud.
Though, the band was in best mood and singer Bruce Dickinson is for sure one of the most active performers. Only Janick Gers went on nerves faster than one could say "Blaubeerpfannekuchen".
IRON MAIDEN classics still go under your skin. The other tracks were great too yet not really harmonious in its mixture. Though, it's always great to see the old heroes live again. Who knows, how long they will tour…
[Dajana] Yes, exactly! After an almost 40 years spanning history IRON MAIDEN are still a force, a guarantor for fantastic shows. A great band that still releases awesome records and makes the metal heart beating faster. Just timeless, breathtaking and sensational.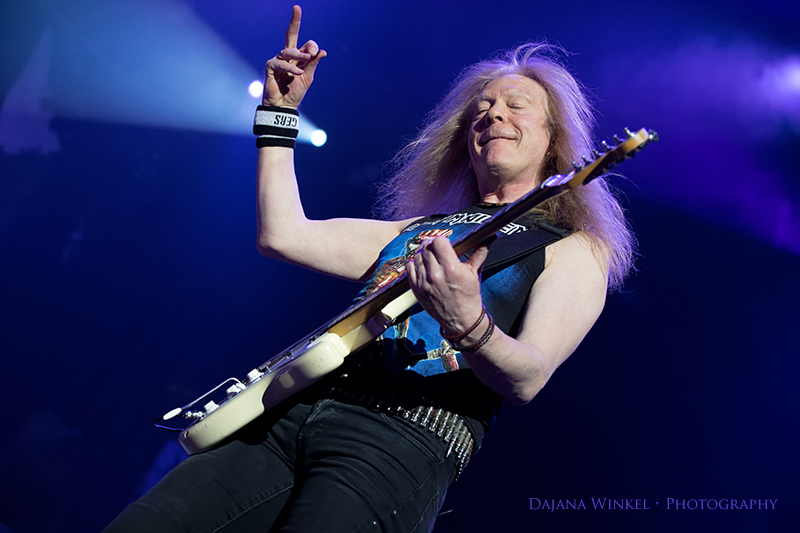 [BRT] At the end let me mention another fact: Between the tracks Bruce Dickinson delivered a likeable statement about racism, scaremongering and the international situation – wittily wrapped in: "If IRON MAIDEN would be a world religion, such things wouldn't happen". As if metal has to be always nonpolitical. Bruce did not preach and he didn't behave like a smart-arse. In consideration of the fact that fans came from around the world to see IRON MAIDEN playing live here in Oberhausen (Portugal, Argentina, Russia), an IRON MAIDEN world religion wouldn't actually be the worst idea ;)
Setlist: Doctor Doctor (Intro), If Eternity Should Fail, Speed Of Light, Wrathchild, Children Of The Damned, Death Or Glory, The Red And The Black, The Trooper, Powerslave, The Great Unknown, The Book Of Souls, Fear Of The Dark, Iron Maiden // The Number Of The Beast, Blood Brothers, Wasted Years