Despite of being a fan for many, many years it was in 2007 when I got the chance to see IN THE NURSERY for the very first time performing live. And I got rewarded with a fantastic and intimate show. Now, after two years of complete stage absence IN THE NURSERY are back for two German club shows around a festival weekend. And they came back to Krefeld! Perfect! No need to mention that this show was a must-to-be-there event.
Once again with the lovely Dani from RoD we headed towards Krefeld, just to get stuck right after we left Muenster. The highway was blocked after a very strange car crash. While we were already afraid of the worst the stopping was lifted after a half hour again and we could go on speeding towards.
:: pics ::
Finally arrived we learned that the show kicked off later and with only IN THE NURSERY playing for 90 mins. No support band. *phew - That was a close shave!*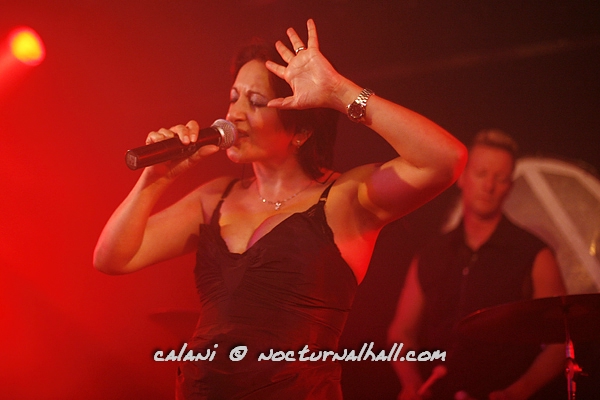 Anyway, around 9pm Nigel Humberstone (bass/keys) appeared and started his Mac for the intro and left the stage again? Hmm. The intro ends, short break, nothing happens, then he came back started the intro for A To I and finally the show struck up :: IN THE NURSERY :: took us on a journey through their entire history, from the outset in 1983 with When Cherished Dreams Come True up to the current non-soundtrack album, the intriguing and enchanting Era. Ok, not every album was considered, that's not possible within 90 mins. I wish they would, because it then would promise a very long and extended show ;)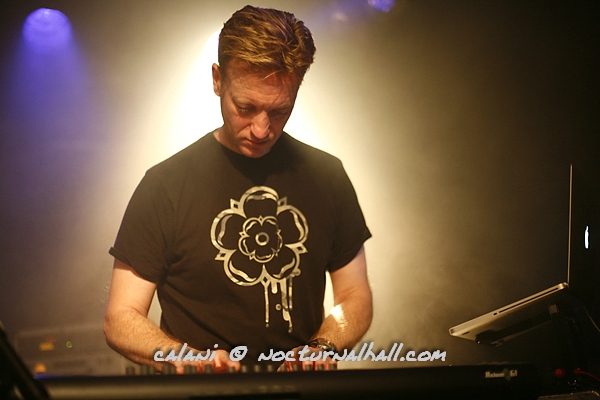 The first couple of tracks went down somewhat reserved, till the hi-tech chose to interrupt the performance at Mystery. Two attempts, no chance, and IN TH NURSERY scored by making everybody laugh. The ice was broken and the band went on more lively and enthusiastic, while the fans started to celebrate the band almost frenetically after every song. In between people were swaying with closed eyes enjoying this wonderful music. The KuFa was well-filled, although there were no bigger announcements and ads made prior this show. And every single attendee was a real fan of course.
While Klive Humberstone and David Electrik were kinda caught behind their percussions, Nigel alternated every now and then from the keys to the bass and lovely Dolores Marguerite C was not only singing, but also drumming, twirling knobs, striking keys and cymbals. When I saw her whirling around I got the homonymous album of Bohren & The Club Of Gore in mind. Goes well together musically ;)
After only one hour the enchantment found its official end. Of course the band was clapped back for an encore, seeing Dolores performing unbelievable lively at Deus Ex Machina. So adorable. And the fans couldn't get enough and applauded, and applauded and called the band back for another encore :) The equipment again decided not to work (it was a foot pedal that didn't work properly). No second try, Groundloop was left aside and another song followed. Afterwards IN THE NURSERY said good-bye for good and left. To our all regret. *sighs* As for me they could have started right from the beginning again ;)
Setlist: Intro, A To I, Bombed, Blueprint, Hymn Noir, Mystery, Allegory, Silent In Time, Sixth Sense, New Religion, Cobalt, A Rebours, L'Esprit // Praxis, To The Faithful, Stone Souls, Compulsion, Deus Ex Machina // Groundloop, another one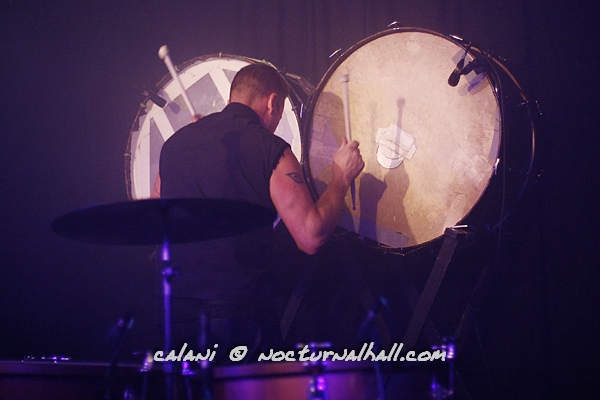 Again IN THE NURSERY made this evening memorable. What a grandiose show! Not perfect but with a lot of charm. Addictive. I just hope that the Sheffield guys and girl will find soon a reason to come back for more shows!