Death Is Just The Beginning...
Bloody hell, this has been a long time! HYPOCRISY live on stage. Long Time, No Death. Does this ring a bell? That's how the last HYPOCRISY tour I have seen was dubbed. In 2010. It was a proper name back then and would have suited even better today ;) Yes, it is really about time to show up again. And time for a new album too. The last massacre, End Of Disclosure, dates back to 2013. But, as HYPOCRISY have already revealed, the band will enter the studio early next year. Yeah! The years of silence have actually one advantage: to bring themselves back in mind of their fans, we can expect an excellent best of set ;)
However, to see HYPOCRISY live after all those years is of course a must-attend-event! So, let's enter the :: Turbinenhalle 2 :: again. I should have stayed here last night ;) Instead, same route, same (tor)tour(e), just tightened conditions. It's Friday, weekend, sold out Turbinenhalle 1, packed club around the corner… etc.
The club constellation actually caused quite some confusion as many fans entered the wrong hall. The Turbinenhalle 2 anyway was not sold out but packed right from the beginning. So, let's get the carnage started – Death is just the beginning!
:: pics :: THE SPIRIT ::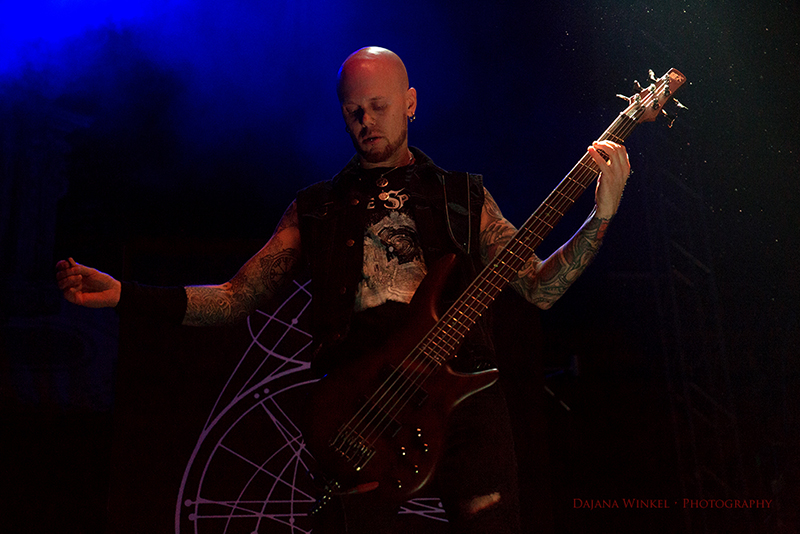 The evening was kicked off rather dark with :: THE SPIRIT ::. So far, the German Black/Death metallers passed me by unnoticed but I heard recommendations they are worth to be checked out. No sooner said than done.
THE SPIRIT was founded back in 2015, two years later they have released their debut, Sounds From The Vortex, which got benevolently reviewed on our magazine and which the band played straight almost in its entirety tonight (except for last song). Blackened atmosphere, blackened stage, bathed in deep blue lights and a lot of smoke. Not that much to see, not that much to photograph, but the atmosphere was intense. Impressive opening show. I agree, the band is worth to give it a try ;)
Setlist: Sounds From The Vortex, Cosmic Fear, The Clouds Of Damnation, Cross The Bridge To Eternity, Illuminate The Night Sky, The Great Mortality
:: pics :: HYPOCRISY ::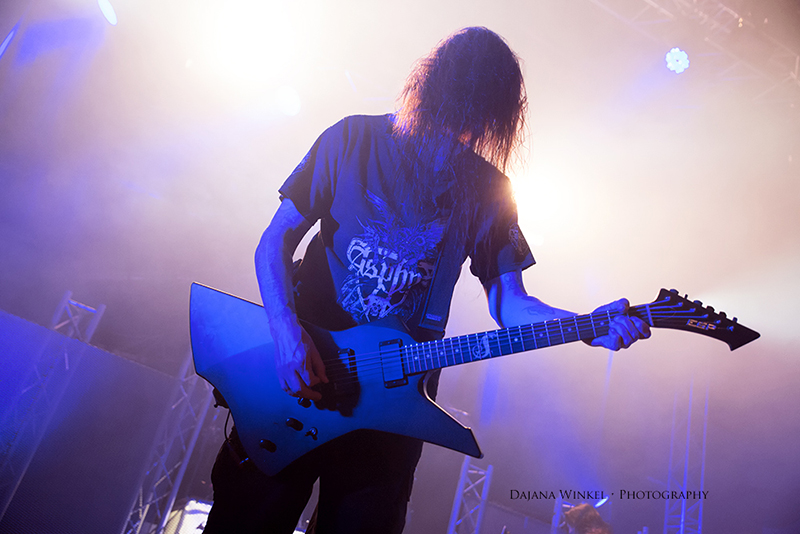 :: HYPOCRISY :: didn't like much light either. Instead of just deep blue lights we got now deep blue lights with blue stroboscope lights or red lights and much smoke respectively. Well, then. You can do so, but there is no need for. First, the Swedes were welcomed with a proper beer shower and then broke into Fractured Millennium from the self-titled 1999 album. Killer song, killer start! HYPOCRISY came, saw and conquered. Mr. Tägtgren was a bit more communicative than the previous band. He wanted to pump up the audience and prodded for a response. It didn't work. No crowd surfer, no circle pits. On his: "C'mon Oberhausen, it's Friday night" shouts he received raucous bawling but no action. Lame audience, indeed.
What struck the fan first was surely the mighty, martial looking drum kit of Horgh. He sat high above like on a throne. He must have had an excellent overview ;) The drum sound was ridiculously heavy and devastating. It made my tummy tickling. Yet the sound was just a bit overdriven. At least from where I stood. As expected, HYPOCRISY presented a best-of setlist, mixing newer tracks with the classics. It was such a pleasure to hear all these tunes live again. I went into a full headbang mode throughout the entire set. How I missed this guitar sound.
Setlist: Fractured Millennium, Valley Of The Damned, End Of Disclosure, Adjusting The Sun, Eraser, Pleasure Of Molestation/Osculum Obscenum/Penetralia, Fire In The Sky, Killing Art, Buried, War-Path, The Final Chapter, Roswell 47
:: pics :: KATAKLYSM ::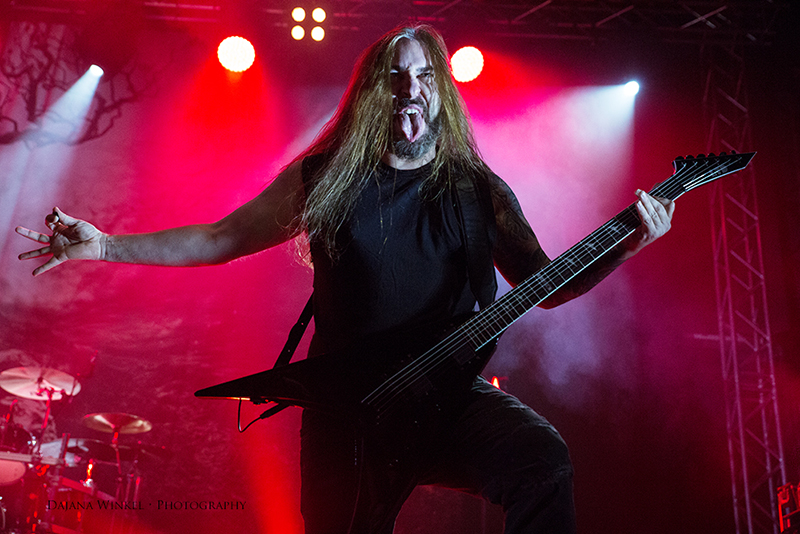 The Canadian heavy weights are around for the same time than Hypocrisy, just much more present as they release albums on a regular basis and play at every crossroads. :: KATAKLYSM :: might not be the most innovative Death metallers out there but they made their way and gained a huge fan base. Their success speaks for themselves. KATAKLYSM have released a new album, entitled Meditations, which again caused quite a stir and which they now bring to Europe for its live debut.
To be honest, most fans were actually there to see Hypocrisy and many left right after. The hall visibly emptied. In return, the crowd was now much more agile. It took Maurizio Iacono just a gesture and the first circle pit rotated like a tornado through the hall. With As I Slither setting in it became wild and the security had a lot of work to do. Maurizio Iacono promised every crowd surfer a beer and so they fell in dozens into the photo pit with some of them trying to catch the beer can "on the fly". Nice to see girls among them too. Tonight's KATAKLYSM motto was: "Tell your wife you're coming home late and get fucked up, it's Friday night!". Some took it literally so that also the paramedics got some work to do too.
Again, we got an all destroying and brutal sound delivered, destructive drums and brutal blast beats giving hardly any respite. The sound was better balanced, accompanied by a better light show. When it comes to a KATAKLYSM performance, the Canadians know what their fans want and there is nothing to nag about. Jean-Francois Dagenais and Stephane Barbe were constantly moving and posing and so did Maurizio Iacono, always firing up the crowd to make them give their maximum in response. This was exactly the show I expected to see, nothing more, nothing less. Not a mind-blowing experience but fun to watch.
But did I already mention how fucking great the HYPOCRISY show was? There you hear it ;)
Setlist: Narcissist, The Black Sheep, Fire, Thy Serpents Tongue, 10 Seconds From The End, Guillotine, As I Slither, Crippled & Broken, Outsider, Manipulator Of Souls, In Shadows & Dust, ...And Then I Saw Blood, Blood In Heaven, At The Edge Of The World