Last time I saw KATATONIA playing live was at Party San Open Air 2014. The last regular headliner show must have been during the band's 20th anniversary tour. What I want to say is… that's really about time to see them again ;)
To my luck, KATATONIA have released an exceptionally great new album in May, entitled The Fall Of Hearts, which whom they now embarked on a European tour, making a stop at Cologne's :: Live Music Hall ::.
The anticipation was as high as the expectations because of the live presentation of such fine record. But it goes to show you never can tell. It could have been a great concert night, at the end it was far from it.
But at first we had to make it down to Cologne at all. It's a Friday. A Friday before an extended weekend (public day on Monday). So we had the choice between Pest, Cholera and Ebola, road-wise. We started really early and in fact managed to avoid the biggest jams yet failed to arrive on time at the LMH.
When we entered the venue, :: AGENT FRESCO :: were already in the middle of their set. Made me guess that announced support band VOLA did not play at all.
The Icelandic Prog/Alternative masters seemed to be likewise surprised to be on stage that early, as singer Arnór Dan Arnarson several times mentioned and apologized for that as quite a few fans missed them. It was unbearably hot in the hall, with a maximum of stale air – an ongoing annoyance at this location.
However, AGENT FRESCO rocked the stage enthusiastically, downright burnt out themselves. Singer Arnór Dan shone with his voice, even during the highest parts and was extremely talkative. But he talked a blue streak and I guess many among the crowd didn't understand what he actually wanted to tell us. Well, mostly he overwhelmingly thanked the crowd, and Katatonia, and actually everyone involved making it possible for the band to be on this tour.
I didn't deal much with AGENT FRESCO before, just heard the one or the other song that came in due to the news circuit following the release of the band's latest album Destrier. I liked what I heard. It is challenging and sophisticated music, not easily to access yet with a lot of charm, power and a lot of groove. Mostly due to the voice and singing I felt reminded of Coldplay, Coldplay as a Prog Rock version. That was great. And then I needed some fresh air…
:: Pics :: :: KATATONIA ::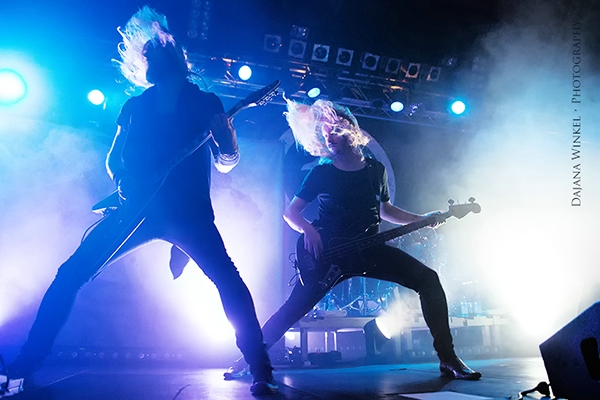 Also :: KATATONIA :: entered the stage extremely early, even 10 minutes before the announced stage time. It was 8.20pm. Seems someone eagerly wanted to have the venue empty as soon as possible. Ambience conditions became worse so that even KATATONIA complained. I spotted the air duct behind the curtains on the wall and seeing its cross section I didn't wonder. But I wondered how such small air condition could be authorized for such location.
However, KATATONIA kicked off powerfully with the new album The Fall Of Hearts and then went through the band's newer discography. Next to the new album, KATATONIA specially focused on the 2006 album The Great Cold Distance, which celebrates its 10th anniversary. KATATONIA played half of the songs from this one.
Unfortunately, KATATONIA were suffering from a really bad sound. Singing was hardly to hear, the drums absolutely unbalanced and the bass hummed everything left in guitars, sound and melodies down. Well, it prickled nicely in the guts but that's the only thing positive. Oh, and were extremely early back home. Not the worst as my alarm ringed at 4.30am ;)
As I already mentioned: It could have been a great concert night, in a different location. What a bummer!
Setlist: Last Song Before The Fade, Deliberation, Serein, Dead Letters, (Liberation), Day And Then The Shade, Serac, Teargas, Criminals, The Longest Year, Evidence, The Racing Heart, Soil's Song, Old Heart Falls, For My Demons, Leaders, In The White, Forsaker // My Twin, Lethean, July