End Of The Road World Tour
After an epic and storied 45 year career that launched an era of Rock'n'Roll titans, KISS announced that they will launch their final tour ever in 2019, appropriately named End Of The Road World Tour 2019. But nothing is as old as yesterday's headline. Shortly after KISS boosted the ticket sale with such announcements the band relativized their plans to retire. Let's say, they did not say in which year the End Of The Road World Tour will end ;)
However, here we are with the final KISS tour that will make a stop in five German cities. On June 2, KISS will bring their last show to the :: Stadium Essen :: in Germany to leave nothing but scorched earth.
[BRT] KISS still thrill their fans through every age. Tonight I have seen many parents with their kids, sometimes even three generations, in front of stage. Many of them with great make ups and some even in full Gene Simmons outfit, with much attention to details. Awesome.
KISS I have seen so far only once, at Monsters Of Rock in 1988. It was an unspectacular show, "unmasked" if I remember right. I never was a fan. Yes, they have great songs galore, play fiery shows, yet had always problems with the egomania of both main men.
[Dajana] As for me, tonight's show will be my very first and (probably) very last show. But once in a life time one should have seen KISS performing live, right? Known for their trademark larger – than – life blistering performances, KISS has proven for decades why they are hands down the most iconic live show in Rock n Roll. As we did it at the Rammstein show, the NH crew once again decided to go to the show by public transport. And it again worked perfectly.
The organization around the show and the stadium did not. Gates opened a half hour later than announced, with thousands of fans waiting outside. Once inside there have been many problems with drinks, at 31°C and a burning sun. By the way, a beer/Coke/Fanta in 0.4l cost 7.50 Euro in a fan cup with 2 Euro deposit, water in 0,3l for 3.50 Euro. That caused many faints often enough not perceived by the tight cordon of security.
Regarding the merch pricing… it was as obscene as expected. Shirts 40 Euro, long-sleeves 60 Euro.
:: pics :: DAVID GARIBALDI ::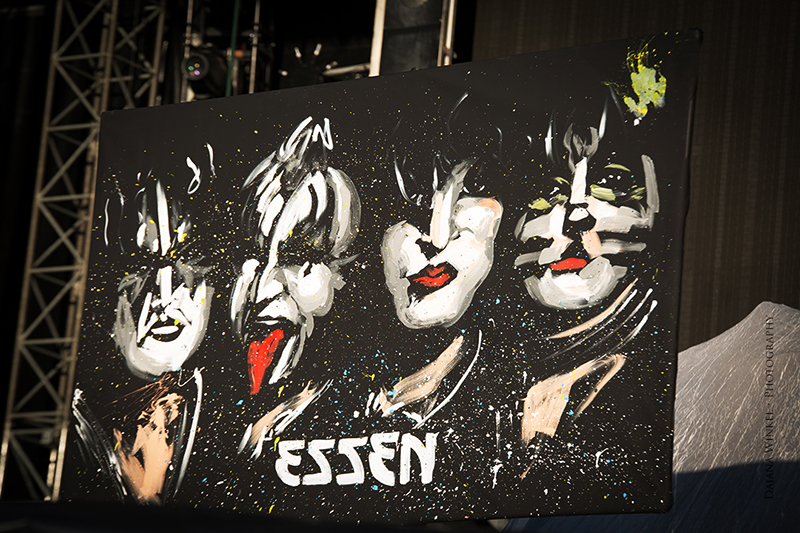 [Dajana] Finally inside the stadium. But, who the fuck is :: DAVID GARIBALDI ::? Some confusions and Google researches later: "David Michael Garibaldi is an American performance painter. His specialty is his "Rhythm and Hue" stage act in which he rapidly creates paintings of notable rock musicians."
Okay. That said, it is exactly what he did on stage. With a lot of ado, jumps and turns he created three portraits, the first two underlined by the music of the corresponding bands as a recognition feature. The third portrait was – of course – an Essen signed KISS portrait, this time underlined by a (not so thrilling) Carmina Burana version.
DAVID GARIBALDI caused a real mess on stage with his swinging brushes and splashing colors. There was more on him than on the canvas ;) In between he tried hard to animate the crowd.
It was downright fascinating to watch the portraits developing and how long it took to the moment when you realize who it is. The final results looked stunning! That was indeed an entertaining half hour!
[BRT] I could not see that much at this point, I still had to wait to get our wrist bands to enter the area. We got speed portraits of Ozzy Osbourne and Steven Tyler with the music of Black Sabbath and Aerosmith.
[Dajana] The Steven Tyler portrait DAVID GARIBALDI even painted upside down…
:: pics :: KISS ::
[Dajana] The curtain fell; photographers and editors had to leave (to still solve orga stuff and to get escorted to the photo pit back and forth for the KISS show). We already had a slight delay :: KISS :: increased. But not that much. Short before 9 the curtain fell and the crowd got to see all KISS members sinking down from the ceiling with a lot of cue explosions in the background. Imagine the creams and chants now.
[BRT] Bang, crack, pow! After the "landing" we got an overdose of crackling fireworks and dry ice - the perfect entertainment to watch. All added by a breathtaking lightshow, laser and a huge video screen, also showing very old stuff of the "Detroit Rock City" legends. There were a lot of things going on like Gene Simmons spitting fire, oozing fake blood from his mouth, taking flight to the ceiling of the stage and shooting UFOs, while Paul Stanley took a flight, a cable ride, on top the crowd's heads to the middle of the stadium and back. And much more.
Sound-wise the show was not that convincing. The sound was average, the guitars powerless and the rhythm section overamplified. The voice of Paul Stanley was in bad shape. He was croaking and rasping what sounded almost foolish during his announcements. When singing, his voice sounded much more voluminous and clear. That might enliven rumors about the use of playback again.
[Dajana] I was more thinking about their hair. Do they wear wigs during the show? Oh, and the tongue! Don't forget the infamous lizard tongue of Gene Simmons, he extended and waggled 100th times and more, like a red fly strip ;)
[BRT] Apart from that? They played hits, hits and hits, with only two "newer" tracks from the 90s. Of course, the hits were generally sung along full throated and with much dedication, sing-along-games were done well-behaved too. Sure, those old gentlemen need breaks, so many solo performances and gimmicks were built into.
[Dajana] I wish, drummer Eric Singer (by the way the KISS member with the best voice today) would have placed higher on a platform. He was hardly to see. Only when his drumkit was lifted during his drum solo at 100,000 Years. He later also played piano on Beth.
[BRT] Visually it was an outstandingly stage show, leaving many, many happy faces in the crowd. Paul Stanley and Gene Simmons know what their fans want and gave it to them, even if it was very professional and emotionless. Nope, there were no surprises. I think, the KISS hits do not leave much room to vary, change or improvise.
[Dajana] Yes, visually KISS had a lot to offer. You want an awe-blast of pyrotechnics? Here you get it. You want to sing along all those KISS classics as loud as you want? Here you can do it. You want to be entertained with a lot of stuff (named above) and finished with a barrage of explosions and confetti cannons going off all over the stadium? Here we go. Nonetheless, at every minute you realize that a KISS show is business. KISS is a sole business. And this business is meant to milk every Cent out of it no matter what. The show was absolutely professional, no doubt, yet loveless and passionless. Did it matter? No! Even if you hate KISS, once there, they put on such an impressive show one cannot elude. I truly enjoyed the show and finally can say: I have seen KISS live :)
Band: Paul Stanley (vox, git), Gene Simmons (bass), Tommy Thayer (git), Eric Singer (drums)
Setlist: Rock And Roll (intro, Led Zeppelin), Detroit Rock City, Shout It Out Loud, Deuce, Say Yeah, I Love It Loud, Heaven's On Fire, War Machine, Lick It Up, Calling Dr. Love, 100,000 Years, Cold Gin, God Of Thunder, Psycho Circus, Let Me Go, Rock'N'Roll, Love Gun, I Was Made For Lovin' You, Black Diamond // Beth, Crazy Crazy Nights, Rock And Roll All Nite, God Gave Rock'n'Roll To You II (outro)