Art is a cyclical beast. The same can easily be said of Grammy Award nominated hard rock juggernaut MASTODON. The group's four members recognize the importance of life's omnipresent cycles on their sixth full-length album, Once More 'Round The Sun. The band orbits around themes of loss and rebirth, twirling a sonic spiral of its signature robust riffing, hypnotically haunting soundscapes, triage of dynamic voices, and thundering seismic grooves. At the same time, this particular collection proves personal for Brann Dailor, Brent Hinds, Bill Kelliher, and Troy Sanders. The very title says something slightly different for each member. In November MASTODON embarked on a 4 weeks European trek playing two shows in Germany. I embarked on the second one at sold out • FZW • in Dortmund ;)
:: pics ::
As it was a Saturday night the show was moved up an hour to make sure the show is finished when the doors regularly open for the disco people. So, at a common opening time (7pm) the first band :: KROKODIL :: had already entered the stage and kicked off their show. Good for the band, the hall was already well filled, but far away from being cuddly and crowded. Despite the fact that KROKODIL is considered to be a super group I didn't know them to date. Shame on me ;) However, at the ends it is all beards and riffs (mostly), so they say. The day the tour got off the grid was also the release date of the band's debut Nachash. KROKODIL as support band wasn't chosen out of the blue as their mix of progressive touched modern Hardcore and Sludge ain't too far away from the headliner's material. Unfortunately melodies and groove rather went under, while the scream- and shout-like singing of Simon Wright was too dominant and less varied. As for that he was highly energetic acting on stage ;)
Setlist: Shatter, Dead Man's Path, Sun Riders, Repiltia Familiar, The Collapse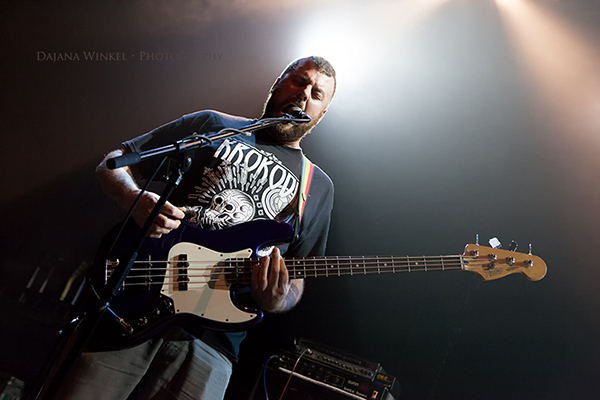 Tight schedule, short break and it's up for the… um… duo :: BIG BUSINESS :: to go on. They are famous too (Jared Warren (bass, vocals) and Coady Willis (drums – both play in Melvins)) but I didn't know them either. During a read afterwards I learned that this is actually a four-piece or at least a trio, why there was only Jared and Coady on stage, I have no clue. That there is actually no need for an additional musician BIG BUSINESS quickly proved. Yes, I tell you, it doesn't takes more than a bass and drums to create a dense and intensive sound. Hailing from Seattle, BIG BUSINESS' brand of Sludge Metal is naturally much more Stoner Rock and Doom Metal tinged and less modern and mathematical. I did not found a setlist, but since the band's last record Battlefields Forever dates back to October 2013 I'm quite sure the band played kind of a best-of set. I anyway got blown away, I'm now totally mad about them. Just to foreclose: This show was my highlight of the evening!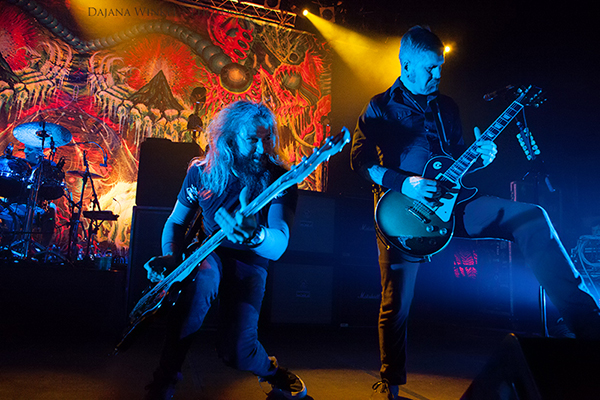 Now it is noticeable that the show is sold out ;) Although it is still early in the evening (not even 9pm), many fans are already beyond good and evil and are supposed to not realize that much anymore. Other ones push close to the stage, dressed in brand new and not so cheap :: MASTODON :: shirts and downright freak out when guys hit the stage. Yes, I'd say the response is frenetic but it seems it leaves the band quite cold. Only here and there a short smile. Generally it's only Troy Sanders who acts lively on stage. Both guitarists don't move that much at all. The sound meanwhile turned to the worst, at least were I stood. The singing of all members was hardly to hear, and if so it was rather thin, except for Troy maybe. Maybe it all sounded better if you stood in the middle near the mixing desk, from my position it was terrible. As for that MASTODON had a great light show. No verbal communication, just a few hand signals for the crowd to scream and cheer, a few words and a thank you at the end of the show. Maybe MASTODON had a bad day or are just exhausted and tired from their long touring.
Setlist: Tread Lightly, Once More 'Round The Sun, Blasteroid, Oblivion, The Motherload, Chimes At Midnight, High Road, Aqua Dementia, Ol'e Nessie, Halloween, Aunt Lisa, Divinations, Bladecatcher, Black Tongue, Ember City, Megalodon, Crystal Skull, Blood And Thunder