Anniversaries; anniversaries everywhere ;) 25 years of MESHUGGAH! 25 years since the first self-titled EP was released. 25 years of extreme Swedish metal: Extremely loud, extremely fast and extremely innovative. With an exclamation point. MESHUGGAH is a band that always changes, metamorphoses, fathoms everything to the max and re-invents itself with every new output. A surprise behind every riff, musical risks after every break… A band, a style, an EP truly to be celebrated! With The Ophidian Trek MESHUGGAH have just released an extended live package, reflecting on the entire history and career of the band. And now the Swedes bring that all live on stage too! Dubbed as "MESHUGGAH – 25 years of musical deviance" the guys play only one exclusive show in Germany, at Dortmund's • FZW •, to prove that deviance can be a brand ;)
:: pics ::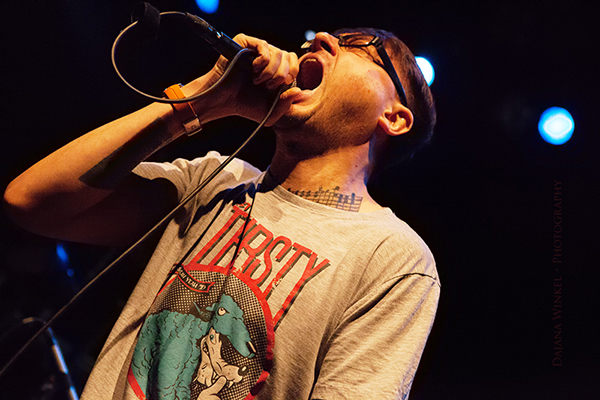 When Meshuggah's axe-man Fredrik Thordendal says: "Wow! Haven't heard anything sounding even close to this before! These guys are totally unique! Love the whole album! I don't know what to say...incredible is probably a good word...", then one can expect something great and unique from a band like this. And this band is Warsaw's own :: SEMANTIK PUNK ::, described playing "new millennium punk that presents ridiculously unusual musicianship and uncommon composing skills". Well, supporting Meshuggah I of course did not expect a band playing something straight and mainstream-like ;) But to see SEMANTIK PUNK actually play left me baffled and speechless. My jaw literally hit the ground! Especially watching drummer Karol Ludew… erm… "doing things" ("to play" would be just a too trivial description; for what he is actually doing I don't have words)… drove me crazy. Never ever have seen this! Singer Adam Adamaczyk again had a significant similarity to Napalm Death's Barney, visually as well as regarding his stage performance. Musically, Meshuggah for sure left a huge impact, but you cannot really compare both bands. To describe what SEMANTIK PUNK is about is almost impossible. Experimental Punk? With Hardcore, Jazz, Classic mixed in? The music of SEMANTIK PUNK is weird, off-key, totally nuts, dissonant, atonal yet melodic and groovy. And the new album is not only crazy by its name abcdefghijklmnoprstuwxyz. Does it all make sense? Probably not. Any questions? Yes, thousands of *laughs*. No, that was definitely not a performance to deal with easily, but an unusual and unique one, and for sure a peak experience. A good one…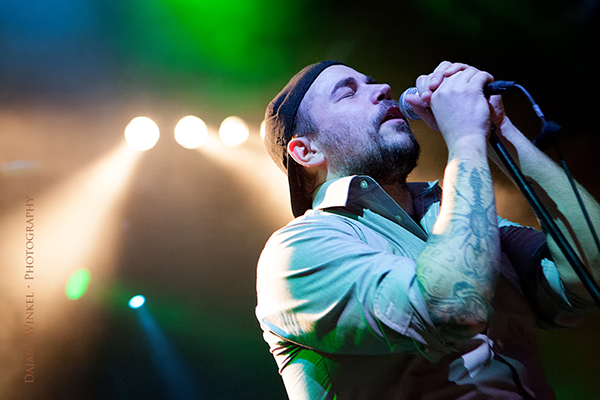 After this 30 minutes lasting excursion through the most extreme fields of experimental music, Long Island, New York juggernauts :: CAR BOMB :: sounded somewhat straight and catchy ;) Of course, they are not. To categorize them musically is likewise impossible. CAR BOMB have this unmistakable East Coast Hardcore sound, mixed up with various influences and stylistics, progressive-tinged, with classic shouts and clean singing and with neck-breaking twists and turns and breaks galore. They groove as hell and powerfully kick ass. Wow. Awesome!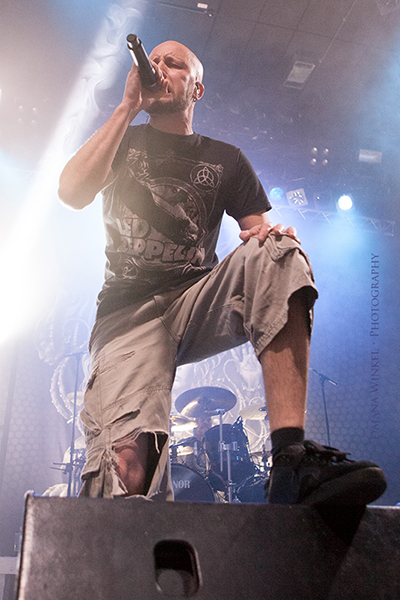 Ok, here we are. Let's take a deep breath. Watching the roadies preparing the stage is already thrilling. Backdrop, banners and light batteries just look amazing and cause many aahs and oohs. By the way… can I have the back banners? And then, time has come and :: MESHUGGAH :: kick off with Future Breed Machine, followed by the hit obZen. The hall is now really packed, almost sold out I'd say, and fans start freaking out. The sound is brilliant: powerful, brutal yet much differentiated and transparent. Everything is clearly to hear and not overdriven. Just… WOW! Incredibly great! The performance gets accompanied by a stroboscope massacre, which is a challenge, not only to take photos of but perfectly suiting the music and scenery. Concert goers have actually been warned before on big posters at the entry. And I guess not only sensitive people had some headaches afterwards… However, MESHUGGAH could have done it easily by playing the tracklist of the The Ophidian Trek anniversary album, but they did not. Instead the Swedes played a well-selected set with songs from every full length of the band's history. MESHUGGAH did not play those songs in a chronological order and thus underlined the band's development and changes in style. There is no need to talk about the skills of every single musician. They are beyond… everything and leave speechless. Only thing to nag about might be the fact that Dick Löwgren plays a 5-string bass. C'mon? That should be at least 6-string bass! *teasing* And drummer Tomas Haake… did I already say "speechless"? Not to mention the charismatic presence of singer Jens Kidman… Yes, this was a amazingly stunning and breathtaking show. Definitely one of three concert highlights in 2014, if not the best show at all. This was really, really epic!
Setlist: Future Breed Machine, ObZen, The Hurt That Finds You First, Do Not Look Down, Cadaverous Mastication, Greed, Gods Of Rapture, Neurotica, New Millenium Cyanide Christ, Stengah, Bleed, Demiurge, Straws Pulled At Random // In Death - Is Life, In Death - Is Death