Decades - The Greatest Show On Earth
It is no secret that NIGHTWISH are one of the big players in the metal scene. The Finns had their up and downs yet can't be stopped by anything, ever evolving, reaching new levels of success, opulence and bombast, no matter if you talk about their album productions or their live shows. They spare no effort, no pain, and it pays off. For 20 years now NIGHTWISH do their pub tours, an anniversary that needs to be celebrated properly. So do NIGHTWISH! With a best-of double-album titled Decades, and a correspondent world tour, to bring exactly those best-of songs live on stage.
With an epic live show and a promising setlist NIGHTWISH lure their fans into the mostly sold out arenas. So they did on this Friday night. More than 10.000 fans of all ages heard the call and obeyed, streaming towards the :: König Pilsner Arena :: in the heart of Oberhausen. The show was not officially sold out, as there were a handful of tickets left at the box office. Ticket prizing was ok, because you get a lot for your money BUT merch pricing was an unbounded cheek! 40 Euros for a tee… that is somewhat of a Tool-pricing and NIGHTWISH is not Tool. Support act BEAST IN BLACK actually had the same pricing… Now add the expensive charges the KöPi-Arena itself takes for drinks and food = makes an expensive evening (not to mention the annoying beer sellers down in the pit).
Safety regulations were incredibly high too. Several check points before even reaching the arena, security gates with metal detectors like on an airport, mobile detectors afterwards and scrupulous bag-checks. Now I know why the doors opened so early... To hit the roads towards the KöPi Arena on a Friday afternoon/evening… imagine yourself. Let's draw the veil of silence over it. I started early, tried a new route and had luck as I went through the area smoothly :)
:: pics :: BEAST IN BLACK ::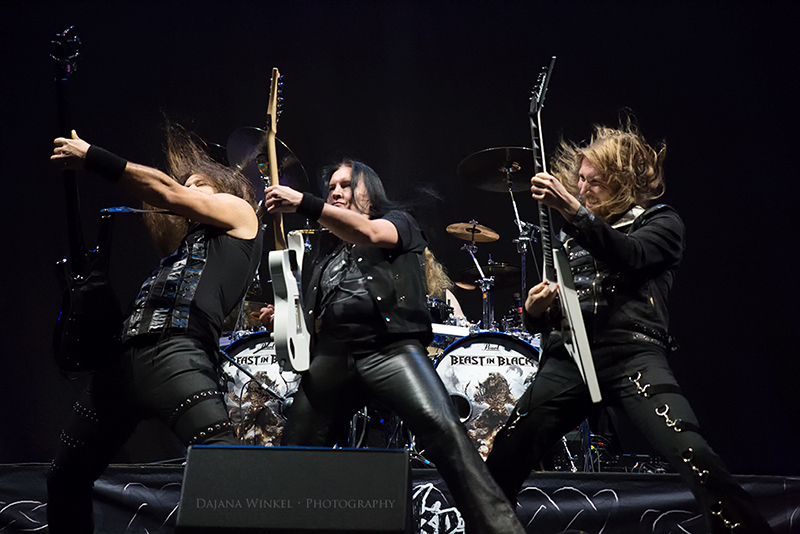 Finnish metallers :: BEAST IN BLACK :: are off to a flying start. Founded back in 2015 by former Battle Beast guitarist/singer Anton Kabanen (there they are again the beasts… ;)), BEAST IN BLACK directly signed a major deal with Nuclear Blast, released their highly acclaimed debut, Berserker, and made their live debut as a support act for Nightwish. That I call a fast-paced evolution, a stellar career. Respect for that!
Now they hit the road for their very first tour, again to open for mighty Nightwish. BEAST IN BLACK do it big right from the beginning. No common clubs but arena touring ;)
Having said that, we of course do not talk about rookies. It's pretty much a sensation but the Finns are already experienced, exactly know what they do, what they want and how to get it.
Musically, BEAST IN BLACK pick up where Kabanen left it off in Battle Beast. So, expect powerful and barnstorming song material. And it was perfectly staged and transformed into a high-energy live performance. Okay, movements were pretty much choreographed but it worked excellent for the show. A real eye-catcher.
BEAST IN BLACK played their debut, Berserker, almost in its entirety. Only one song was left aside (Zodd The Immortal). A smashing 40 minutes show to warm up the crowd for Nightwish. Great show!
If you liked them too, BEAST IN BLACK return in February 2019 for their first headliner tour throughout Europe in support of their then released sophomore, From Hell With Love.
Setlist: Beast In Black, Eternal Fire, Blood Of A Lion, The Fifth Angel, Born Again, Ghost In The Rain, Crazy-Mad-Insane, Blind And Frozen, End Of The World
:: pics :: NIGHTWISH ::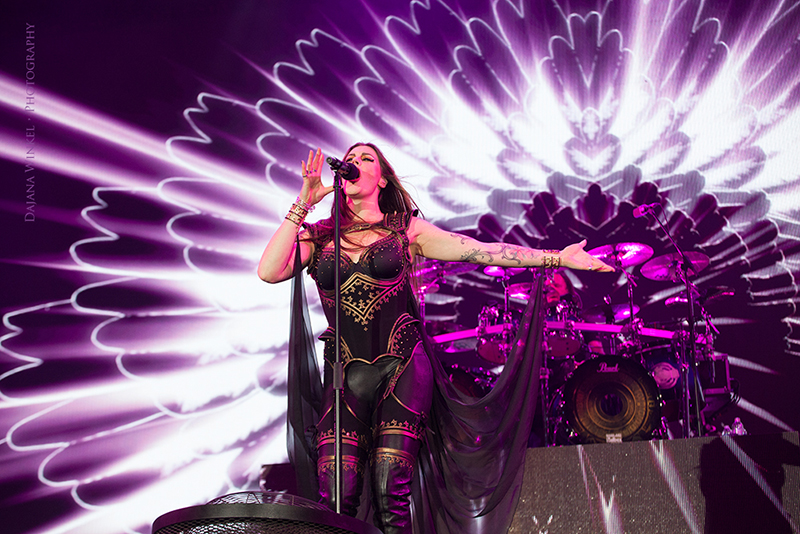 A gasp and some (30) minutes later a huge clock started counting down 60 seconds on a large screen behind the stage. Then a storyteller began his speech to introduce to a spectacular event. The crowd erupted in anticipation yet was calmed down immediately as Troy Donockley made it on stage all alone to take a seat with a pipe and a whistle and performed a collection of parts of Swanheart. A surprisingly quiet beginning of a show that was expected to start like a thunderstorm ;) It of course did not take long and the whisper-quiet-mode was over, seeing all :: NIGHTWISH :: members taking the stage under uproaring applause and putting in all pyros for Dark Chest Of Wonders. Yeah, this is what fans were longing for. Wow! It literally warmed my heart ;)
On the screen, ongoing visualizations accompanied every song thematically. They were multi-colored, flashy at points, almost 3D-like, sucked you in and sometimes even hypnotized. They were always on the edge of pure kitsch and though breathtaking. There were excellently balanced pyros, fireworks, smoke and CO2 jets, accompanied by a brilliant lightshow. A photographers dream. NIGHTWISH are truly masters at this.
Sound was brilliant too, at least were I stood after my photographic work. NIGHTWISH delivered a two-hour set spanning journey through the band's entire history, with the exception of Dark Passion Play. Next to known and welcome classics, many rarities were played such like Gethsemane from the sophomore Oceanborn, or The Carpenter from the debut Angels Fall First. I'm sure many fans out there have heard those songs for the first time live. Their live interpretations differed a lot from the originals and I guess it is a matter of taste whether you liked it or not.
I once again was at odds with the singer. Mastermind Tuomas Holopainen has the capability to perfectly tailor-make songs for each singer. This is an awesome talent but can be a hex too, namely, when singers change and the new one has to sing the old songs. Floor Jansen might be a highly skilled, gifted and talented singer but when she sings songs from the Tarja Turunen or Anette Olzon era, I miss something. The same happened to me back in 2012, when I saw NIGHTWISH playing live fronted by Anette Olzon.
What was special tonight was the fact that I hardly saw any mobile phones around. I heard there was a no-cell-phone request but I did not see an announcement like this in Oberhausen. But yeah, I do not complain. It was cool :)
Second thing that attracted my attention was the fact that Tuomas Holopainen did not have extra buildings around his keyboards and synthesizers. He played them "pure" but that did not made him more "visible". His equipment was located deep in the stage and he never left his place behind the keys.
The NIGHTWISH show was as huge as I expected. No doubt. Highly energetic, diversified and emotional. The band's musicianship is beyond any doubt. Every single one of them acts highly professional yet with an unadulterated joy. The band communicated with the audience all the time, took them on their journey and were rewarded with frenetic applause and overwhelming love. A two hours show with nothing to nag about. A two hours show that came to end with laughter and tears, with a massive confetti rain and everything of pyros, smoke and fireworks the band had to offer, while Ghost Love Score and the outro (The Greatest Show On Earth ((Chapter IV: The Understanding)) sent the fans out into the night.
My advice: If you still have the chance, go and attend a NIGHTWISH show. Highly recommended!
Setlist: Intro (Swanheart performed by Troy Donockley), Dark Chest Of Wonders, Wish I Had An Angel, 10th Man Down, Come Cover Me, Gethsemane, Élan, Sacrament Of Wilderness, Dead Boy's Poem, Elvenjig + Elvenpath, I Want My Tears Back, Last Ride Of The Day, The Carpenter, The Kinslayer, Devil & The Deep Dark Ocean, Nemo, Slaying The Dreamer, The Greatest Show On Earth (Chapter I: Four Point Six), Ghost Love Score, Outro (The Greatest Show On Earth ((Chapter IV: The Understanding))