We cannot wait until change happens
From the world's most powerful…
We have to show political and social responsibility
All of us
Now!
I remember my first NORDIC GIANTS show then in 2015 when they supported Sólstafir. It was an immersive experience that rapt me, an audiovisual experience far beyond imagination. Shortly after that show, NORDIC GIANTS released their debut full-length A Séance Of Dark Delusions, a stunning cinematic epic masterpiece that brought back in mind all those short films seen at the show. Besides, the album was critically acclaimed by both, fans and media.
Now, the Brits have released their sophomore, Amplify Human Vibration, a documentary film and its soundtrack, a stirring and captivating exploration of the human spirit. The album sets out to explore the very best of human nature and create an opposing narrative to the one often presented by the world's news media. It's an impassioned plea to humankind to focus on the positive aspects of our existence, lest the negatives become all-consuming.
Said this, the elusive duo are set to deliver their unique audiovisual experience to stages across Europe. Once more this month I hit the road towards Cologne and for the first time I visited the:: YUCA :: (Your Urban Club of Arts). It's a club deep under the arcs of old railroad lines. Walls are meters thick, with somewhat of a bunker feeling yet with a cozy and familiar atmosphere. Wow, that's cool. The entire club was bathed in blue lights. The stage was packed with electronics, computers, a keyboard and drums, while thick smoke was billowing across. There was hardly any room left for Rôka and Löki to move and act.
:: pics :: NORDIC GIANTS ::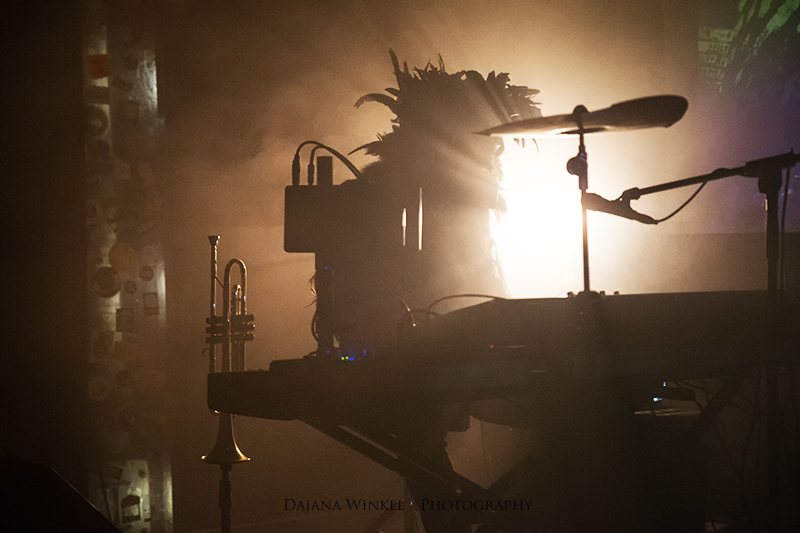 The :: NORDIC GIANTS :: were the only band tonight, no support, so it didn't wonder that they started a half hour later than announced. Especially, since the club was filling slowly – well, there were many other shows around…
The smoke got even thicker and finally Rôka and Löki squeezed behind their instruments, kicking off with Evolve Or Perish from their last record A Séance Of Dark Delusions. Felt a bit like a déjà-vu… the old song, the band members dressed in feather headdresses, tribal body markings, and the dark atmosphere… It seems, nothing has changed visually since I saw them the first time. Hm. I mean, the concept has changed, so why not the stage setting?
The sound was clear and powerful, loud yet not overdriven. Swelling ambience, pounding drums and massive riffs mesmerized. Short films or text messages of various speakers run on two big screens to the left and right. There was also a small one in the center of the stage, booked for guest singer Freya, who appeared virtually. Every now and then Rôka left his drums and came to the front to play his guitar with a bow, while Löki stood up to play a trumpet. The stage was kept in a gloomy darkness with occasional glimmers of color or rude flashes of strobe. What an apocalyptic feeling. But yeah, it suited the music and even more the partly disturbing films. It was quite a challenge to absorb all aspects of the NORDIC GIANTS show in one. One eye closed and the half mind drifting away, while the other eye watched the films and mind tried to grasp the messages.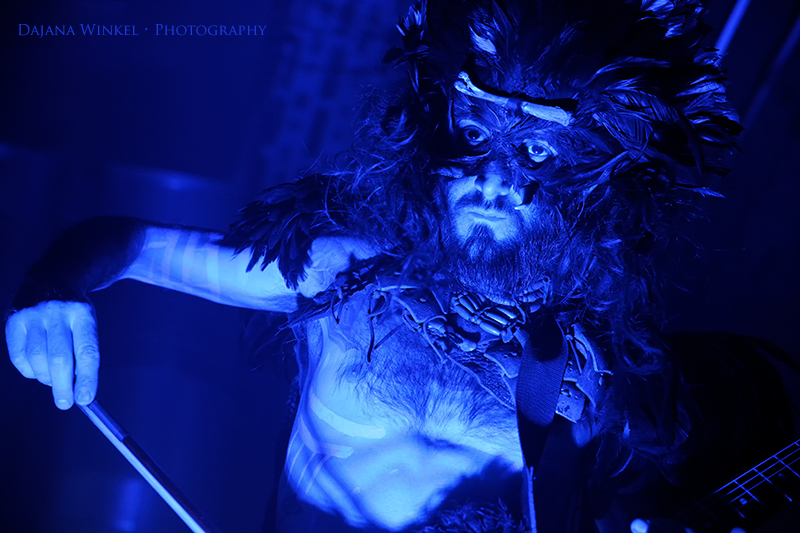 The new songs from Amplify Human Vibration seamlessly follow the debut, no stylistic changes, and no experimental breaks. The audience most time responded reserved, mostly because there were no clear ends of the songs. But when, the feedback was enthusiastic. Rightly, because the show was awesome. Once again.
Unfortunately, the show was way too short. The regular set not even passed the one hour mark. With two encores and much ado 70 minutes were reached. No, no, no! This is not enough. A single NORDIC GIANTS show should last 100 minutes. At least. They have enough material, they have enough films. So, there is only one thing they can do now: to return in 2018 with a show doubled in playing time ;)
Setlist: Evolve Or Perish, Through A Lens Darkly, Illuminate, Dystopia, Taxonomy Of Illusions, Little Bird, Mechanical Minds, Immortal Elements, Together // Autonomous, Dark Clouds Mean War