Raison d´être & Troum - Phelios - Visions & New Risen Throne - Shrine
The PHOBOS FESTIVAL is an annual event dedicated to Dark Ambient music. The concert series was created by Martin Stürtzer, the creative mind behind the Wuppertal-based Dark Ambient project PHELIOS. Since 2009, PHOBOS FESTIVAL offers an international platform for exceptional music and video art.
That I didn't know the festival although I have a strong affinity to this genre, well… blame on me. That I eventually got aware of PHOBOS FESTIVAL is due to the fact that I unfortunately had to cancel last year's Cold Meat Industry Festival, which I'm still mourning about. RAISON D'ÊTRE was one of the bands of that Swedish festival and their newly announced live dates brought me to the PHOBOS FESTIVAL.
For the first time, the PHOBOS FESTIVAL took place at the :: CityKirche Wuppertal-Elberfeld ::, which wasn't that easy to find. Because there are two so called city churches, one Catholic, to be used for what it was made for, and a Protestant city church that also is an open-minded meeting place. You can of course pray there too, and visit wonderful concerts and events such as the PHOBOS FESTIVAL. It's a wonderful little church including a café.
Six acts have been announced for this year's edition; where I only knew RAISON D'ÊTRE (almost all releases can be found in my CD shelf). PHELIOS I knew by name but never dealt with that project any closer, a subject to be changed strongly.
By the way, every performance was recorded and can already be watched for free :: HERE ::. You will also find a video link to every show under the review.
:: pics :: PHOBOS FESTIVAL ::
The festival was completely sold out but it didn't feel overly packed and crowded. Many fans were still at the café or at the merch, while other ones were inside the church looking for a seat. The atmosphere was really relaxed yet full of expectations. I'd say, 200 fans attended the festival. Fans from 13 different countries as Martin told afterwards. Wow! I didn't expect that! Pricing for drinks, coffee and tea were fair, prices at the merch as well. Just the seats in the church were a bit uncomfortable. On time at 8pm lights went out and the audience was as quiet as a church mouse.
The festival was opened by :: SHRINE ::, the project of Hristo Gospodinov, he for the first time performed outside his home country Bulgaria. Dark sounds, threatening and nightmarish, were spread from the altar. Blurred and diffuse visuals created an apocalyptic atmosphere. But there were also soft tunes and some twittering that sent a ray of hope through the wall of sounds. The entire apse was used for light installations and projections. No screen, directly on the wall, absorbing the architecture of the apse. I always had the feeling that visualizations were asymmetric. I was right as the apse is asymmetric itself, so I learnt afterwards. Felt a bit disharmonious. Sound volume was high, intensive yet still comfortable. There was only one thing that would bother the audience the whole festival: glass bottles on the stony floor.
Back to SHRINE who delivered an great performance. He actually will release a new album in spring, entitled Celestial Fire, some of the new tracks should be taken from. You can already listen to teaser on his :: BandCamp ::. Stay tuned.
Setlist: Intro, new unreleased track, Carnal Euphoria (alternate version), Nihil (alternate version), Somnia (alternate version), new unreleased track --- :: VIDEO ::
15 minutes break. Next up is :: VISIONS ::, the project of Canadian mastermind Frederic Arbour, also known for his label Cyclic Law, where Raison D'Etre have released their new album, Alchymeia. Again dark and oppressive Industrial sounds filled the apse, more drone this time, accompanied by a black & white visualization. There was an old house to see, abandoned, destroyed, anywhere in the nowhere, bleak and lonely, reflecting nothing than decay. At least there was enough light to see the player behind his knobs. There have not been particular tracks, everything was freely improvised live. But some sounds and melodies you will find on a new record due out at the end of the year ;)
After around 30 minutes of performance, Gabriele Panci of :: NEW RISEN THRONE :: entered the stage and both united their sounds for another 15 minutes. Then Frederic Arbour faded out and Gabriele Panci got into his set seamlessly. The music became even darker, and mystic, with a touch of occultism. Fractalized bodies and bones, screaming faces and bloody and fiery threats on the walls, while satanic undertones echoed through the church. A hauntingly beautiful combination of sounds and visual art. That was truly awesome. Goose bumps. --- :: VIDEO ::
Time has come for the organizer of the festival itself and :: PHELIOS ::. When it comes to stars, galaxies and nebulae you easily can steal my heart. Especially, if you set the universe to music as beautiful as PHELIOS did. His set was a compilation of tracks from the last two records Human Stasis Habitat and Gates Of Atlantis but also new pieces of music Martin Stürtzer is currently working on. All mixed into each other and overlaid. Vibrant cosmic drones wafted through the church and mesmerized. Breathtaking 3D nebulae and stellar nurseries were slowly rotating on the wall behind (some by Teun van der Zalm). It blew me away! Fantastic!
Planetarium… PHELIOS needs to play in a planetarium. Bochum? Muenster? That would be the non plus ultra. --- :: VIDEO ::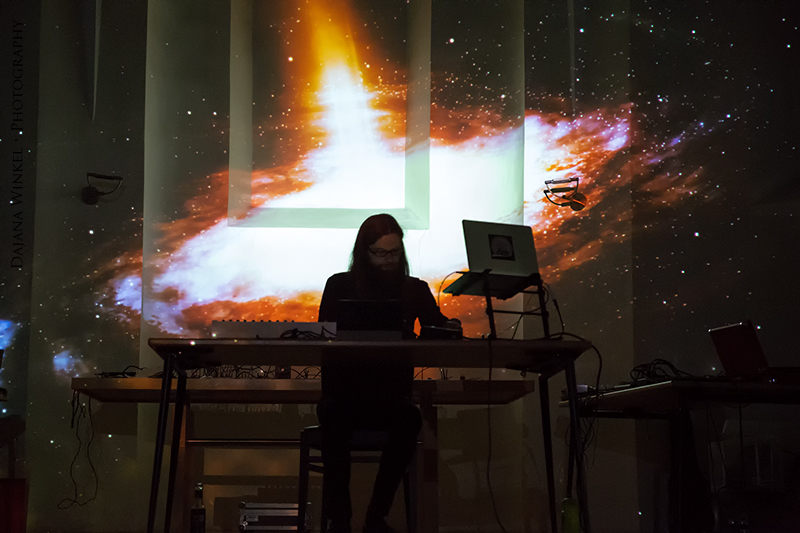 :: RAISON D'ÊTRE :: I've been following Peter Andersson since the beginning, since Prospectus I to exactly. I lost a bit sight of him during the recent years. Peter Andersson is restless, highly creative. He has released numerous albums, under different names, with side projects and collaborations as well as compilations. His latest collaboration is with the German duo :: TROUM ::, going under the simple name :: RAISON D'ÊTRE & TROUM ::. They have released two records so far, XIBIPIIO und De Aeris In Sublunaria Influxu, from which they created an exclusive set for PHOBOS FESTIVAL. There was no special light- or video show, just constant red-colored lights. I'm not sure, if this joint venture ever played live so far. There seemed to be some insecurities or technical issues with modules and instruments. And they used many. Normal ones as a violin, guitar, mouth harp and an accordion, but also sounding bodies played with a bow, panel sheets and others. All sounds modulated and distorted afterwards. Maybe it has been too many to keep the flow. But when all things fell perfectly into place RAISON D'ÊTRE & TROUM sounded just stunning, took the listener far away into worlds beyond. Yes, that was just amazing! --- :: VIDEO ::
Upshot: The PHOBOS FESTIVAL is indeed a unique event with excellent artists, visible as well as invisible (meaning the visual artists behind all those wonderful visualizations) for an unbeatable price of 20 Euros! Even if the festival ticket would cost the doubled price it would still be fair for what you get offered. Too bad that it took 8 editions till I got aware of this event. If the new church is the better one or not I cannot say as it was my very first PHOBOS FESTIVAL. I found the church very comfy and pleasant with a great sound. The problem with the glass bottles on the stony floor has burnt into the organizer's memory as well, it won't happen again ;) Besides, there is nothing to nag about. Arrival, parking, drinks… everything was easy.
Last but not least I would like to take my hat off to Martin Stürtzer, who organizes the festival (for years), who was running around all the time to solve problems, to make the fans feel comfortable and welcome, and who did an excellent job as a sound engineer for the all three acts. I'm truly impressed and I'm much looking forward to next year's edition :)