• Mesh • Clan Of Xymox • Sono • Portion Control •
• Escape With Romeo • Dupont •
I always had in mind that I already attended a PLUSWELT FESTIVAL. Well, no live report, no presence I'd say, only wishful thinking ;) Ok, never mind, then I make the ninth edition to my first one!
Mainspring doing so was CLAN OF XYMOX, a band I really like and did not see live for ages. Furthermore SONO and DUPONT got highly recommended, so I had to be there ;) Only bummer was the fact that, contrary to the show in Berlin, Scream Silence was not on the bill…
:: pics ::
Slightly delayed and totally unspectacular :: DUPONT :: entered the stage and opened the festival with Entering The Ice Age from the homonymous album released in 2009. Light and audience were likewise lukewarm. Seems like the crowd was still asleep at the wheel. Music was much danceable and with their show going on finally the first loose rows got on the move. Seeing them for the first time I have to confess that I find DUPONT on CD crispier. Although… Casino live kills…
Setlist: Entering The Ice Age, Casino, Ghostdance, Dope Of Love, Money, Motel Lover
:: ESCAPE WITH ROMEO :: I know since Amphi Festival where they left me emotionally touched. Tonight's show was even better, because of its intimate atmosphere. I so love these kind of Wave guitars, especially when fronter Thomas Elbern burst out into a great guitar solo at Somebody. Here it is quite the opposite: might the songs be a bit pale on CD, live ESCAPE WITH ROMEO truly rock! Just great!
Setlist: Intro, Helicopters In The Falling Rain, Glitter On The Snow, Somebody, It's Loneliness, Anteroom, White Room, Addiction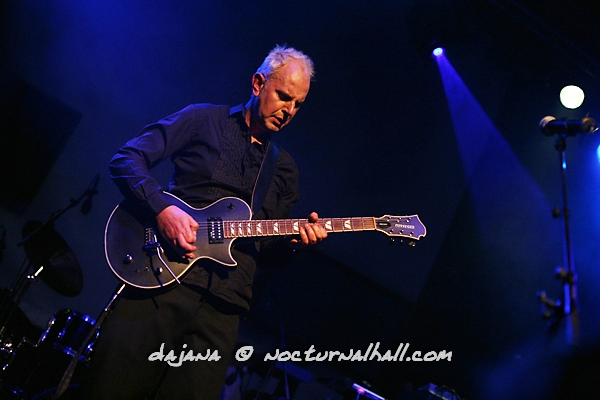 Next up was London-based Industrial/EBM duo :: PORTION CONTROL :: I never dealt with them before and just learnt afterwards that they are already around since 1979. Wow! Might now explain these old grey and po-faced looking gentlemen, seeing singer Dean Piavani lapsing into strange and bizarre motion patterns. Musically however I enjoyed their show. PORTION CONTROL deliver heavier and harsher kind of EBM, much the old school way. Me likes ;)
But I did not like the way PORTION CONTROL were complimented off the stage while pulling the plug due to timeout. That's no way to behave, it could have been handled much better, right?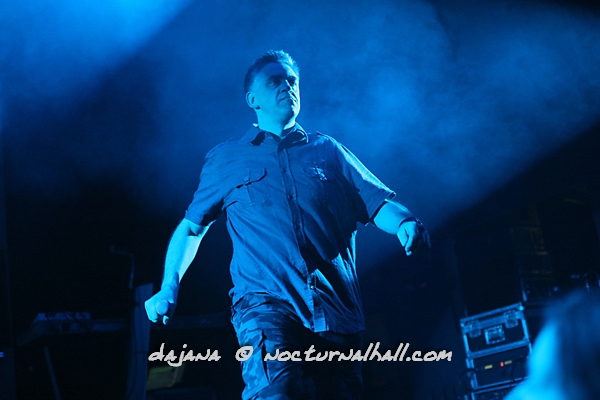 Before :: SONO :: was about to jump in it became packed and cuddly. Our camera bags needed to be put in a safe place as fans announced to freak out. The Hamburg, Germany based powerhouse kicked off with 2.000 Guns and there they were, the crazy girls screaming and dancing. I needed a couple of beats to get used to it… but then I got into them and enjoyed them a lot. I truly had a blast to see SONO performing live. Musically again something quite different but I guess that's it what makes them so charming ;) Apropos charm… Our little gang got collectively struck by a prevision and... as if there was God's finger snapping a certain photographer suddenly appeared in our middle right on time when Mr. Lennart A. Salomon started to undress himself… *laughs*. Priceless!
Great band, much likeable and I'm already looking forward to see them again at next year's Blackfield Festival. SONO got a new fan.
Setlist: 2.000 Guns, What You Do, Blame, All Those City Lights, A New Cage, Always Something Better, The Brightest Star, Better, Keep Control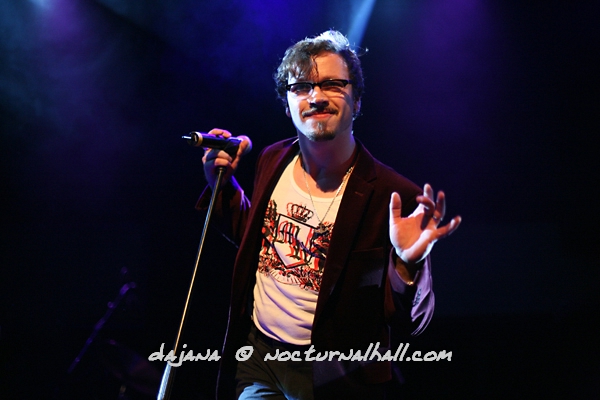 Finally, finally time has come for :: CLAN OF XYMOX :: But it seems like this former Dutch band (now living in Leipzig, Germany) got kinda screwed. They got stuck in traffic jams, came too late and thus missed the sound-check. Only a short line-check had to put things straight, lights out and Love Got Lost started to captivate us. Only with the lights I would like to give them private lessons. Always these darkness fetishists… tststs. COX played brand new songs from their most recent record In Love We Trust as well as very old stuff echoing the vibes from the past. Great show, just way too short! Wanna see them again doing a full headliner show, please!
Setlist: Love Got Lost, In Love We Trust, Jasmine & Rose, Hail Mary, This World, Emily, Heroes, Farewell, No Tomorrow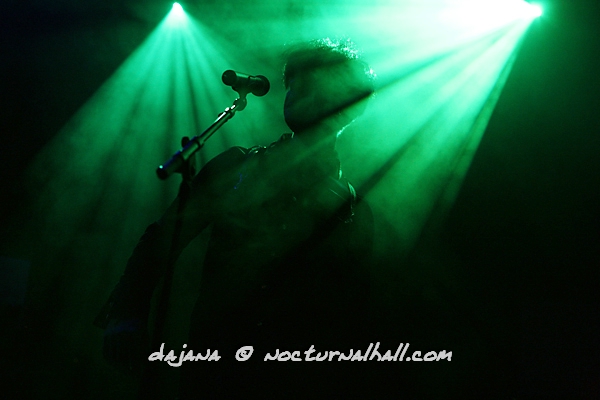 Time flies, sparkling wine flows… :: MESH :: did not made it to keep up with the time schedule. So, without much ceremony they got into their set too. Same setlist as at Amphi Festival too, seems like it stood the test ;) The KuFa is now very crowded, much more, fans and attendees are in high spirit and started to sing-along right from the beginning. Wow. Did not expect this… Finally there is also some light and makes us photographers happy. At Who Says? former Technoir singer Julia Beyer joins in, accompanying Mark Hockings as his counterpart. As she does not do it for the first time she still acts quite stiff and unsecure, and even less leaves an impression singing-wise. Never mind, it's just one song and right after MESH promptly accelerate, letting the crowd dancing like a master his puppets ;) With two encore songs MESH say goodbye at a late hour leaving the audience still chanting for more.
Setlist: If We Stay Here, Leave You Nothing, Hold It Together, Only Better, I Don't Think They Know, Petrified, Crash, How Long?, From This Height, Who Says?, Trust You, Everything I Made, Confined // Can You Mend Hearts?, Friends Like These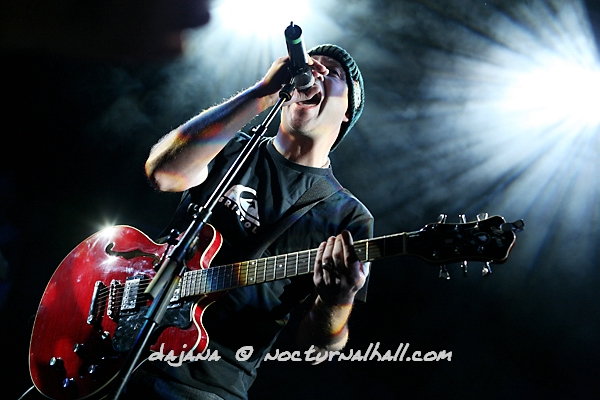 Altogether a great evening! I discovered new bands and we had an extremely funny night, every now and then we burst into tears for laughing. Priceless moments we had, really *laughs* while sparkling wine and beer made us turning into some ludicrous creatures…
Anyway… PLUSWELT FESTIVAL X is already scheduled and the first bands announced. I guess we'll meet up there again ;) As for now, thanks to the congregation of conspirators for this funny evening, you know who you are *hugs*