Queensrÿche - D-A-D - Ensiferum - Naglefar - Desaster - Mustasch - Horisont - Slingblade
:: pics ::
[Sui] The Saturday was musically kicked off extremely, extremely boring. Seems like the organizers didn't want to overstrain the crowd with some brutal shit. Swedish traditional metal band :: SLINGBLADE :: was not really bad, but their performance was pretty anemic. Especially singer Kristina Karlsson needs to work on her voice, expression and performance. When the crowd looks tired at this early time it is understandable but an opening act should be livelier.
[Dajana] And I hurried as I got advised not to miss this band from a photographic aspect. Well, in this case SLINGBLADE emerged as boring too. Musically they offered only songs from their 2011 debut The Unpredicted Deeds Of Molly Black, so nothing new either.
Setlist: The Nature Of Evil, Back To Class, Tie Her To The Cross, The Demon, Slasher On The Loose, This Dream Will End, Molly's Death, Give Back What You Borrow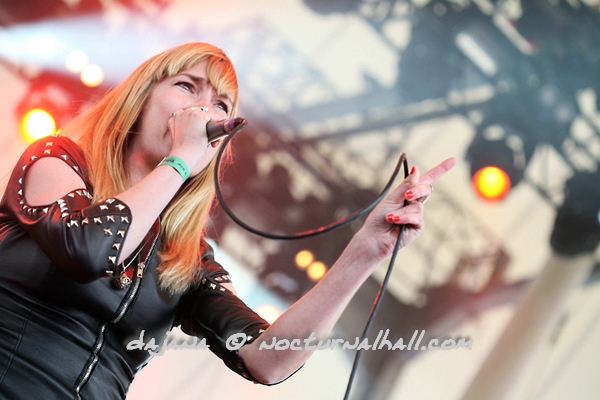 [Dajana] Right after things did not turn out much better. (Swedish) Stoner Rock might be hip these days but there exist already a flood of bands and :: HORISONT :: do not make an exception from this. They are musically great, no doubt, and visually I really found them… um… cute but I'm already satisfied with such kind of band bands I came across so far.
[Psycho] To be honest HORISONT lost with the first tune already. I actually can do preciously little with this kind of 70s slipslop. At least HORISONT left a much better and more dedicated impression that its predecessor and went down even better.
[Sui] Admittedly, the sometimes sluggish and sometimes driving Black-Sabbath-meets-Deep-Purple-meets-Thin-Lizzy-70s Hard Rock of highly acclaimed Gothenburg rockers is not really the perfect wake-up call but musically much more interesting. At first we got the Swedes only instrumentally as the vocals did not go through the PA (same problem happened to Ashes Of Ares where it wasn't that bad at all), but then HORISONT got the groove. I agree with expressed opinions that HORISONT would have worked much better in a small club than such a big open air stage. The singer reminded me rather of Ian Gillan than Ozzy Osbourne, which isn't a bad thing at all.
Setlist: Visa Vägen, On The Run, The Unseen, Crusaders Of Death, Time Warrior, Magnus Kills, Thunderfight, Nightrider, Second Assault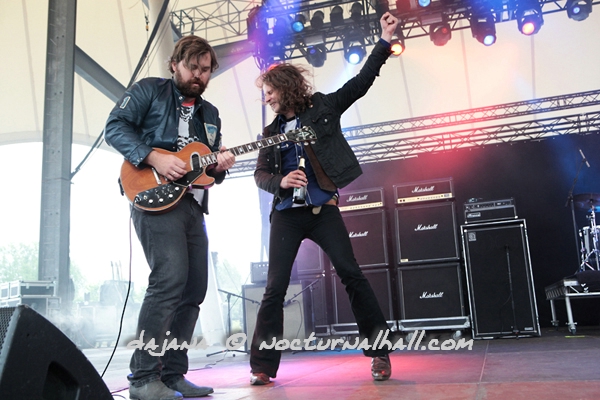 [Dajana] Next up are (again) Gothenburg gents :: MUSTASCH :: who emerged to be my surprise of the day. I saw them live for the first time and had a hell of fun to rock out with them. And so did the crowd…
[Psycho] I did not see them. My daily exercises for lunch took its toll. At this chance I did some shopping too…
[Sui] I guess this band is not made for Psycho, because on paper they take the same line as their fellow countrymen of Horisont. Live and in color they show worked completely different, one level better and Horisont weren't any bad, at least in my opinion. Frontman Ralf Gyllenhammar and his mates were so likable, rocked the house and kicked powerfully ass. Their somewhat German announcements scored as well as their slightly curious sing-along refrains. Also the sound could convince for the first time now, making finenesses and various effects (Wah, Envelope filter) audible. To top it all MUSTASCH waved goodbye with Whitney Houston's "I Will Always Love You" (playback). For me the first highlight of the day!
Setlist: Black City, Mine, It's Never Too Late, I Don't Hate You, Down In Black, Tritonus/Heresy Blasphemy, Bring Me Everyone, Speed Metal, Double Nature, I Hunt Alone, Outro
[Psycho] After moderate tunes the crowd got now shaken up with a proper dose of blackened Thrash Metal. :: DESASTER :: did not show mercy and played a brutal show, much welcomed by the enthused audience. There was obviously a need for more power and speed…
DESASTER was also the only band on the festival who paid tribute to late Slayer guitarist Jeff Hanneman with Black Magic. I actually don't understand why none else (also the RH crew) did not do so. Anyway, an extra thank you for that towards Koblenz.
[Dajana] Opinions about DESASTER might differ. You either love or hate them. Technical finesse and sophisticated songwriting you won't find here, even not after a 25 years spanning history. DESASTER deliver rumbling, earthy, old school Black/Thrash Metal from the bottom of their hearts. Somehow iconic…
[Sui] I only got the first beats of German Thrash/Black veterans DESASTER. Good opportunity to agglutinate my gustative nerves with overpriced oil dripping chips.
Setlist: Nekropolis Karthago, Devil's Sword, Phantom Funeral, Divine Blasphemy, Hellbangers, Teutonic Steel, Satans Soldiers Syndicate, Black Magic, Metalized Blood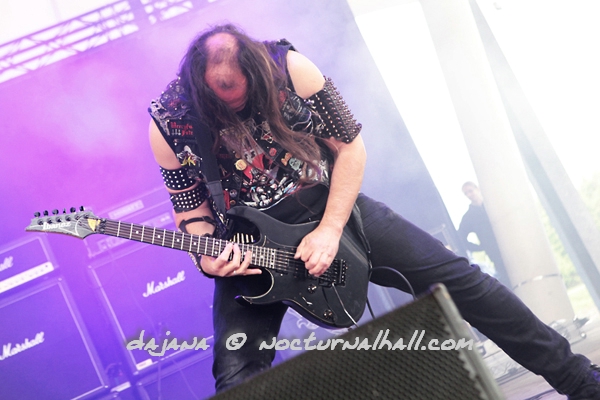 [Psycho] Next to Queensrÿche it was :: NAGLFAR :: I was looking for most on Saturday. If you talk about challenging and melodic Black Metal you have to talk about NAGLFAR. So I was surprised that less people came into the arena than during the Desaster gig. However, the Swedes delivered a powerful show but were suffering from the worst sound of the day. Nevertheless: with the band's song material and their musical quality you can't do it wrong. For me the first highlight!
[Sui] I can't say much about NAGLFAR, except for the fact that they left a professional impression and got celebrated by the crowd.
Setlist: Pale Horse, The Darkest Road, Bring Out Your Dead, I Am Vengeance, The Perpetual Horrors, As The Twilight Gave Birth To The Night, A Swarm of Plagues, Harvest
[Psycho] I never dealt that closely with :: ENSIFERUM :: and with their first songs the Finns demonstrated why I won't change this attitude: to simply Speed Metal riffs they add choirs and flutes from the tape and that's that. From a Viking/Folk/Pagan Metal I expect much more atmosphere; here I couldn't find anything like this. But at least: Finns know how to get you in a party mood. The whole band was permanently moving and their show was entertaining. Not every band is able to keep up such level of energy for the entire set.
[Dajana] I have to confess that I'm deeply bored and sick of all this Viking/Folk/Pagan/Humppa stuff. No matter how good such band is on stage.
[Sui] Finnish leather skirt wearing metallers also could rely on a massive fan-base. But to enjoy this cute Viking-like brawl-brother-booze-brother-metal of sword-bearers I did not guzzle enough beer. Yes, they were technically skilled and entertaining and so left a good impression so far.
Setlist: Intro, In My Sword I Trust, Guardians Of Fate, From Afar, Burning Leaves, One More Magic Potion, Retribution Shall Be Mine, Stone Cold Metal, Ahti, Twilight Tavern, Iron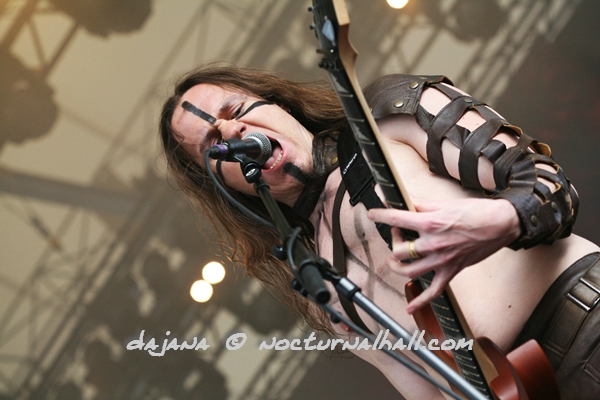 [Psycho] Huh, déjà vu? Already on the previous day I was wondering how it came to this co-headliner… :: D-A-D. :: already played the RHF not so long time ago (in 2009 to be exactly), in the afternoon and hardly kicked anyone out of the socks. I have no clue what should have changed meanwhile… Well, at least the Danes know how to entertain their audience. Music degenerated into a minor matter but it was funny and that's already more than I had to say yesterday at this point.
[Sui] That even the co-headliner (and sixth Swedish band on this day) had to struggle through technical problems let me have doubts about the professionalism of the sound techs. No doubt however about the entertainment value of the Cowpunks. My personal impression was that D-A-D was much more motivated than on their last RHF stint. Alone the instruments of bass player Stig Pedersen were worth watching. A Tommy-Lee-memorial drum solo accompanied by a totally screwball story of singer Jesper Binzer was just one of several highlights. Musically diversified but not necessarily a musical revelation but D-A-D leave you in a good mood.
Setlist: Isn't That Wild, Jihad, A New Age Moving On, Everything Glows, Rim Of Hell, Grow Or Pay, Riding With Sue, Last Time In Neverland, Monster Philosophy, I Want What She's Got, Bad Craziness, The End, Sleeping My Day Away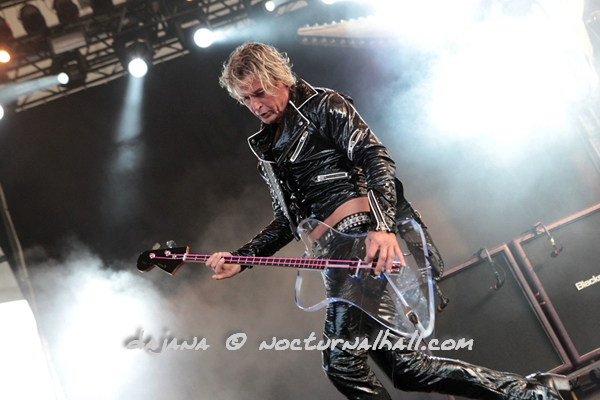 [Dajana] Despite of the one or the other surprise this Saturday was quite lame. But there was one band at the end that made up for everything. And this band is :: QUEENSRŸCHE :: , which is more or less the main reason for this year's ROCK HARD FESTIVAL. One could state that it was likewise an experiment as Ashes Of Ares was the day before, but this time definitely successful. This show was just incredible. Incredibly great, incredibly stirring, exceptional, breathtaking… beyond all expectations…
[Psycho] Up to this point I was quite disenthralled by the RHF. Too many trivia and disappointments and generally not enough METAL, including the cold weather (okay, no one is to blame for that) – I was glad that I had my ebook with me… And then there was the big "unknown" of the Saturday: QUEENSRŸCHE with a new singer and - considering all the quarreling and conflicts with Geoff Tate - with sort of a comeback. After having cancelled the tour in April due to label politics QUEENSRŸCHE now just crossed the pond for this festival only and I guess no one had an idea what really to expect.
Luckily, QUEENSRŸCHE measured up to everybody's expectations and went far beyond, delivering the show of the entire festival so far. The band offered a great setlist, perfect sound and with Todd La Torre an excellent new singer and frontman who left nothing to be desired. Not only vocally this man was a force. He passed all classics and delivered an awesome performance always in move, always in touch with the crowd. Who needs someone like Geoff Tate?
[Dajana] Geoff… who?
[Psycho] Beside many classics QUEENSRŸCHE also presented two brand new tracks from the upcoming and self-titled album, out in June 25, entitled Redemption and Fallout. I loved them both! The new album must be a real smasher. After way too short 90 minutes the show was way too fast over. I wouldn't have nagged about another 2 hrs, really. QUEENSRŸCHE left a surprised, euphoric and enthused crowd. It felt like as if no one would have expected this and is even happier now. And the crowd has taken a shine to the band itself…
[Sui] Below the line this festival day was everything else than lame, but well, that's a matter of taste. Following headliner QUEENSRŸCHE had less to do to make up a lame day than to work off almost two lame decades. Was there any other band at the RHF that had to face more pressure? The intro of German Rammstein-epigones Eisbrecher anyway caused raised eyebrows at first. Then guys entered the stage and swept away all doubts who the real QUEENSRŸCHE are. What a show! Walk In The Shadows caused goose bumps and at Eyes Of A Stranger I almost had tears in my eyes. Those two new songs seamlessly fitted the classics. Fronter Todd La Torre only left one question open: who the fuck is Geoff Tate?
Setlist: Queen Of The Reich, Speak, Walk In The Shadows, The Whisper, En Force, Redemption, Fallout, Child Of Fire, Warning, The Needle Lies, Prophecy, Roads To Madness, My Empty Room, Eyes Of A Stranger, Take Hold Of The Flame // Empire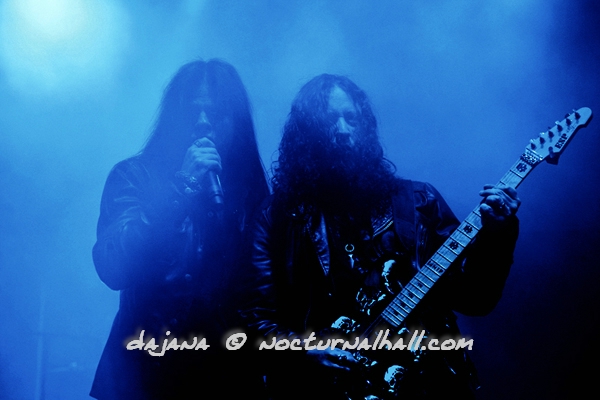 [Psycho] And again it cannot be said that the weather is anything to party with. It is lousy cold. The arena empties quickly without the help of the securities. But it is forecasted to get better tomorrow….