Whew! I knew that my last SAMAEL was some time ago. But 10 years? Unless I saw them on a festival. But then I would have some pics, so no. On the other hand, SAMAEL were not active for quite some time. However, it was long overdue to see them live again ;)
The Swiss Black Metal/Industrial pioneers have reason to celebrate. The band is celebrating its 30th anniversary, a career that has seen groundbreaking records such as Ceremony Of Opposites that just celebrates its 25th anniversary. And yeah, there is also the new album Hegemony, which, in fact, has already collected some dust (released in 2017) but, since I have not seen SAMAEL for ages it is a live premiere to me :)
:: pics :: HANGMAN'S CHAIR ::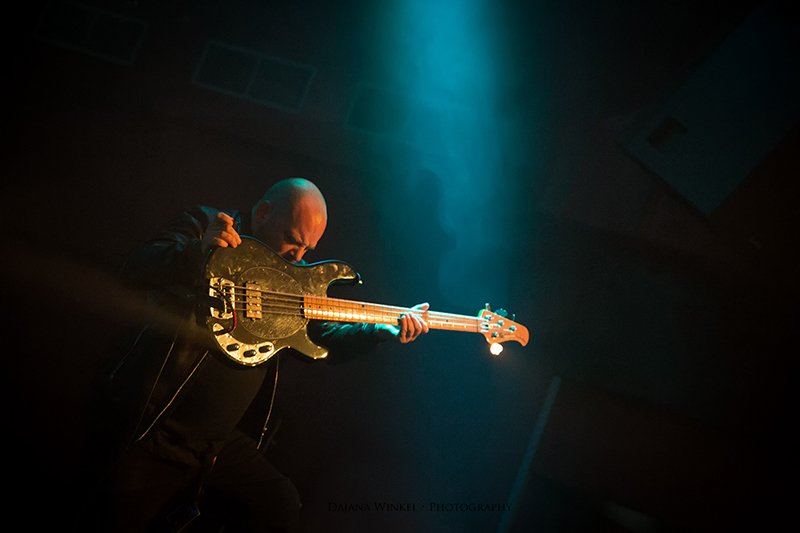 Despite the fact that it was a Friday evening, the trip towards the :: Turock Club :: was a relaxed matter. The club is clearly filled when :: HANGMAN'S CHAIR :: entered the stage. To book a Doom band as a direct support was quite venturesome. I would have expected a Black or Industrial band instead. Well, seems there was someone open minded and farsighted, because HANGMAN'S CHAIR and their fifth full-length, Banlieue Triste, resound throughout the metal scene and was an excellent choice, musically as well as live on stage.
The Frenchmen kicked off with enormous vehemence. Bass and drum patterns were to feel bodily all the time. The floor was downright vibrating. Drummer Mehdi Birouk Thépegnier worked like an animal behind his kit. But also bassist Clément Hanvic and axe-man Julien Rour Chanut didn't fall any short. Only singer and guitarist Cédric Toufouti was much the opposite. He seriously reminded me of Jonas Renkse. There were no announcements between the songs and the breaks were short so that the crowd hardly had a chance to applaud. Especially if one was not familiar with the tracks. HANGMAN'S CHAIR anyway would have deserved a storming applause.
Musically they fully convinced me too. I fell in love to their special brand of rough Doom, Stoner and Sludge, with Cédric Toufoutis voice as strong contrast. Reminded me of most recently disbanded French Sludge masters Dirge.
Great discovery! Their 40 minutes set was of course way too short. I need the band's new album they played half of the songs from tonight, added by two tracks from the predecessor, the 2015 album This Is Not Supposed To Be Positive. HANGMAN'S CHAIR. Banlieue Triste.Check it out! Now! Great show. And suddenly, the club is crowded…
Band: Cédric Toufouti (vox, git), Clément Hanvic (bass), Julien Rour Chanut (git), Mehdi Birouk Thépegnier (drums)
Setlist: Banlieue Triste, Naive, Sleep Juice, 04/09/16, Dripping Low, Cut Up Kids, Full Ashtray
:: pics :: SAMAEL ::
Okay, I think it is safe to say that most of the fans wanted to see :: SAMAEL :: tonight ;)
The Swiss guys did not need much time for their change-over. 9 pm, the lights were dimmed and SAMAEL came out to uproarious applause and launched into the title track of the new album, Hegemony. They kicked off likewise brutal, with full force and did not stop doing so until they left the stage again. The entire set was unbelievably dense, fast and brutal, while white lights and stroboscopes were on a giddy spin. Afterwards I felt flashed and like hit by the ICE ;)
Just to mention it: It seems, the last 10 years have passed Vorph and Xy unaffected. Same (young) look, same clothes, same live performance. As if I have seen them yesterday ;)
Next to material from Hegemony, SAMAEL played a lot of very old stuff. Like tracks from Passage, a record that soon will celebrate its 25th anniversary too, which hopefully leads to a special tour where this milestone will be played in its entirety and of course songs from Ceremony Of Opposites. Oh dear, this made the crowd really happy. Latest at Rain I put my cam away too and started to rock out.
What a show! SAMAEL played 75 minutes and added a 3-song encore. Still way too short if you ask me. It was still early for a Friday night – they could have played for another half hour. At least. (I was back home before midnight ;)). Ah, anyway, it was a fantastic concert night. I had a lot of fun (and a sore neck the day after). It was a real pleasure to see SAMAEL performing live again.
Band: Vorph (vox, git), Xy (keys, drums), Drop (git), Zorrac (bass)
Setlist: Intro, Hegemony, Samael, Rain, Slavocracy, Luxferre, Angel Of Wrath, Rite Of Renewal, The Ones Who Came Before, Interlude, Solar Soul, Son Of Earth, In The Deep, Infra Galaxia, Reign Of Light, Year Zero, Ave!, Black Supremacy // Ceremony Of Opposites, Baphomet's Throne, My Saviour