In 2014 I for the first time saw 80s icons SIMPLE MINDS live on stage in my hometown. And it was a marvelous show and experience :) Now, another wonderful chance occurred, in a very special setting. In 2017 the SIMPLE MINDS tour for the first time with an acoustic set, playing in handpicked locations, to present the material they have released last year, simply entitled Simple Minds Acoustic. This new record features KT TUNSTALL singing Promised You A Miracle in a duet with Jim Kerr. So it suggests itself to invite the Scottish lady on this tour. She has a new album out too that wants to be presented and supported live ;)
The first show of this four weeks lasting stint took place at the unique and wonderful :: Colosseum Theater :: Essen, Germany, which was sold out in a twinkling of an eye. An additional show was booked, this one tonight, which was sold out too. Same goes for most of the dates on this tour.
The ride towards Essen on this Saturday evening was tough, and so was the search for parking. The foyer of the venue was already packed and crowded with fans in highest anticipation. Unfortunately there was no time left to explore this stunning place and to take photos (it is an old machine hall, a production facility of the Krupp AG). And since there is no chance to visit this venue outside of events, I guess I have to look for another show in this house and then have to arrive as the first one ;)
However, let's sneak into the main hall… Wow, all with red carpets and red velvet seats… and a gorgeous chandelier above the stage. I was psyched and curious and looked much forward to the things to come. Lights went out and… no… not KT but Jim Kerr of the SIMPLE MINDS appeared on stage to greet and welcome the audience personally, and to introduce KT TUNSTALL, having a dig at the British Empire as he introduced her as a free Scotswoman (who meanwhile lives in sunny Cali). Ok, the free Scotland statement was clear ;)
:: pics :: KT TUNSTALL ::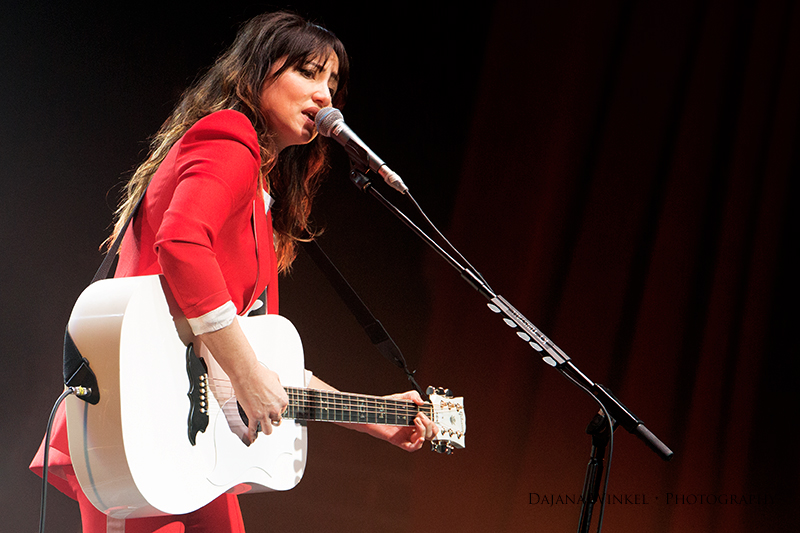 In 2005 I got hooked on the song Black Horse & The Cherry Tree. I had it in mind for weeks, always dancing and humming this one and turned up the volume whenever I heard it on radio. This was my first audio-medial contact with :: KT TUNSTALL ::. This track came from her 2004 debut Eye To The Telescope, from which I also remember Suddenly I See. Afterwards I lost sight of her. At least I can't remember a particular song of her on the radio.
Now she is back, with her fifth album KIN and it's up to me to see her playing live for the first time. And she was sensational! Over the course of 45 minutes she enthused the audience. She was so cheerful, witty and lively. Such an adorable person. And so contagious.
The way KT TUNSTALL stood there onto this huge stage, all alone, with two guitars (the white one for the nice songs, the black one for the others, she said ;)), and the loop machine (her Taiwanese band ;)), she reminded me much of Jordan Reyne. It is so impressive to witness how varied and dense the sound can be with those machines. KT TUNSTALL talked and animated the crowd to clap hands and to sing along. And they followed her willingly.
KT TUNSTALL played only one song from the new album, two from the previous albums and most of the tracks came from the already mentioned debut, including Black Horse And The Cherry Tree :) The crowd was totally thrilled. With every new song people responded more frenetic, jumped off their seats, danced and clapped their hands. After a way too short performance, KT TUNSTALL left the stage, visibly overwhelmed and under thunderous applause and standing ovations.
What a great and entertaining show. I'm sure KT TUNSTALL gained many new fans tonight :)
Setlist: Invisible Empire, Other Side Of The World, Hold On/Walk Like An Egyptian, It Took Me So Long To Get Here, But Here I Am, Feel It All, Black Horse And The Cherry Tree, Suddenly I See
:: pics :: SIMPLE MINDS ::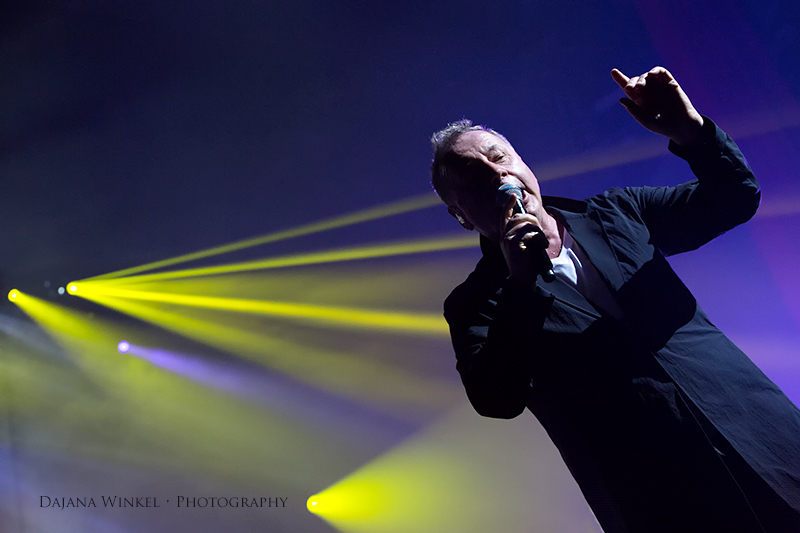 Short break, first gong, second gong. We photographers were still left confused as we were told that there would be strong orders from where we had to photograph, but no one appeared and told us anything. So, we stayed in the corner we were put to right from the beginning. Third gong and the :: SIMPLE MINDS :: entered the stage and kicked off their set brilliantly with New Gold Dream (81-82-83-84). Singer Jim Kerr came close to the audience and called them off the seats. Fuck, how to take photos now? Well… ;)
Jim Kerr was in a gushy mood and always wanted to be close to his fans. He stood on the edge of the stage and reached out to them, shook hands, talked or moved back with swinging hips. The rest of the band played seated, except background singer Sarah Brown, who preferred to stay and drummer Cherisse Osei, who was an absolute eye catcher. What I found a bit strange was Jim Kerr's addiction to wave his hands, always, like at a parade.
After the usual three songs photographing I had to leave to get rid of my equipment. So, I missed a couple of songs, but was back right on time for the marvelous Someone Somewhere In Summertime. Right after Jim Kerr introduced guitarist Gordon Goudie (as the real rock star ;)) who then played and sang David Bowies song Andy Warhol. He was pretty shy but did an awesome job. Also Sarah got her solo and sang Patty Smiths' Dancing Barefoot.
Lights, sound and mood were absolutely stunning; it suited this special location well. And the acoustic versions of the songs worked excellent. All things together created a fantastic atmosphere and made this show to something really special.
After only 80 minutes, the show surprisingly ended. What? Really? Ok, it followed an extended encore with four tracks, including the duets with KT TUNSTALL. Though, the show was too short if you ask me. Last time I got a 2 ½ hours set. People chanted for more, vociferous, no one wanted to leave, and the new acoustic record had still three tracks to offer. But, well, you know… you better finish on a high note ;)
And it was a fantastic evening! With a loveable KT TUNSTALL and an amazing band SIMPLE MINDS.
Band: Jim Kerr (vox), Charlie Burchill (git), Gordon Guthrie (git), Ged Grimes (bass), Sarah Brown (backing vocals), Cherisse Osei (drums)
Setlist: New Gold Dream (81-82-83-84), See The Lights, Glittering Prize, Chelsea Girl, Big Sleep, Stand By Love, Someone Somewhere In Summertime, Waterfront, Andy Warhol, Dancing Barefoot, Speed Your Love To Me, Don't You (Forget About Me), Sanctify Yourself // Ghost Dancing, Promised You A Miracle (with KT Tunstall), For What It's Worth (Buffalo Springfield cover - with KT Tunstall), Alive And Kicking