[Dajana] At War With Reality is the first album after almost 20 years and was long overdue as AT THE GATES reunited in 2008. For some this record might be the album of the year, for others at least a solid comeback and a perfect chance to see the progenitors of the Gothenburg death metal sound live on stage (if you did not see them at one of the umpteen festivals around). That TRIPTYKON would support the Swedes did even upvalue the trek, although it was not clear for quite some time if TRIPTYKON really would partake in this tour.
:: pics ::
[Dajana] Once more we headed to the • Turock • (4th, 5th time the last couple of weeks?) in Essen. As the show is completely sold out I enter the club super early to save me a good place to take photos from and find myself in my personal war with reality. There were safety-grids built up (never seen before in this club) but not meant to be a photo pit. Bad perspective from a photographers point…
[BRT] With or without a comeback album… it wouldn't have narrowed the heavy rush of people. I personally can't do that much with At War With Reality (it's solid, nice, you know…), I was much more looking forward to see TRIPTYKON playing live and MORBUS CHRON, who have released such outstanding sophomore. This package was quite interesting without having interest in the headliner… ;) But first let's stop for a bite to eat and drink at Café Nord…
[Psycho] …The schnitzel wasn't bad either… hehe. Listening to AT THE GATES' new album I was disappointed at first but this record gains with every new listen - would be worse the other way round. Every TRIPTYKON show I saw so far however was just stunning. So why expect less here? And MORBUS CHRON was unknown to me but warmly recommended so that I was quite curious about them. But WTF was the reason for a security pit? I have never seen such at the Turock club before and I found it rather embarrassing. Did we have rock stars on stage being scared by their fans?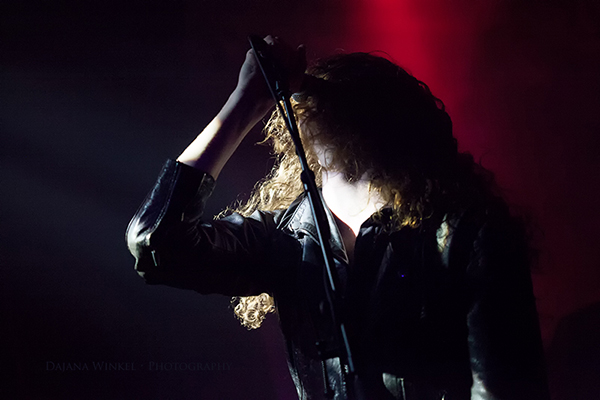 [Dajana] :: MORBUS CHRON :: kicked off the evening on time. On their highly acclaimed sophomore Sweven they have abandoned their old death metal school and sound now pretty much avant-garde, off-key and demanding. Kind of a French style, so to say, and definitely not the easiest to access. So the crowd responded restrained. MORBUS CHRON did not seem to realize the distance (or did not want to), acted quite introverted and played themselves quickly in another dimension, far away from the audience and some minor sound problems. I liked their performance, it was intensive and haunting. Need to deal closer with them!
[BRT] With Sweven MORBUS CHRON made an interesting as well as risky quantum leap from a Swedish death metal kind of Autopsy worship (Sleepers In The Rift) up to strange, almost psychedelic guitar work that reminds me of Death, even more of fucked up crazy band Incubator and the often maligned Spheres album by Pestilence. A pleasant breakout of the Swedish death metal revival glut. The guys did a great job, maybe a bit too reserved. But I doubt that the crowd understood the step the band did or wanted to understand… I think this show was awesome!
[Psycho] Yes, in consideration of the adulation, this show was quite a surprise. MORBUS CHRON created a dense atmosphere, which stood out of common progressive death metal stuff. Only the one-dimensional singing was a bit annoying, but at the end it was the music that convinced. Was it Tom who selected this band? I wouldn't wonder. That the crowd acted quite reserved I think was reasonable as we have a new band here. I'm sure most of the people weren't used to the band and their rather unwieldy material, so you can't expect enthusiastic response.
[Dajana] When drummer Norman started to putter around the support band's drumkit I sensed something bad. :: TRIPTYKON :: also had to play with the small equipment in the tiny place left on stage. What degradation for such an amazing band! I didn't see much of enthusiasm on their faces, especially since a roadie was whirling behind their backs all the time to get things done. Tom Gabriel Warrior did not say anything for a long time but eventually said thank you and that he is happy to be out of shitty UK and finally in Germany again. Musically TRIPTYKON once again delivered a great show. There is no one darker and more atmospheric then the Swiss guys and girl. Pure awesomeness!
[BRT] What? Tom Warrior was in good mood and even made a joke or two? TRIPTYKON anyway was just amazing, kicking off with the overpowering Goetia, and two of my favorite Celtic Frost tracks a bit later (Circle Of The Tyrants and The Ursuper). But it seemed the black mass was too much for others. Charisma, atmosphere and sound were perfect, only the playing time was not. This show was way too short. It is about time to do a headlining tour again…
[Dajana] Yeah, definitely! It is long overdue…
[Psycho] I so agree! At least with their latest album TRIPTYKON did not tour, aside from a few headliner shows at festivals. Tonight the band was once again absolutely convincing. The way they (skillfully) celebrate heaviness and depth is unequaled in this metal universe. And that despite the rather bad conditions: spat with At The Gates prior the tour, tiny stage, hardly any lights and this short playing time for five songs only. That definitely has nothing to do with a co-headliner status. At least the sound was great, at all bands (and that doesn't happen too often at the Turock). Tom took it with humor and was indeed in good mood, because he does not joke that often. And he really has a great band to cover his back, musically on the highest level. It is as easy as this: TRIPTYKON was, is and always will be a class of its own!
[BRT] By the way… the idiots that started this aggressive mosh pit during the TRIPTYKON gig... Wrong band caught… eh?
Setlist: Goetia, Altar Of Deceit, Circle Of The Tyrants, The Usurper, The Prolonging, Winter
[Dajana] Right after a complete change-over happened. On stage as well as off stage and everybody was pushing close to the stage… erm… fence. It got quickly clear: now it's getting cuddly and twitchy. Said that :: AT THE GATES :: started thunderous with the intro of the new album El Altar del Dios Desconocido. And hardly that the first tunes were played (and not even the singer appeared) the first fan stood on stage to start his crowd surfing… Then hell broke loose and the Turock was turned upside down. Mosh pits here, skirmish there, while AT THE GATES seem to have a hell of a blast - fun was written large in their faces. And the sound was blowing everything away. No matter what one might think of the new album, AT THE GATES is live still a force, especially in such an intimate club. What a show, what a spectacle. AT THE GATES played 2/3 of the new album At War With Reality, but also at least one song from every other full length release. Yes, great evening and still on a roll ;)
[BRT] Um… well… Meanwhile the Turock was very, very crowded, and packed in front of the stage and so I watched the AT THE GATES show from far, far back. The guys looked quite static. The sound was awesome but they could not captivate me this evening. If they would have played With Fear I Kiss The Burning Darkness as a whole, perhaps, then… (I know, I own this opinion exclusively). Well, it was nice anyway…
[Psycho] I had quite a different problem with that gig. As for my liking way too many riffs and melodies sounded too similar to each other, even if they would be thrilling individually. So in the curse of this show a certain feel of monotony and missing variety led inevitably to some boredom. Of course, most of the songs, taken alone, are definitely good enough to start mosh pits and to headbang, but such effect decreases, if overused. Bummer, because Tompa and the Björler twins seemed to be committed and taken with the overwhelming reactions of the audience. But I can't help… five friends I did not see on stage and… Tompa's voice probably won't make it till the end of the tour. Well, we shouldn't care; we have seen AT THE GATES by now ;) For most of the attendees it was probably the show of the year. For me, however, were the "support bands" the more convincing ones.
Setlist: El Altar del Dios Desconocido, Death And The Labyrinth, Slaughter Of The Soul, Cold, At War With Reality, Terminal Spirit Disease, Raped By The Light Of Christ, The Circular Ruins, Under A Serpent Sun, Windows, City Of Mirrors, Suicide Nation, Heroes And Tombs, Nausea, World Of Lies, The Burning Darkness, The Book Of Sand (The Abomination) // Blinded By Fear, Kingdom Gone, The Night Eternal