Theatre Of Death 2010
Having experienced a fabulous show during the last tour in 2008 the Godfather Of Shock Rock and Master Of Nightmares Mr. ALICE COOPER is back. The Spider still does not have a follower but a brand new live DVD entitled The Theatre Of Death got released, which will be likewise supported to bring the master back to minds, with a tour that draws its name from this freshly unleashed DVD ;)
But why they added classic chanteuse TARJA TURUNEN and Rammstein-like powerhouse EISBRECHER to that tour is a complete mystery to me, really. These bands have so absolutely nothing in common!
The price for that had to be paid quickly. With a normal capacity of 14.000 people, the Westfalenhalle 1 got just so shrunk that a bit over 2000 fans looked like having filled this hall completely. Scenery was pretty much bizarre ;) And I heard similar from the other shows. Might be also due to the lordly expensive ticket prices of 65 Euro…
:: pics ::
Weather was apocalyptically shitty; it was raining cats and dogs. The approach was tough, what also was due to the fact that Dortmund's soccer team was about to kill the Hamburg ones next door. Eventually everything went the smoother way though; we arrived on time and hey presto!... we quickly stood in our beloved photopit to get ready fir the first stroke ;)
In the vestibule was a great atmosphere with lotsa shops for food and drinks and merchandise of course. Almost felt like a folk festival, while my heart got immediately stuck at the wine gum booth…
Ice Age For Bad Girls
On time and in front of a sparsely filled mini hall :: EISBRECHER :: climbed the stage and kicked off this evening with Eiszeit, trying to warm up the audience for the master. Not the easiest task if you ask me, but fronter Alexander "Alexx" Wesselsky, also known as the checker, would not be him, if he could not master the crowd with funny lines and jokes. He's a pure entertainer ;) After only 25 minutes the shows was already over and surprisingly a lot of fans chanting for more. Seems like this kind of music (a softer version of Rammstein with a bit more electronics) still works. Not so much my cup of tea, but I like EISBRECHERs entertaining shows ;)
Setlist: Eiszeit, Angst?, Willkommen im Nichts, Heilig, Schwarze Witwe, Der Engel
What Lies Beneath?
Half of a hour later a long intro started alongside an opulent use of the fog machine. Then petite :: TARJA TURUNEN :: was twirling across the stage bewitching the audience with a great voice and likewise great gestures. She performed songs from her two solo albums and two old Nightwish classics. Yes, TARJA is a great singer, and yes, she still attracts more attention that her former band mates do these days, but it was not any great what I could experience tonight. I of course could not resist and stole myself away to get me a bag of wine gums, so also could hear the music from the outside through thick doors and walls. It wasn't really beautiful.
Highlight of the show was for sure drummer Mike Terrana behind his huge drumkit, who was allowed to play an extensive and much acclaimed drum solo, to give time to TARJA for changing her dress. Hmm… well… although the wine gum frogs constantly denied to metamorphose after kissing them (but as for that they tasted good ;)) they used to be much more interesting that what was going on stage.
Setlist: Dark Star, My Little Phoenix, Little Lies, Underneath, Ciarán's Well, In For A Kill, Falling Awake, Nemo, Wishmaster, I Walk Alone, Till My Last Breath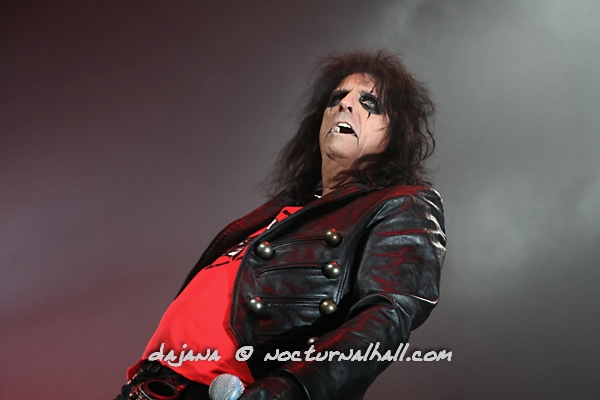 Meet The Master Of Nightmares
Behind a huge curtain with the cover of the current DVD The Theatre Of Death, stage-hands were busy to change the backline. It did not take long till :: ALICE COOPER :: jumped onto stage getting in with the classic trio School's Out, No More Mister Nice Guy and I'm Eighteen. Fans were thrilled and enthused and started screaming. I hardly ever was able to stand still and to focus on my work *laughs* Of course, tons of requisites were on board and built up on stage for the different sceneries. And at least one of his daughters accompanied ALICE COOPER as victim or offender for all kinds of bloody games ;) Some scenery is already known, some was new, at least to me. However, it's ALWAYS a pleasure to see an ALICE COOPER show, for one hour or two. He is such a lively man, so cool, nonchalant and charming. Just great! What struck me was the fact that – except of two songs – only old material was played, focusing in the 70's. Pure nostalgia I tell you ;)
Setlist: School's Out, No More Mister Nice Guy, I'm Eighteen, Wicked Young Man, Ballad Of Dwight Fry, Go To Hell, Cold Ethyl, Poison, From The Inside, Nurse Rozetta, Be My Lover, Only Women Greed/I Never Cry, The Black Widow, Vengeance Is Mine, Dirty Diamonds, Billion Dollar Babies, Killer, I Love The Dead // Teenage Frankenstein, Under My Wheels, Elected, School's Out
Anyway, it was a nice evening, in the inside ;) ALICE COOPER made it up for the mixed prelude. Outside it was still heavily raining, while legions of football fans silently passed by. Appeared like a funeral procession to me. Did they lose the game? No they did even win with 2:0… pretty strange, really.
Well, what's left to say? Seems like that also ALICE COOPER can't fill bigger locations anymore. Seems like another legend and era draws to an end… :(