[Dajana] An evening in heaven. Musically. In a Sludge and Post Metal heaven, to be exactly. For this concert night, I even cancelled a Voivod show. And that means a lot!
AMENRA I know and adore for quite some time but have not seen them live anymore since 2010. Their Mass releases have meanwhile doubled. So, to see them again was long overdue. YLVA and E-L-R again are very young bands, who tour right now in support of their debut albums. Musically, this package built a wonderful and dramatic bridge from one band to another, promising an excellent concert evening. And we were not disappointed. Much better, we did not need to go to Cologne for this show tonight, a welcome travel change and just half the distance. Easy ride. Oh, wait…
[BRT] Finally, I got to see AMENRA! I missed them several times in the past. The other bands were completely new to me. So, let's hit the sub and open a beer while heading towards the :: Kulttempel :: Oberhausen.
[Dajana] Well, that might have been the trick to make it to the Kulttempel on time. Damn, I did not consider the facts that it was a Friday, means weekend, and means shopping madness at the CentrO. Additionally there were sold out shows vis-à-vis at Turbinenhalle, and Christmas markets that had just opened… Means, I got stuck in traffics within eyeshot and my patience died a slow death…
:: pics :: YLVA ::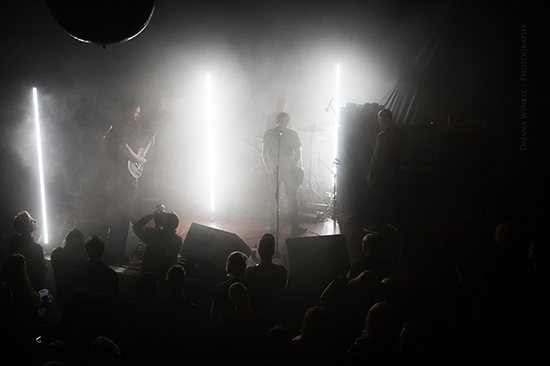 [Dajana] Even worse, :: YLVA :: got onto stage earlier than announced. But, luckily, we were allowed to take photos during the entire show, so, no panic attacks when I finally entered the club ;) But it was a challenge. To take photos I mean…
Without feeling guilty, you can call YLVA Neurosis' minime. They really sound that close. They are no copycats and in fact they have a very own note, but their idols are omnipresent. Well, they just started; they have released only one record. So, I'm sure they will find their way and emancipate from the huge archetype. And I absolutely loved the show!
YLVA played songs from their 2017 debut M E T A, including a guest vocal performance by Amenra singer Colin during the last track The Fall.
[BRT] I missed them. Except for the last three notes or so. Delayed trains, weekend, people… etc.
[Dajana] Huh, so public transport was not any better.
[BRT] When I entered the club, it looked totally crowded, but closer to the stage fans did not stay that packed. So, all in all a relaxed and comfortable atmosphere. That's why I always like to be at the Kulttempel.
Band: Dav Byrne (git, vox), Mike Deslandes (git, vox), Brett O'Riley (bass, vox), Leigh Pengelly (drums)
Setlist: Metadata, Hunting Room, Lapse, A, The Fall
:: pics :: E-L-R ::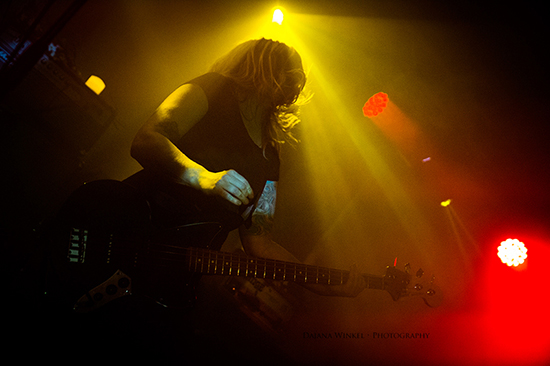 [Dajana] After this massive Sludge wall it became atmospheric with :: E-L-R ::. Their music is much more Post Rock driven, with long instrumental passages. Their compatriots Leech came to mind. For tonight's variety it was perfect, but generally I think, the music is a bit tame. E-L-R could evoke much more energy and power from it. But what about the singing? I saw them sing but I hardly heard anything. BRT, did you hear something in the back?
[BRT] Vocals? Yes, I heard something but it was no clear singing. The singing was more like another instrument to lead melodies and added to the atmosphere with a lot of reverb. I actually liked it a lot. To me it was rather the length of songs. Too long for the amount of dynamics, and they rarely came to the point. Though, E-L-R is a band I will definitely deal closer with!
Band: I.R. (bass/vocals/effects), S.M. (guitar/vocals/effects), M.K. (drums)
Setlist: Glancing Limbs, Ambrosia, Black, Lunar Nights, The Wild Shore
:: pics :: AMENRA ::
[Dajana] Those, who were drifted into other worlds by now, got ruggedly kicked out of them. :: AMENRA :: is a synonym for highly intensive and brutal shows. Singer Colin H van Eeckhout suffers. He dies. Every night on stage, when he lends his voice to all the misery in the world. There are not many bands out there that reach such a high level of intensity and emotional destruction.
Since every new AMENRA albums takes one year longer than the previous one, we probably cannot expect Mess VII before 2023. So, no new songs tonight but a mix of tracks from Mass VI and Mass IIII, and one more from Mass III.
It was incredible to see AMENRA mastering the crowd. How much they hypnotized and pushed minds and souls through pace and dynamics. The body instinctively followed the rhythms and the breaks, while the mind needed quite a few seconds to realize. That was an odd feeling. The intensity was hitting you hard. There was palpable pain in the music you could not escape.
An AMENRA show is a ritual, is a catharsis. Afterwards I felt free. And clean. Somehow. It is an experience you have to go through to understand. It hardly can be wrapped into words. One of the most intensive concerts in my life and surely a highlight in 2019!
[BRT] I agree. That was killer! The show was hypnotizing, aggressive and thrilling. A show and music of blistering intensity and sonically devastating. A cinematic bleakness, overlaid by imagery of barren, frost-bitten landscapes, white lights and stroboscopes. This is music to close your eyes and to let go. That's why it does not matter that Colin mostly showed us his back and butt.
Compared to the rather reduced and minimalistic music, there is a lot of meaning in it. That is art, art that one needs first to master. Yes, I would like to see them again. And I guess I have to extend my CD collection. What about merch? I did not look.
[Dajana] I did, because I wanted to buy me an E-L-R shirt, but forgot the pricing again ;) I think, it was 20 Euro for tees and 25 for longsleeves? Yes, that was an outstanding show and evening. And a perfect warm-up for the Cult Of Luna show next Monday. There I expect at least the same level of intensity, pain and purification!
Band: Colin H van Eeckhout (vox), Björn Lebon (drums), Mathieu Vandekerckhove (git), Lennart Bossu (git), Levy Seynaeve (bass)
Setlist: Plus Près De Toi (Closer To You), Razoreater, A Solitary Reign, Thurifer, Et Clamor Ad Te Veniat, Terziele, Die Strafe. Am Kreuz. Ich schreibe eine Bibel in Blut. Diaken