There it was befallen that a friend from the United States was visiting me. And he absolutely wanted to see ANATHEMA live on stage. To our luck the band was on tour at this time: 10 years ANATHEMA in Holland. And because it's close to where I live we used the chance to cross the border and to stop by at Hardenbergs Podium. Despite of diverse support announces ANATHEMA just shared the stage with ORPHANAGE. Surprisingly one already could purchase T-shirts with the cover of the upcoming album The Natural Disaster which is set for an October release (with the 10 years Dutch tour list on the backside).
:: ORPHANAGE ::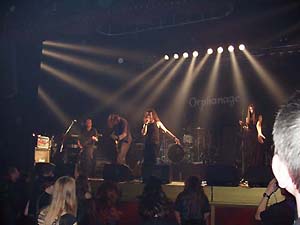 It got silent around the Dutch atmospheric metallers over the last years. The last album Inside was released almost 3 years ago. But there was to hear the band is working on new material and that's the reason why ORPHANAGE did not have any live appearances this year. They just made an exception for ANATHEMA to warm up the fans for them. Well, guys and girl did a good job. I'm not that familiar with this band, but because I could not find these tracks I assume that Ground, My Masters Master, Liberty In Slavery and Black Magic Mirror are brand new ones. Again in the style of their older stuff (for example By Time Alone '96) George Oostenhoeks (who looks like Bobbie Blitz on stage) cool thrash-like singing got combined with Rosan van der Aa's unique voice, although she acted quite helpless on stage while she didn't know how to move at all. With Kick and By Time Alone they played two classics, just to serve us the second scale of new songs afterwards. The rest of the show ORPHANAGE played a blend of old material. It seems with the new songs the band goes back a little to their roots. The have lowered these strange parts and Nu Metal elements a lot. The band seemed to be in good conditions. They kicked ass and singer George felt like doing jokes all the time ... I of course hardly understood.
Setlist: Dead Ground, My Masters Master, Liberty In Slavery, Black Magic Mirror, Kick, By Time Alone, The Sign, Prophecies Of Fame, The All-Seeing Eye, The Dark Side, Ancient Rhymes, Behold, Chameleon, At The Mountains Of Madness, Five Chrystels
:: ANATHEMA ::
After a short break changing the backline it was up to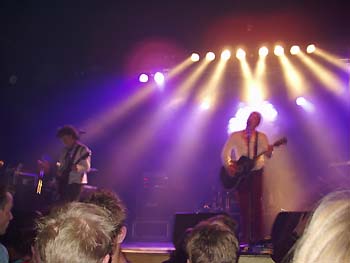 ANATHEMA to please the crowd. The audience seemed to be full of expectation, as I was too. After a funny joke by drummer John the band kicked off their part with Fragile Dreams. And then ... ladies and gentlemen ... yeah then the band was rockin' their asses off! While looking around I saw the surprise in the people's faces. No one has expected something like that! Me neither. The have overworked all songs and given them this rockin' attitude. Damn, you should have listened to One Last Goodbye as a rock version! It worked! As a big contrast they played songs like Hopes, Pressure, Temporary Peace and Flying in acoustic versions, whereas latter one as well as Empty Spaces and Closer are brand new ones from the upcoming album The Natural Disaster. Closer for example got presented with a completely electronically distorted voice, with Daniel behind the keys. In musical terms it seems the new songs follow the direction of A Fine Day To Exit, but nevertheless it's hard to say how the new album will sound like in its entirety. But one thing is abundantly clear: ANATHEMA will go on! Daniel returned to the fold, with brother Jamie on his coat-tails, now responsible for the bass duties. Quasi the original line-up they started with ages ago. Anyway ANATHEMA have captured the audience from the first tune up to the last one of the third encore 2000 & Gone. 2 hours best of ANATHEMA …outstanding, amazing, emotional, stirring! What a show!
Setlist: Fragile Dreams, Release, Pityless, Hopes, Destiny, Pressure, Angelica, Judgement, Panic, A Fine Day To Exit, Temporary Peace, A Dying Wish, Inner Silence, One Last Goodbye, Empty Spaces, Closer, Flying, Phantom Of The Opera, 2000 & Gone
What a great show! I guess for this band I would go to the end of the world just to see them live. This club was once a theater with a high stage. This venue is not too big but comfortable, with stairs in the background so that you have everywhere an excellent view of the stage. There is also a small pizza station in this club, so nobody will die with thirst or starve to death. Downright funny was the fact that you have to change money against chips to pay your drinks and food. Great evening!