After a heavy EBM show the night before and much more trust in my car I went out to see ANTIMATTER and AUTUMNBLAZE playing unplugged at the university of Bielefeld. Well, to see ANTIMATTER playing live I would have taken every distance as one part behind the band is no one else than Duncan Patterson, formerly creative head and bassist in Anathema and responsible for the best Anathema album ever: Alternative 4. Also the latest record Lights Out is an absolutely masterpiece with the special and unique traits of Duncan Patterson. And together with Mick Moss they both create such a breathtakingly beautiful music you hardly can elude. About AUTUMNBLAZE I have heard a lot of things but never have seen them live. So this evening offered the perfect chance to listen to exquisite and sophisticated music and to discover something new. The pub called UniMax offered a quite homey and private atmosphere, although the place proportions required some creative thinking ;)
:: pics ::
After some temporal mistakes and perplexities AUTUMNBLAZE started its set at 9pm. Together with mastermind Markus B. (vox, git.), Joey (git), Carsten (bass) and Nick Carter (this time with the more common name Mike on the road :-P) the band enchanted the willing audience with a blend of dark, deeply melancholic and profound songs, sometimes rockin' sometimes even trippy. The sound was exceptionally good which gave great possibilities to the bands to present themselves. At least from the listeners point view. AUTUMNBLAZE took us on a journey thru the last three albums, equally portioned. As a special bonus one could purchase the band's brand new unplugged CD The Mute Session which is to date only available on this tour and will be officially released in January 2004 via Prophecy Productions.
Setlist: I Shiver, Never Felt Like This Before, Can't Safe Anyone, Scared; Kiss My Fear Away, The Cat With The Silvery Paws, Bleak, So Close Yet So Far, The Nature Of Music
The first thing that struck me entering the UniMax in Bielefeld, was that the ANTIMATTER girls Hayley Windsor and Michelle Richfield were not there. As I got told later they both unfortunately could not participate in the tour. Therefore the question I had was how these songs would be sang. The answer was simple: Mick Moss alone sang the tracks, with a little help from Autumnblaze's Markus (although only on one piece). The set was compiled correspondingly to let the female dominated songs fall aside. For that there was the Dead Can Dance cover Black Sun (that will appear shortly on the Black Lotus DCD tribute album) Shroud Of False and Lost Control as well as Eternity Pt. III from the Anathema albums Alternative 4 and Eternity. The rest of the songs were divided from the ANTIMATTER debut Saviour and the already mentioned overwhelming second work Lights Out. God, I could have cried out of emotion (it now should be clear that I am a considerable Anathema and ergo an Antimatter fan too...) and who can withdraw from voice and songs of Mick Moss? What a great session ...
Setlist: Far Away, Over Your Shoulder, Psalms/ Saviour, Everything You Know Is Wrong, Hope, Black Sun, Feel, Last Laugh, Shroud Of False/ Lost Control, Going Nowhere/ Destiny, Eternity Pt. III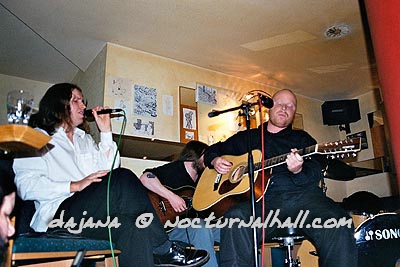 Anyway 11:15pm everything was done and over :( Both sets were been much too short... or better said, so intensive and wonderful that I could have stayed there for another 2 hours and listening *sighs*. I wanna get more of these kind of shows. And at all, isn't it possible to send both bands back on the road???
The following small talk with both bands emerges as a more and more funny event, which got relocated to another place in Bielefeld (a club with Metal-like music). The tour manager – whose level of stress you can see on his ears – had his hands full to keep us together (we almost forgot the lovely sound wiz, leaving him out in the rain).
Together with deep insights into the nutrition of band members (water soluble millet? *lol*) and misguided tastes (Ginger Ale with Coke? and beer with sparkling water – beer spritzer???) we had lots of discussions about the music scene, especially about the German one and how bad things are going right now. I felt kind of confirmed of what I'm thinking about the scene. In the early morning hours I started back home, but not without getting flashed anywhere on the road while leaving Bielefeld. I might lose my driver license for one month ... but who the fuck cares? Walking and fresh air might be healthy.
Upshot: A really great and wonderful evening. Thanks to the crew of that pub, nice meeting and talking to you and thanks to the bands for such emotional music ;)