What a killer package! No wonder that most of the shows on this tour are sold out.
It's no secret that Swedish melodic Death Metal masters ARCH ENEMY strive towards a second high period in their 20 years spanning career. The second album with new frontwoman Alissa White-Gluz is entitled Will To Power and seems to be most successful one in the band history. And I'm sure, that's not the end of the road for them.
By the way, you can take the album title literally as they impressively proved live on stage.
It's Friday evening, everybody is already in a weekend mood. The ARCH ENEMY show at :: Turbinenhalle :: Oberhausen is sold out too, so I hit the road early. Very early. A sold out show at this location always means an organizational chaos and so it happened again. With more than an hour time buffer I arrived in Oberhausen and got stuck… on the access route for the venue. So I not only completely missed the first band but also had difficulties to get into the pit for the second one. All that because of two highly unmotivated parking fee collectors and a traffic jam at the doors that caused me a one and a half hours delay to get in. If you can read between the lines you will realize how pissed off I was. I was much looking forward to finally see and photograph :: JINJER ::, which did not happen. This goes to the owner of the venue: This shit is NO FUN at all!
:: pics :: TRIBULATION ::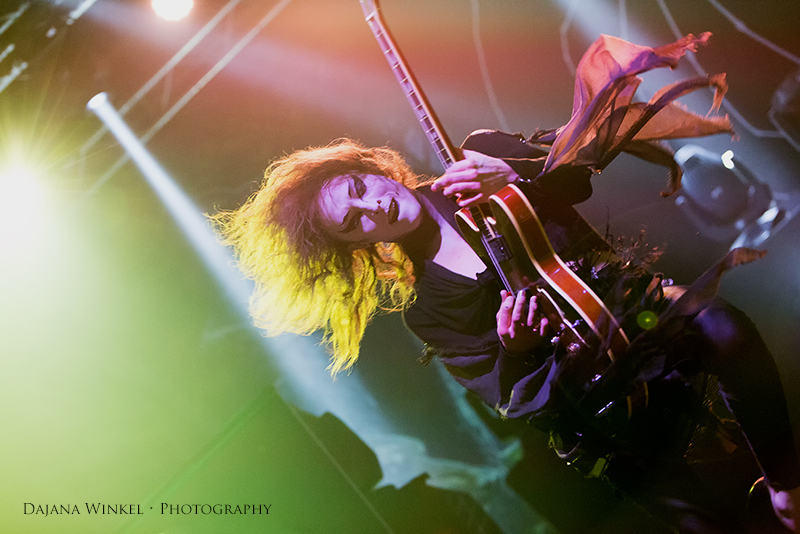 5 seconds to gasp for air and to get the cams out before the lights went out and :: TRIBULATION :: got on stage. Today was the release date of the band's fourth effort, Down Below. First impressions promise another great record. It became dark. It became atmospheric. Though, I somehow missed the special feeling, the occult touch, and the mystery around the band one usually can sense out during a club show. Jonathan Húlten whirled around again, gracile and capricious, while Adam Zaars acted unexpectedly reserved, roaming in the shadows. There was not much time to immerse in the music. The set was quite short, offering only two brand new songs, next to classics from the predecessors.
Setlist: Lady Death, Melancholia, The Motherhood Of God, Suspiria De Profundis, Nightbound, Strange Gateways Beckon
:: pics :: WINTERSUN ::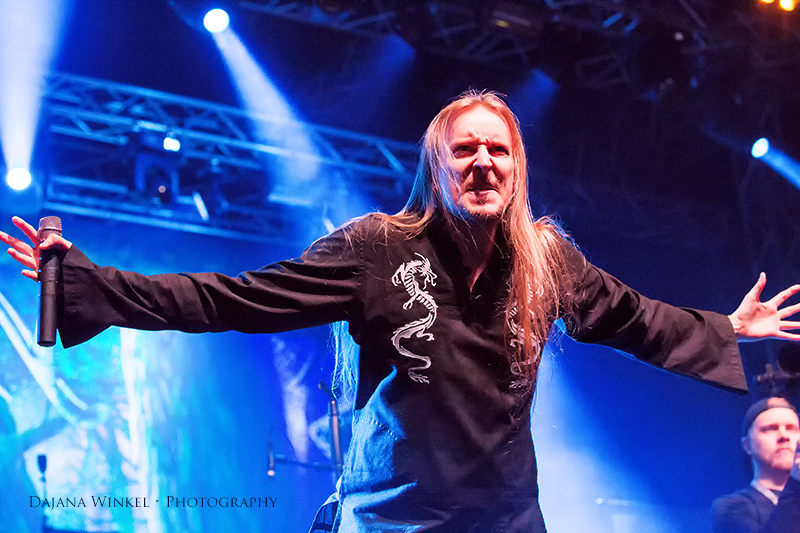 Next up are :: WINTERSUN ::, a band I know about and I probably have seen already on a festival, but a band I never dealt with any closer. I have to confess: The Finns blew me away with their power and energy. Melodic Death Metal bombast as its best! No doubt, the band has huge live qualities. As soon as singer Jari Mäenpää stormed the stage he mastered the crowd like a puppeteer. Heroic gestures, wild posing and epic tracks made the crowd mosh and sing along. Fists were raised and hair flew around. That's the way a show has to be! That was pure entertainment. I can't say much about the qualities of the band's recent album The Forest Seasons. Only two songs from this one were played. WINTERSUN offered two songs from each of their three records. Yep, great show. Would like to see them again. The only thing that went on nerves was a filming guy on stage.
Setlist: Awaken From The Dark Slumber (Spring), Winter Madness, Sons Of Winter And Stars, Loneliness (Winter), Battle Against Time, Time
:: pics :: ARCH ENEMY ::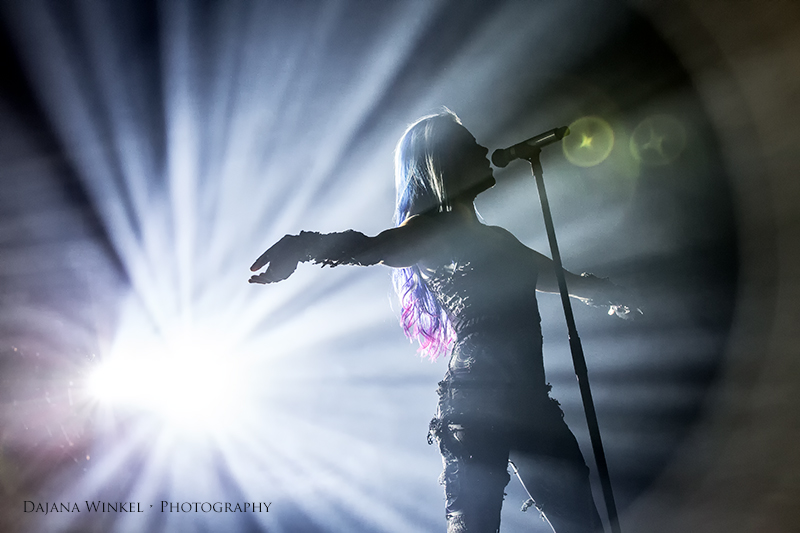 Well then. Expectations rose. And so did the temperatures. Another problem occurred with a sold out show at this venue: the air condition can't handle that. While waiting for the headliner we could witness what it means to look like as white as a ghost (and move like that if at all). The paramedics had a lot to do.
Lights went out, people started screaming and then :: ARCH ENEMY :: entered the stage under a thunderous intro the led into The World Is Yours. Wow, what a kick-off! A demonstration of power. That's class! Alissa White-Gluz stormed over the stage like the devil himself… erm... herself. What a power and energy this lady has. Incredible. No chance for the old dudes to compete ;) Well, there is actually no need for. They let your jaws drop with their virtuosity and musicianship. The audience was constantly freaking out, was moshing and headbanging, while crowdsurfer dropped in dozens into the photo pit. Now the securities (thanks to :: CCS ::) and paramedics had even more to do.
ARCH ENEMY focused less surprising on the new album, Will To Power, and its predecessor Wages Of Sin. It was interesting to hear Alissa sing clean in Reason To Believe, kind of a ballad, that gave a short moment to breath to the crowd, before the band went on with full force. ARCH ENEMY don't take prisoners. A show of the Swedes is rather high performance sport on stage as well as in front of ;) And ARCH ENEMY didn't just play a routine show, they visibly had fun performing.
90 Minutes, 4 encores, I guess many fans were wiped out after the show and happy to finally get home. It's a great feeling to be totally exhausted, sweaty but happy after a show, leaving the venue with a big smile on the face.
I haven't seen ARCH ENEMY playing live for ages, so to say. Seems, I missed something. The Swedes are still a force. Excellent show, great sound, great lights. Will not wait ages again ;)
Setlist: Set Flame To The Night (Intro), The World Is Yours, Ravenous, Stolen Life, The Race, War Eternal, My Apocalypse, Blood In The Water, You Will Know My Name, Bloodstained Cross, The Eagle Flies Alone, Dead Eyes See No Future, As The Pages Burn, Intermezzo Liberté, Reason To Believe, Dead Bury Their Dead, We Will Rise // Avalanche, Snow Bound, Nemesis, Fields Of Desolation (Outro)