Of bewildering beautiful moments in a ruined life, protest songs against women and drunkenness at the organ
Yes, I already heard of BOHREN & DER CLUB OF GORE, mostly in conjunction with Mike Patton and his label Ipecac. But what made me really deal with them was a recommendation by a musician I had an interview with in the beginning of the year. I started listening to BOHREN & DER CLUB OF GORE… and was lost ;) I couldn't get enough. And now, at the end of the year I am poised for my very first BOHREN & DER CLUB OF GORE show, which also marks the last show this year. A worthy final I'd say :)
:: pics ::
The weather is bombastic wintrily at minus 10°C and snow. Stupidly I have to exert German Railways this time to make it to Dortmund… and I ended up in a total snow disaster. What chaos! No train without delay. And a delay started with 30 minutes +. Even slow trains didn't make it. Fuck, why we have to pay so much money for no services??? One and a half hour too late I finally arrive in Dortmund and walk around the corner, where the new FZW is located now. It's just a stone throw away from the central station. Great, easy task. But then I got shocked by the dark windows starring at me. No show? *phew* No, luckily the show takes place. Much more luck that BOHREN & DER CLUB OF GORE got delayed too, so I did not miss any bit. I have time to look around, to drink a beer and to get ready for the show :)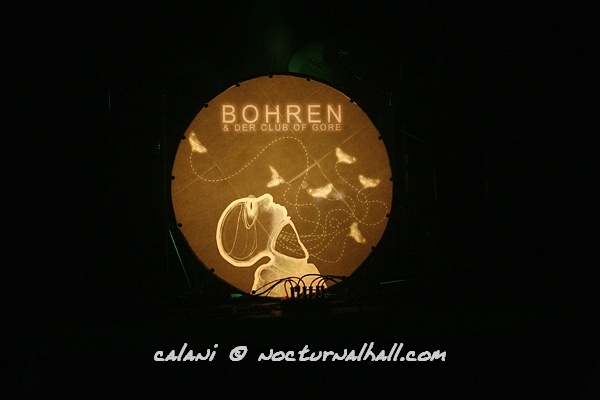 At 9 pm lights were turned out and :: BOHREN & DER CLUB OF GORE :: enter the stage in collar and tie and kick in with Staub from their latest album Dolores. I was warned that the guys from Mühlheim play in total darkness and so they did. There were just one spot on each instrument and the lights from the bar and emergency exit spending some dimly lit for a wicked atmosphere. Well, it perfectly suits the music… but not so much my cam ;)
Anyway, every now and then saxophonist Christoph Clöser announces the next songs and tells a little story about: dry as bone and with a pitchblack humor. He scored by getting the laughs. He narrated about drunkenness at the organ (Orgelblut), protest songs against women (Destroying Angels), and bewildering beautiful moments in a ruined life (Still am Tresen). Generally speaking there were a lot of protest songs *lol*
Sound was a bit unbalanced in the beginning and made the beer glasses clanking. The smaller hall at FZW was filled with approx. 150 people, from the Alternative students up to the time-honored man, a motley crew. There were barstools and tables, some sat down on the floor and others just stood, but almost all listened with closed eyes and let the bass lines wandering through the body. What a pleasure. This music is a great experience for body and senses.
Before going on with Kleiner Finger Christoph comes to an agreement with the audience regarding the encores and works out perfectly *laughs* BOHREN & DER CLUB OF GORE don't leave the stage and play two more songs. Fans of Borussia Dortmund (soccer club) received their just deserts when Christoph augured that the club will vanish into thin air middle-term and hold fourth about the soccer sentiments within the band.
After a playing time of 90 minutes BOHREN & DER CLUB OF GORE ultimately leave the stage and release the audience into a freezing night.
Setlist: Staub, Unkerich, Orgelblut, The Art Of Coffins, Destroying Angels, Still am Tresen, Schwarze Biene (Black Maja), Welten, Constant Fear, Kleiner Finger // Prowler, Midnight Black Earth
A fantastic unique show and definitely a highlight in 2009! It's absolutely captivating to listen to this music live, to have all these pictures in mind and feelings in mind, to feel this music with the body and all senses. Just awesome!
Afterwards I jump quickly back to the central station to get me train on time… and… *grrrrrrr* nothing works. Rien ne va plus. Trains have even more delay and my one gets cancelled after 70 mins of extra waiting. The central station is full soccer fans, hooligans and Nazi bastards running riot and loads of cops. In the middle of the night I find myself back in a slow train full of soccer fans with loads of delay and gaining even more as the train stops two times on the route due to frozen doors (?). 3 am I'm back home and need a hot bath to defrost.
I promise faithfully, I never ever will speed anymore! Give me back my license, please.