Current The Domination Tour 2006 almost assumes proportions of No Mercy Festival packages or one-day-festivals. Well-done if you had good food before and comfortable footwear… erm… well…
However, CRYPTOPSY didn't tour Europe longer time and shows of GRAVE, DEW-SCENTED and ABORTED I witnessed were long time ago – 2003, 2004 if I remember right. HURTLOCKER and VESANIA I never saw performing live so far, so something new to me ;) Anyway, the tour package promised a pleasurable high-speed death/thrash metal massacre (ok, without VESANIA ;)). Only little downer: tonight many other great shows took place and one actually needed to be trenched in 10 pieces, just in order to not miss anything. Germany gets excessively visited by bands, so will catch the rest later and the festival season is just around the corner too ;)
With a little more than 150 fans the venue Tor III was comfortably filled and the crowd in best mood. Bands decided to kick off an hour later, leaving the fans in an open loop bridging with alcohol and being fucked up before the first band even started…
:: pictures ::
:. HURTLOCKER ~ then kicked uncompromisingly brutal and fast-paced ass. Right from the first second Chicago-based quartet didn't take any prisoners, serving a blend of death, thrash and metalcore at full speed. While singer Grant Belcher politely and not so politely tried to animate the crowd that still seemed to be dozy (but one actually did understand his accent) the Manzella-brothers (Pete – git; Dan – bass) vied in pulling faces and best posing. The band supported their debut album Fear In A Handful Of Dust that was released in November 2005 via Napalm Records (dunno, why they landed a deal there) and just is in stores in the States. Great show, great debut!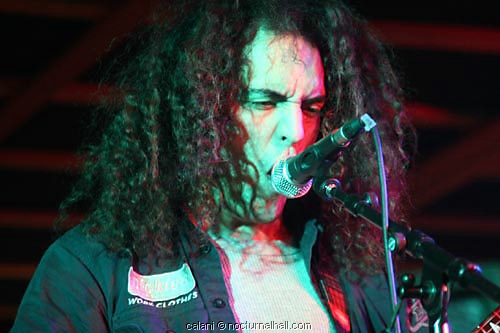 :. VESANIA ~ were sort of a colored blot in this package. These Polish black metallers (its members also play in Behemoth and Vader) stirred things among the death metal veterans, while the heart beat of the metal youngsters got sped up. VESANIA offered mid-tempo-paced symphonic black metal with a varied amount of blast parts. Corpse-paint was likewise a little more creative than the 08/15 panda-look of most BM bands. Overall impression strongly reminded me of a certain Norwegian band. However, VESANIA have a plus of aggressiveness, since the member's other band activities left a mark on VESANIA's style, even if originality and an own identity got left behind. I guess this band heavily polarizes within the black metal scene … In support of their current album God The Lux front-giant Orion and his lads served nothing spectacular but a solid show, seeing the crowd reacting restrained.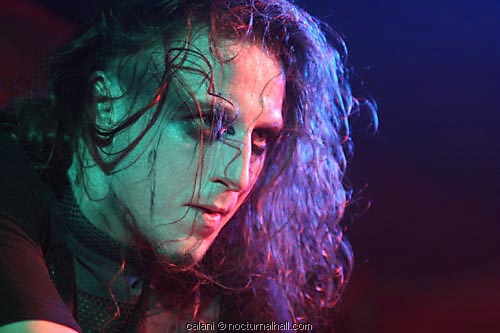 :. ABORTED ~ caused lively behavior for the very first time afterwards. And I thought the crowd was already dead… With the opener Dead Wreckoning raving moshpits got started (ok, my fault, wrong place, wrong time… caught some bruises and hematoma and my cam hardly survived) and fans were singing along the songs or demanding for their faves, putting smiles on the band members faces. The Belgian splatter-gore-powerhouse appeared like a motley crew since they were going through some line-up changes at the beginning of the year that again made the use of a session guitarist inevitable for the tour. More than that new entrant Olivia on bass attracted attention… better said: leaving a drooling bunch of testosterone-adrenalized existences in front of the stage… hehe. After one month of touring she looked quite exhausted but still rocked da house, in nothing short of her mates. Hats off, lady! ABORTED were definitely the highlight of this evening. Just a hell of show! \m/
Setlist: Dead Wreckoning, Meticulous Invagination, Gestated Rabidity, The Holocaust Incarnate, Charted Carnal Effigy, The Saw & The Carnage Done, Sanguine Verses, The Gangreenous Epitaph, A Cold Logistic Slaughter, The Sanctification Of Fornication
:. DEW-SCENTED ~ didn't take it any slower but more technical. Singer Leif Jensen felt like home, saluting friends and others ones known to the band. Besides songs from the band's current album Issue IV (like Never To Return …etc.) they played one for the very first time: Bled Dry (ok, as it was to read, they played this one in Essen too) and other ones like One By One that was announced as the hardest DEW-SCENTED ever. Despite of a confident performance I missed the special kick, the special groove. I think, it isn't that easy to top a band like Aborted afterwards, maybe the band's sound was too technical afterwards or something like that…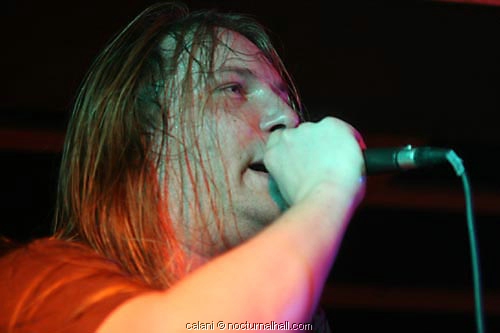 :. GRAVE ~ were already in the afternoon beyond of everything, struggling thru some problems here and there, especially in matter of stamina… As co-headliner GRAVE just played a 40-minutes-set, afterwards they were puffed. But beer still seemed to taste… Singer and axe-man Ola Lindgren was fighting with sound and his guitar strings, leaving his mates skin-man Pelle Ekegren and bassist Fredrik Isaksson alone in making noise (where was the second guitarist?) and slowly getting off the grid. First with Rise from 2002 album Back From The Grave they finally could pep up the show a little with some groove, delighting fans with songs such as Soulless, And Here I Die and Back From The Grave. But that was all and the show came to an end. GRAVE surely got massively adored by the fans, but I cannot understand their cult-status since I haven't seen any good show during the last years. And such great times as they had around the Soulless release, they never will reach again…
:. CRYPTOPSY ~ took a little longer to change the backline and kicked off their show an half hour to midnight. Visually CRYPTOPSY made a strange impression (ok, it's all quite subjective). Sort of multicultural, picked-up… Singer Lord Worm, who re-joined the fold in 2003, seemed to be in other worlds, expressing himself in a… let me call it an own idiom that doesn't need any lyrics, while guitarist Alex Auburn baffled with unbelievable tricks on the fretboard, but seemingly didn't fit in a death-metal-high-speed-missile such as CRYPTOPSY. Even more drummer Flo Mounier downright caused open mouths (at the ones still sober and interested in thins like that)… fucking shit is he fast!!! And precise like a Swiss clockwork. UNBELIEVABLE!!! By the way… usual worm-food-binge didn't took place…
CRYPTOPSY also played just an half hour, handing 2 songs as an encore in later. Lord Worm afterwards expressed his feelings in words of gratitude for the delicious German beer (they drank Hansa-beer… huuuhuu), the fan support and the bands sharing the bill on this tour, and that's that.
Setlist (actually not sure): Lord Of The Rings intro, In The Kingdom Where Everything Dies, The Sky Is Mortal, Carrionshine, Adeste Infidelis, The Frantic Pace Of Dying, Keeping The Cadaver Dogs Busy, Angelskingarden, The Pestilence That Walketh In Darkness, Endless Cemetary, Abigor Graves Of The Fathers // White Worms, We Bleed, Phobophile
Upshot: Playing time for both main bands was way too short. On the other hand – a 5 hours evening for 6 bands was really ok. Anyway, with the evening's attendances this location was in fair average regarding the entire tour and should have satisfied organizing BurningStage-team. I just think, support and enthusiasm for the bands could have been livelier.