[Dajana] BRENDAN PERRY is surely one of the most important and influencing musicians of the past 30 years. He is one part of legendary Dead Can Dance, and he is the man with the most wonderful sonorous voice I know. Also solo, he treads his very own paths too. Just remember his excellent albums Eye Of The Hunter (1999) and the beautiful Ark (2010). Records that already collected a lot of dusk.
After the Dead Can Dance reunion with two more records and two world tours, BRENDAN PERRY seemingly works on new solo material again and apparently cannot wait to present it live. There is actually no new record officially announced and BRENDAN PERRY now tours prior an announced Dead Can Dance tour from April to June, which, I think, is surprising. However, the NOCTURNAL HALL crew definitely does not want to miss any chance to witness a show of this exceptional musician.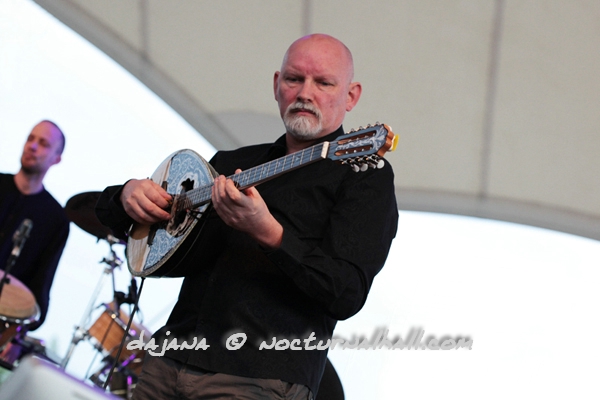 [BRT] Although BRENDAN PERRY is not the most diverse and technically the most sophisticated singer, his voice is unique and usually has an immense impact on the listener. His singing has a much calming and relaxing effect. I anyway get always captivated by his voice and, to me, he is the more interesting part in Dead Can Dance. What makes this tour even more appealing are his announced cover versions of Tim Buckley, a musician I highly adore too. Perfect conditions to be treated with a mind-blowing and memorable show…
[Dajana] That was the plan! Bazinga! It seems that unique shows always take place in Cologne. Unfortunately, because Cologne is a bitch. But tonight mother nature was a bitch too. Bitches reigning… No matter what town we would have been at in NRW (or Germany generally), a storm front called Eberhard would have fucked us everywhere. Miles long traffics, flying trees and complete closures of the highways so fucking spoilt the evening. Trains were no option either…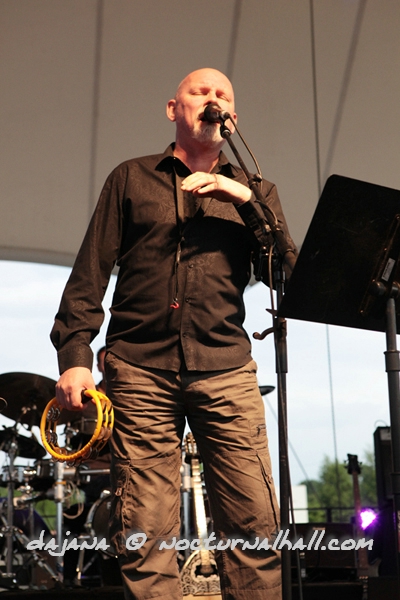 [Dajana] When we crept in Cologne we still had to struggle with the question: Where to park? The :: Luxor :: is a downtown club, no parking area nearby. After some rounds around the block, we found one. Heavy rain and wind pushed us towards the club. Finally in we had missed the most part of the :: BRENDAN PERRY :: show. No chance to take any photos. The club was crowded, the stage low and the musicians were sitting. The photos enclosed are from the Dead Can Dance show in 2013. I could not even see anything and used the chance to step on a box to see at least the heads.
The first song I heard was the Dead Can Dance cover The Carnival Is Over and suddenly, all blahs, stress and anger was blown away. The music wrapped and covered me and took everything bad away. I closed my eyes and listened. Deeply. What a voice. What a brilliant and crystal clear sound! Wow!
The new material was unmistakably Samba-tinged, kind of cheerful, and formed quite a contrast to the melancholic Dead Can Dance and Tim Buckley cover songs. I think it comes naturally as BRENDAN PERRY teaches all kind percussions in a Samba school. I liked it. But I have to say, much as I liked to hear Tim Buckley and DCD songs, I wish, BRENDAN PERRY would have played more solo material. From Ark for example. Songs, we probably would have missed too…
However, the only old track he played was Medusa as a second encore. And this song was newly interpreted as a shanty version played with a squeezebox. Um… It made me raise my eyebrow…
I dearly would like to say that the remaining set had compensated all the frustration. It did not. For that the set was way too short. But, perhaps, BRENDAN PERRY really liked this tour and will return live on stage anytime soon. Who knows. And then, hopefully, without raging Eberhards…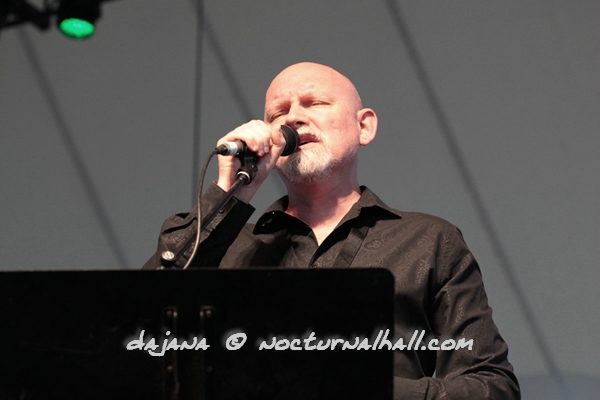 [BRT] Don't mess with mother nature! Elementary power thwarted our perfect concert evening. Most Tim Buckley songs were already played (except one) and there were only a few songs from his solo work. And though, BRENDAN PERRY and his companions delivered a fantastic show of an almost cinematic sound in a club atmosphere. It raises hopes that he will do such kind of tours more often in the future. Hmmm, well, the Samba rhythms and Balkans tunes… are not really my cup of tea but surely fit in the overall picture of the artist.
Of course, a concluding summary tonight is rather ambivalent, but it is nothing to blame BRENDAN PERRY for. Music and atmosphere were excellent. I would immediately attend another show.
Band: Brendan Perry (vox+git), Richard Yale (bass+keys), Astrid Helen Williamson (keys+vox)
Setlist: Labour Of Love (Dead Can Dance song), Happy Time (Tim Buckley cover), Buzzin' Fly (Tim Buckley cover), Chase The Blues Away (Tim Buckley cover), Berimbau (Baden Powell cover), Canto de Ossanha (Baden Powell cover), The Carnival Is Over (Dead Can Dance song), Carolina Carol Bela, Song To The Siren (Tim Buckley cover), Killing The Dream, The Rising Tide, Severance (Dead Can Dance song) // Don't Fade Away (Dead Can Dance song) // Medusa