After the so surprising as well as sensational world tour in 2005 I guess many of us thought that was the very last goodbye and it is definitely over with DEAD CAN DANCE as all hints and rumors towards a collaboration between Lisa Gerrard and Brendan Perry got vehemently denied. And suddenly, likewise surprising another world tour in 2002/2013 hung in the air, followed by rumor of a new DEAD CAN DANCE album. That all sounded too good to be true. But… we got disabused ;) With the releases of the Live Happenings Part I – V, tour details got revealed and as everybody know, the brand new DEAD CAN DANCE album Anastasis got released on August 9. And here we go ;) Of course it was downright a battle to secure the tickets as the • Cologne Philharmonic • was sold out in a twinkling of an eye, but, anyway, we made :)
:: pics ::
Of course, expectations were rising high. I mean we had half of the year time to look forward and to add fuel to our anticipation. Much more when the album was released.
Our journey to Cologne was surprisingly easy and relaxed and the building-site-crush in Cologne's city handled quickly. Muenster-based fans came as a huge contingent and on time, while me I and myself quickly sneaked in to get my longed-for photo pass ;) A short phase of orientation and a pretzel before to be ready when the gong rang out to get the audience in.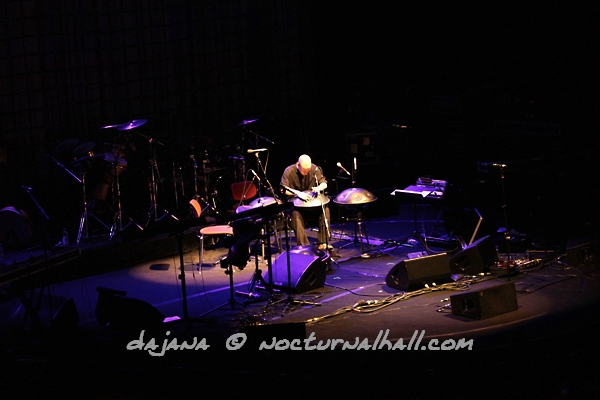 The evening got surprisingly opened by :: DAVID KUCKHERMANN :: I at least did not see any announcement so far. DAVID KUCKHERMANN is a renowned world percussionist and already left his mark on the brand new Dead Can Dance album. I first supposed that he could be a follower of Brendan Perry's drum and percussion school but I did not found any info about that. During his brief 30 minutes performance he focused on playing Hangs or Handpans, Swiss instruments that are some sort of steeldrums, which, as he said, look like ufo's ;) I remember that I already got enchanted by those "pots" by buskers in Barcelona in 2009. DAVID KUCKHERMANN got accompanied by Russian multi-instrumentalist Vladiswar Nadishana, who played something like a Jew's harp and flutes and made some onomatopoeic sounds. Not really my cup of tea but surely much impressing.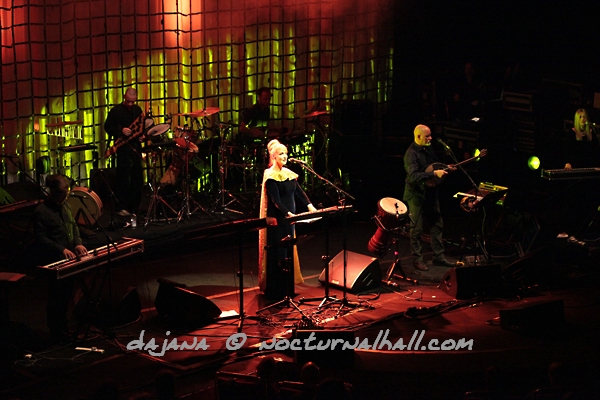 There was of course no doubt for whom fans took this journey. In no time also the last seat got occupied. When :: DEAD CAN DANCE :: entered the stage frenetic applause surging up. As expected DEAD CAN DANCE focused on the new album Anastasis, in fact they played it in its entirety. The new album is much multi-colored regarding styles and influences. There are Eastern, Persian, and Arabic influences to find, perfectly accompanied by the warm colors of the lightshow. In between live tracks that never appeared on a regular record were embedded, plus a cover version (Tim Buckley) and a track from a Hans Zimmer score with Lisa. There was only one really old song with The Host Of Seraphim. A little pity as most of the solemn and sacral moments were missing. The entire set was much electronic and a bit too loud, yet not unpleasing. That is of course, quibbling on a very high level. Lisa Gerrard once again stood on stage like a goddess, an empress, so unreal and not from this world, dressed in a formal gown, and of an incredible grandness and dignity. And she is still such a beauty. Brendan Perry is the much more lively part and enchants with his sonorous voice. Hardly to say what I love more ;)
I pretty much liked the backing vocals of keyboard player Astrid Williamson, especially in duet with Lisa. Really amazing. Also joining on stage was Jules Maxwell on keyboards and vocals, already seen percussionist David Kuckhermann, and Dan Gresson on drums.
Everybody was listening deeply touched, with shivers up and down the spine and gooseflesh all over, taken on a mesmerizing journey through hauntingly beautiful dreamscapes. A unique transcending aural and spiritual experience. Only thinking of this wonderful event brings back all these feelings again. A 2 hrs set, three encores and though it was once again way too short. A DEAD CAN DANCE concert is an experience you will never forget anymore. And I feel truly blessed that I am able to experience such memorable event for the second time. I have no idea if they will ever tour again. I mean, both protagonists are already beyond 50 now and such world tours are logistic mammoth projects. And though, there is still one wish left… to see DEAD CAN DANCE performing live with a full orchestra. That would be the non plus ultra!
Setlist: Children Of The Sun, Anabasis, Rakim, Kiko, Lamma Bada, Agape, Amnesia, Sanvean, Nierika, Opium, The Host Of Seraphim, Ime Prezakias, Now We Are Free, All In Good Time // The Ubiquitous Mr. Lovegrove, Dreams Made Flesh // Song To The Siren (Tim Buckley cover), Return Of The She-King // Rising Of The Moon