After having released such an outstanding double album as Farscape is, KLAUS SCHULZE and LISA GERRARD played a legendary show at Night Of The Prog Festival and two further shows in Berlin and Warsaw, all captured and available on DVD's (Rheingold, Dziekuje Bardzo). Hopes and prayers that they might do some more shows weren't left unheard ;) They do it again. FINALLY! Six days throughout Europe. Unbelievable but true, but there was a date close to my hometown, in Essen *jumps*. Concert agency Schoneberg was overrun in a twinkling of an eye with requests. It was worth it, at the end I even got the photo permission ;)
:: pics ::
Since it is not just a simple show but a classy concert evening in an elegant atmosphere it's time to get all dolled up and then we head towards Essen. The Lichtburg is a likewise legendary and most of all historic building in Essen's city and also Germany's biggest motion-picture theater. After having arrived there was first time to meet many friends and make other ones happy, giving them their won tickets for tonight's evening ;) Right after we got in taking our seats, while eagerness increased in anticipation of an exceptional concert evening. And everybody was waiting…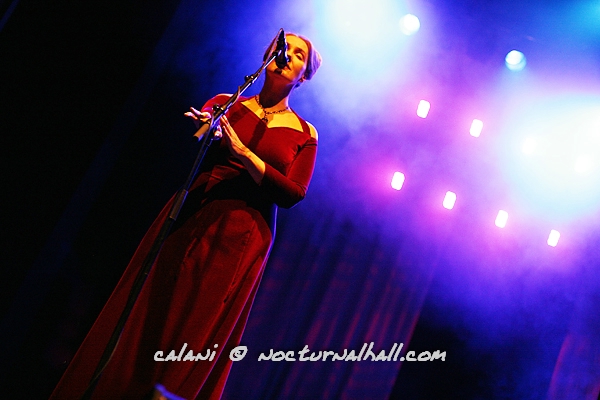 …and time passed by… Finally an official one took over the micro letting us know that KLAUS SCHULZE fell very ill, being medicated in the hotel and that he is not able to do the show tonight. But… LISA GERRARD was said to present a full and evening-filling show. Everybody attending for KLAUS SCHULZE only was given the choice to leave and getting the money back. We stayed! No question! Of course, I would have utmost loved to see KLAUS SCHULZE. I never did before. *sighs*
Things happen and shortly after lights were turned down and LISA GERRARD started her performance. She first presented two songs from the Farscape album with the music out of the can. This was a little tragedy as KLAUS SCHULZE is a likewise intuitive musician as LISA GERRARD is an intuitive singer. KLAUS does not just play his parts, no way! He improvises and experiments with his sounds and equipment just the way he feels at the moment. And I was truly looking forward to his performance, to see and hear what he would play and how much it would differ from the original CD sound. Too bad *sighs*
Following LISA GERRARD presented solo material, parts of the Gladiator soundtrack for example and at the end her a-capella version of The Wind That Shakes The Barley.
Needles to say that it was once again a stirring, mesmerizing and touching live experience. It's hard to find words for what happens inside of you and me when listening to her ethereal voice. LISA GERRARD is definitely not from this world! Again she stood there statued, like carved in stone, with closed eyes, engrossed and held the audience in breathless astonishment. LISA brings tears to your eyes and makes the gooseflesh swirling all over your body. Again and again. What ethereal and beautiful voice, what expressiveness! Outstanding!
Unfortunately, after around an hour the show found its end. I think it was a bit too short to call it and evening-filling program for ticket prizes around 50 Euro. On the other hand I understand that Mrs. Gerrard does not have her solo material with her when she is supposed to play special shows with other ones music. However, I'd say she made the best out of this situation and was released with standing ovations. She overwhelmingly thanked the audience and even made a speech in honor of KLAUS SCHULZE (she hardly ever says anything at her shows), a man who treats her like a queen and showed more respect to her than anybody else did… who is wondering?
Again a breathtaking concert evening, just way too short!