Germany:
[Dajana] After getting blown away by the last weekend's death/thrash metal massacre with a slight black metal touch, now the tit-for-tat response this Saturday: pure black metal with a death-metallic introduction.
After long-lasting four years DARK FUNERAL finally came up with a new album entitled Attera Totus Sanctus, and they also didn't tour longer time, except some festival appearances and flying visits at X-Mas Festivals and No Mercy tour anytime in between. So … the time has come! However, all other participants of this evening's black mass can offer new outputs too: NAGLFAR are in support of their grandiose album Pariah; Germans bastards ENSTILLE still entertain with Navigator and AMORAL kick ass with Decrowning. Latter one delivered the non-BM aspect of this tour package.
Tor III in Georgsmarienhuette was visited well and the crowd already jostling to get hold of the best place in front of the stage. To add a maximum of atmosphere the stage was dunk in blood red light (except a few moments). It all looked quite cool but can I express some resentment in matter of photography? ;)
:: pics ::
:. AMORAL ~ kicked off the show without making any bones and were pasting the expectant audience with an aggressive mix of death metal and metalcore. First words of singer Niko afterwards were an invitation to the brace-wearing groupie-league in the first row, to unstring him, if ya know what I mean; while the girlies answered his request with hysterical screeching. AMORAL show was short, entertaining and left the crowd banging. Even black metal purists took to the show.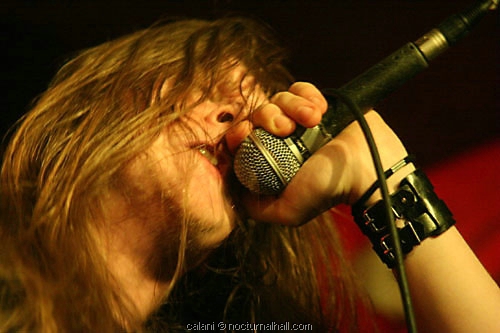 :. ENDSTILLE ~ played even a shorter set (can anyone tell me why?) but were entertaining as hell. You won't see so evil faces that often… hehe. Though singer Iblis could hardly refrain from laughing when already mentioned girlies started to pet his boots (… and showcased their band knowledge in a very blonde way. People around at least had lotsa fun). Unfortunately sound wasn't that good and Iblis screamings went down quite often. Musically speaking ENSTILLE offered their proved best-of setlist though all of three albums. Ya know, songs such as: Bastard, Bless You God, Ripping Angelflesh, Frühlingserwachen, Dominanz, Navigator… But the playing time was definitely way too short! 15 minutes more wouldn't have done any harm… *mumbling*
:. NAGLFAR ~ truly emerged as the highlight of the evening afterwards! With old singer Kristoffer Olivius behind the micro and a sensationally great sound NAGLFAR surprisingly introduced with Blade from 98 album Diabolical. Besides three songs from current album Pariah, NAGLFAR also pleased the crowd with a best-of setlist thru all releases. Especially the two songs from Sheol album went down extremely well and the fans were freaking out! I think I can say the band enjoyed the show as the audience did; it's not that easy to detect since they totally play with motionless faces. Just great! But again… way too short!!! No encore. There are so many other tracks that would belong in such a best-of list and fans wanted to listen to live. Damnit!
Setlist: Blades, Spoken Words Of Venom, As The Twilight Gave Birth, I Am Vengeance, The Perpetual Horrors, Emerging From Her Weepings, Wrath Of The Fallen, Horncrowned Majesty, A Swarm Of Plagues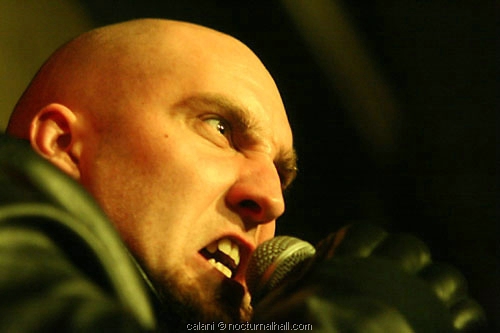 :. DARK FUNERAL ~ finally could play a little longer as a headliner. But sound wasn't that great anymore and it seemed that the band performed more half-heartedly, than enthusiastic. Singer Emperor Magus Caligula (what a name btw…) was most time busy plucking his pants. I heard there are belts available… Luckily most of DARK FUNERAL songs are above everything and you cannot snafu them for no matter what. But in view of the grandiose last effort Attera Totus Sanctus fans expected more… verve. However, their fascination they didn't lose at all. There surely have been better shows, but this one wasn't really bad. The infantry looked satisfied afterwards and left exhausted but with lucky faces. Well, you don't get DARK FUNERAL that often in front of your nose, do you?
Setlist: (uncomplete and in no order) Vobiscum Satanas, My Dark Desires, Open The Gates, Attera Totus Sanctus, Bloodfrozen, Godhate, 666 Voices Inside, Hail Murder, Ravenna Strigoi Mortii, (An Apprentice Of Satan?)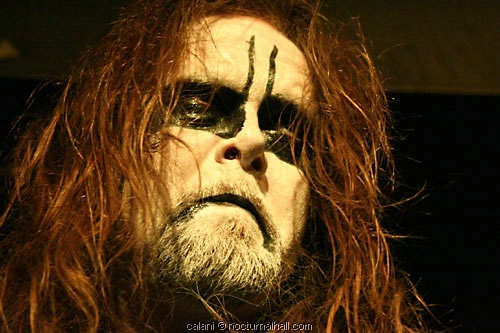 Upshot: Short and entertaining evening; time flew quickly. At midnight the show was over. All bands had great moments but NAGLFAR definitely was the outstanding act!
Austria:
[Gunnar] Just in time on my girlfriend's birthday, the "Kulturverein Kaltenbach" served a (mainly) black metallic birthday cake which, one and a half week after the great evening with Lunar Aurora, was the next part of the black metal - late winter 2006 in Vienna.
The Finns from AMORAL, who had already found some new friends in Vienna on the tour with Finntroll and NAGLFAR last year, succeeded again with their melodic death/trash – mixture (at least with those ones in the audience who weren't completely sworn to black metal). Their music is definitely not made for brainless consumers, but it is something to "actively listen to", as colleague Dani once noted appropriately. Good that they had to go on stage as first band, because (for many different reasons…) most people's receptiveness is best at that time.
As about 25% of the 300 metalheads that had come to the show, wore some ENDSTILLE merchandise, one could expect that the crowd's enthusiasm would grow further now – and so it did. Therefore it's still more annoying that they got the shortest time of all bands to play. Isn't there something going wrong? I think that, at least in the German speaking countries, they should have got more time than half an hour. Songs like Frühlingserwachen and Navigator were loudly acclaimed though the sound wasn't exactly perfect (the sound specialists of planet music…..on the other hand, I've never seen ENDSTILLE with good sound). The band could not fulfil the people's demands for an encore, and afterwards, many fans were really upset by the short playing time.
For the third time in 11 months, NAGLFAR played at planet music, but obviously, there's still big interest. Kris Olivius was a bit more communicative than in earlier shows as NAGLFAR – front man, and surprisingly, it was especially the songs from the last album Pariah that got the best response, first of all of course Spoken Words Of Venom. They even could afford dropping their hit The Brimstone Gate this time (as, unfortunately, the tremendous Diabolical – album was ignored all over the gig). Among others, we could enjoy I Am Vengeance and Wrath Of The Fallen from Sheol and As The Twiligt Gave Birth To The Night from Vittra, before, after only 40 minutes, they finished with A Swarm Of Plagues. So, once more I've waited for my favorite songs Black God Aftermath and Into The Cold Voids Of Eternity, and once more I got disappointed. Apart from that, I once more have to say that a good part of the special NAGLFAR atmosphere has got lost together with Jens Ryden. Nevertheless, the Swedes still blow away most other bands with their live performances.
But on that evening they were blown away themselves by their fellow countrymen DARK FUNERAL. King Antichrist, Diabolis Interium, Ravenna Strigoi Mortii, after these three opening pieces, everybody knew who still sits on the black metal throne. The Arrival Of Satan's Empire, played as fourth song, left no questions but unquestioning devotion. Loudmouth Caligula who had kept himself going with medicaments all day, seemed to be in top form. He was definitely in a very good mood, praised the support groups and even a rather un-evil "We love playing for you!" escaped from his mouth. One hit followed the other, no matter if old or new, and every song was highly acclaimed: 666 Voices Inside, Vobiscum Satanas, Open The Gates, Attera Totus Sanctus, Bloodfrozen and Hail Murder (the last song of the regular part). My personal highlight was the first encore: Atrum Regina, the steamroller from the brilliant new album Attera Totus Sanctus, came with full force over planet music, before My Dark Desires (which had been loudly demanded by many fans) and An Apprentice Of Satan spread total happiness everywhere (was this the purpose of those songs?).
DARK FUNERAL's return to Vienna after 4 years was more than impressing; a great evening that was followed by an aftershow party at Vienna's best loved metal pub Escape, including several members of all bands.