Ah, DISBELIEF & GORILLA MONSOON, a well proven killer package for what I cold-shoulder many a different show. Both bands as exactly this package I saw last time at exactly this place in early 2010. Two and a half years have passed by since then seeing both bands struggling through line-up changes but now back on track again.
Tonight's evening pleasure got enhanced by POEMA ARCANVS and THE OUTSIDE, who currently tour Europe together and were able to join in at lovely • Turock • club, offering a wonderfully colored entertaining program consisting of melodic Thrash and Doom Metal, Stoner Rock and brutal Death Metal. Hell yes!
:: pics ::
Unfortunately tonight's show was sort of ill-fated. Overkill was playing its Killfest around the corner and besides leading Ruhr area soccer clubs Schalke and BVB put up a local "fight". This of course drained potential concert goers and made the evening to an intimate experience, as approx. 75 fans attended the Turock. A fact the sound engineer have missed out. He was seemingly considering himself at Wembley Stadium as the sound was painfully loud.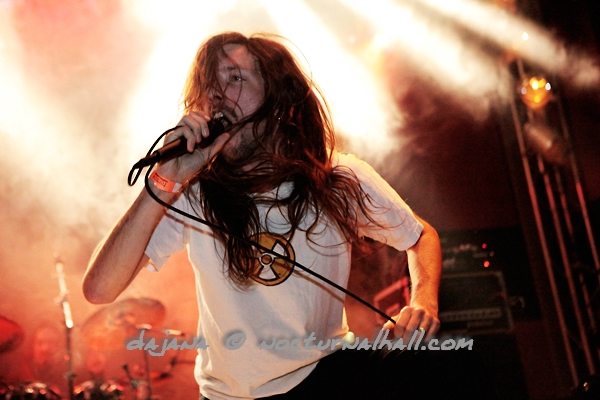 The evening was kicked off by :: THE OUTSIDE ::, a Berlin based multi-cultural band, consisting of members from Chile, Turkey and Germany. In summer THE OUTSIDE released their self-titled debut album. Musically it is an interesting matter as the band blends Thrash Metal with progressive influences, not too tricky impresses with a an unusual voice. And THE OUTSIDE had a hell of a powerful guitar sound. It was only the crowd that could not deal with such powerhouse. Give them more beer and time to wake up…
Setlist: Empire, The Stench, Ashes, Blood Runs Black, Revolt Of Reason
Nationality-wise we stayed in Chile when :: POEMA ARCANVS :: entered the stage, best known for their finest Doom Metal. POEMA ARCANVS have just released their fifth album Transient Chronicles. Just means just here and now in October ;) And they definitely could fully convince. They in fact played more contemplative, typical for this style, and it is visually surely not that great scenery (as lights were bad) but the music also live offers epic dramatic art, much emotionalism and big gestures. Best enjoyed with closed eyes. Great!
Setlist: Raven Humankind, The Average Man's Odyssey, Elixir, Alter, Omniscient Opponent, Latent Eclipse
As already mentioned, both main bands do not have anything new to offer. But :: GORILLA MONSOON :: at least announced to enter the studio the following week to record the follow-up to grandiose Extermination Hammer. Best chance to serve as a canapé with two new songs that pretty much sound like known material but of course owns this special Groove and asskickingly great and wickedly evil fuck you Hellrock attitude. "…When I am done with you, you'll hear the angels sing…" *sings*. Yes! I'm stoked!
Setlist: Shotgun Justice, Damage King, Goat Lord, neuer Song, Death Revolution, My Way, Codeine Comander, Born To Lose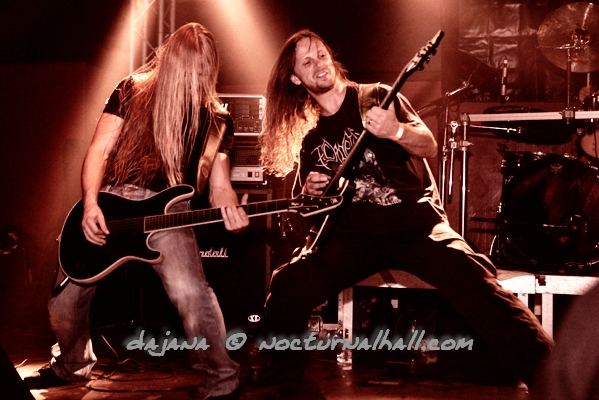 Such news :: DISBELIEF :: could not share but there is also a ray of hope shining. With the not so new member Wolfgang Rothbauer DISBELIEF found a great and creative guitar player. And I'm sure he would have much to add to a new album. I'm just not sure if he can when it is about spending studio/rehearsal time. First, he does not live around the corner (Linz, Austria) and is involved in at least 6 more bands. However, DISBELIEF played a great and intensive show and proved that they have with Jagger one of the most charismatic singer in that genre. Though, I got the feeling of certain weariness within the band. Well, I do not wonder. For over two decades now DISBELIEF deliver one masterpiece after another, play great shows and festivals and still never made the big breakthrough they so deserved. And this is what you can sense out. DISBELIEF still play with lots of energy and enthusiasm but they are… hmmm… lacking of spirit? Of impact? And this is not only due to the age. But I do not want to nag at all, it was a great show and a wonderful evening :)
Setlist: A Place To Hide, Room 309, Hell Goes On, Hate/Aggression Schedule, The One, Sick, Navigator, Rewind It All // The Last Force: Attack!, To The Sky, Misery