IN STRICT CONFIDENCE is a band that often polarizes but continuously develops and created sort of an own style between gothic and electro that is very distinct. Their sound is dark, driving, not too kitschy, and not too poppy. With the release of their sixth record Exile Paradise they in fact tend more into a synth pop direction but still don't drift away in too shallow areas. And IN STRICT CONFIDENCE still write stunning songs. Finally they are on tour and I got the chance to witness the live qualities of this band. The billing is varied and even comes up with more big names as there are FROZEN PLASMA and EBM legend Rhys Fulber with CONJURE ONE sharing the bill…
:: pics ::
:. FROZEN PLASMA ~ kicked off the evening and offered a firework of straight synth sounds. With this band Vasi Vallis (behind the keys) has established a worthy follower of his former band NamNamBulu, supported by Felix Marc of Diorama fame behind the micro. Latter one did not stand still for any second, danced and whirled over the stage, infecting at least the first rows ;) FROZEN PLASMA presented the songs of the just released Emphasize EP (King Of Pain, War Mongers, Lift The Veil), added by older ones from Artificial album (Hypocrite, A Generation Of The Lost) but in their re-mixed versions. Since the sound in the Matrix is always different and depends on where you stand, it's difficult to judge it objectively. As for me the singing was a bit too weak. Nevertheless: great show!
Setlist: Intro, Lift The Veil, Hypocrite, Warmongers, King Of Pain, Home, Generation Of The Lost, Irony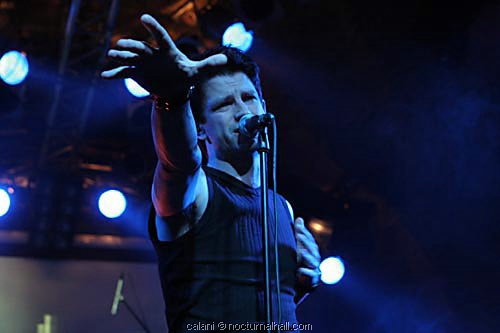 :. CONJURE ONE ~ of course got into their set much quieter after a change-over quick as a flash. A funny story was that many people were talking about Rhys Fulber and his work as musician and producer but didn't know that it was he behind the keys in CONJURE ONE. Tststs… philistines!
They started with an intro and Extraordinary Way from the album of the same title. Female singer Leah Randi was not only wonderfully pregnant but revealed an outstanding voice immediately enchanting the audience. CONJURE ONE's music is of course quite close to Fulbers former project Delerium with its atmospheric ambient sounds. I just closed my eyes (when not taking photos) and let me bore away…
After hardly an half hour they finished their set with Tears From The Moon that includes a adaptation of Eurythmics Here Comes The Rain Again (not as great as the original actually). That was way too short, but an outstanding show! Breathtaking…
Setlist: Sleep, Extraordinary Way, Redemption, Forever Lost, Center Of The Sun, Tears From The Moon/Here Comes The Rain Again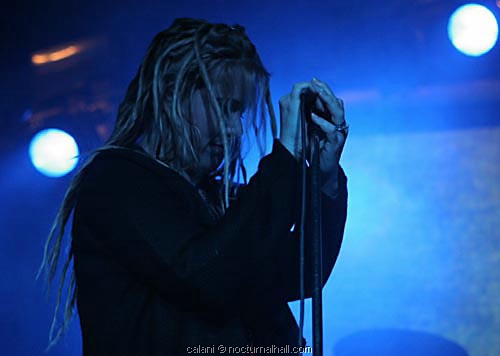 :. IN STRICT CONFIDENCE ~ wanted to be as fast as the other ones with the change-over but a bitchy notebook has thwarted them. So it took a half hour till the show went on. The light darker as dark, dunk in bloody red and smoke as thick as in The Fog (photographers were becoming desperate) spat out singer Dennis Osterman and Antje Schultz kicking off with Promised Land from the brand new album Exile Paradise. Behind the drums I guess Stefan Vesper worked, Jörg Schelte behind the keys and Lars Baumgardt on guitars. In the twinkling of an eye Dennis had the crowd in his grip that downright hung on his lips, singing along and dancing their souls off the body. Feed with such energy and response Dennis likewise danced, rocked and whirled over the stage, appearing and disappearing in the smoke. The band's latest entrant female singer Antje proved that her voice stands the live ground as well. She knows how to work with her vocal cords. As for me her pitch is just a bit too "neat". However, the dark light, joss sticks and the vids on the huge screen behind created a perfectly dark atmosphere to ecstasies the fan troops. Of course IN STRICT CONFIDENCE had to come back twice for encores till the audience were satisfied enough for a last good-bye.
Setlist: Promised Land, Fading Light, Prediction, Zauberschloss, Kiss Your Shadow, Emergency, Seven Lives, Heal Me, Forbidden Fruit // Closing Eyes, Herzattacke // Engelsstaub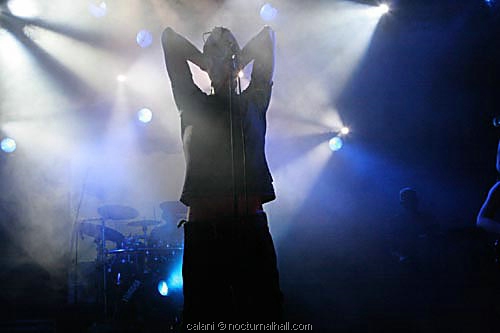 A wonderful show with a different music style approach. Since the concert took place on a Sunday it all ended quite early. Around midnight I was already back in town witnessing cops trying to… erm… tame(?) a completely nude elder gentleman *lol* An early Halloween-goer?