It is a Thursday evening and we are on the way to the unloved :: Turbinenhalle :: for a gathering of great bands. MASTODON called and we followed. They are not too often on tour throughout Germany and always worth a visit. Much more, since they bring Neurosis' Scott Kelly along. The Atlanta-based Prog/Sludge luminaries got supported by Norwegian roughnecks KVELERTAK, featuring their new singer Ivar Nikolaisen, and US Punks MUTOID MAN, who had to play without their original drummer Ben Koller (Converge). He is temporarily replaced by Chris Maggio (Trap Them, Coliseum).
:: pics :: MUTOID MAN ::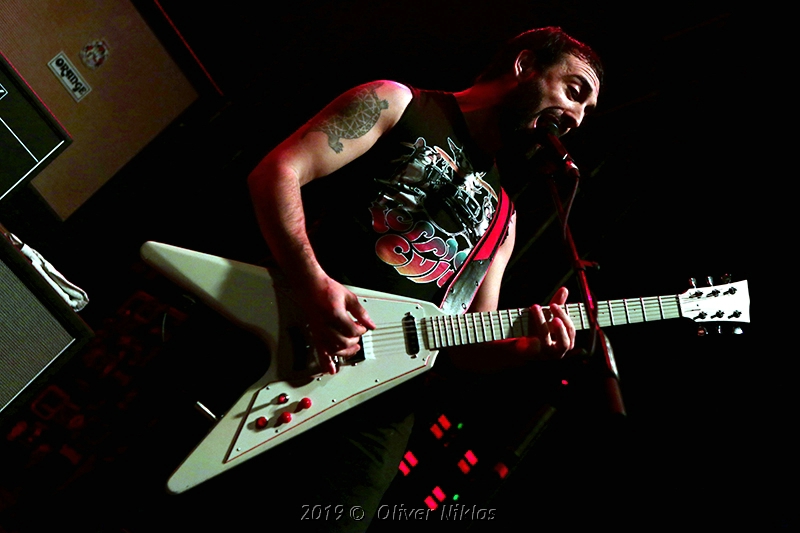 When :: MUTOID MAN :: stormed the stage the venue was already packed. The New York's guys around Stephen Brodsky delivered an absolutely entertaining, humorous and most of all a highly energetic live performance with songs from all their records. Unfortunately, the guys ain't really known in the local metal scene. The tracks were gruff, sometimes too hectically pushing forwards, but always melodic and live from the outstanding singing of Stephen Brodsky. Songs such as Bridgeburner and Deal With The Devil are real smash hits that deserve to be listened to. The band played tight and professional and so did the temporary drummer. The crowd was open-minded and received the show surprisingly well. Even the usually disastrous sound could not narrow the pleasure.
Setlist: Melt Your Mind, Bone Chain, Kiss Of Death, Date With The Devil, 1000 Mile Stare, Wreck And Survive, Bridgeburner, Gnarcissist
:: pics :: KVELERTAK ::
Next up were :: KVELERTAK ::, who kicked off with three guitars and full force. They just blasted everything away. ADHD stage acting to the max. That was rad! For five minutes. For the rest of the show it was just like a pain in the neck. Mostly to blame for this sentiment was new singer Ivar Nikolaisen, who appeared to be awfully arrogant and at the same tried to be Iggy Pop, Bobby Gillespie, an anorexic model and a Speed-Coke-junkie. His rock star attitude, his permanent snot spewing and his all-inclusive animation acting were just utterly embarrassing. For his behavior his voice was pretty thin, did not have any recognition value, and most of all no charisma. Musically again, you could not blame KVELERTAK for anything. The band's bastard of Punk Rock, Hardcore, Black-Metal and Classic Rock elements is downright predestined for live shows and they have the one or the other great song to offer. When we talk about sound the person responsible finally made some effort to get it right. My opinion? KVELERTAK is a totally overrated band. A few songs were ok, the rest was expendable.
Setlist: Åpenbaring, Bruane Brenn, Nekroskop, 1985, Fossegrim, Blodtørst, Evig Vandrar, Mjød, Berserkr, Kvelertak
:: pics :: MASTODON ::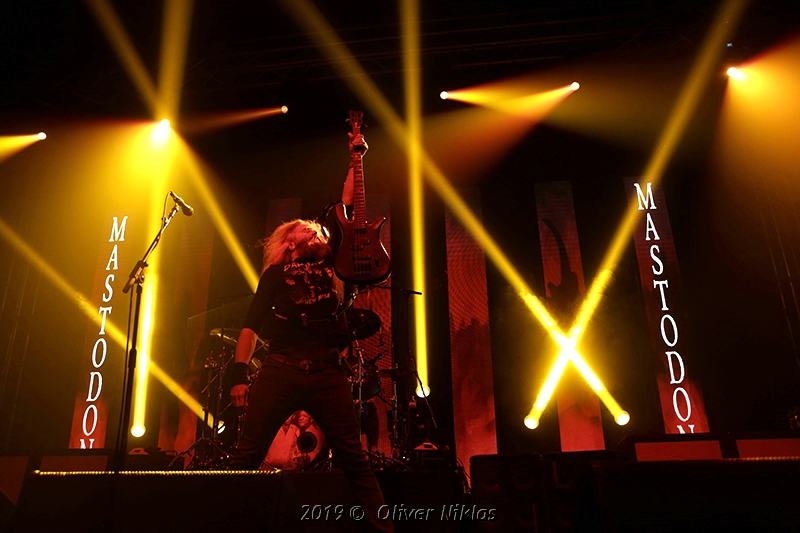 Ok. Finally. :: MASTODON ::. Awesome band, fully own sound, four-voiced singing, progressive song structures and though, famous and successful in the United States. In Germany MASTODON shows are in fact attended above average yet it is odd that MASTODON do not reach the same level of popularity and success they have in the United States.
However, now the sound was (surprisingly) crystal clear and powerful, the light show brilliant and the visual background aesthetic, perfectly made to support the songs and highly psychedelic.
On stage, I found the guys a bit too routinely. A bit of real stage-acting only bassist and frontman Troy Sanders delivered. Brent Hinds and Bill Kelliher most time stood idly anywhere in the shadows. Brann Dailor again is a drum-animal and, just to mention it, the best singer of this quartet. Especially Brent Hinds sounded a bit powerless here and there. That became distinct when Scott Kelly came on stage to perform six (!) songs. This man has charisma! But that is all nagging on a high level, you know. MASTODON stand and play for their own and also do not play safe when it comes to the setlist. They alone played five songs from the band's sophomore Leviathan and besides 12 of the 19 tracks from the first four records and thus the early days of the band. Later and rather popular songs such as The Wolf Is Loose, Curl Of The Burl and some singles were left aside. I can imagine that old MASTODON fans might be angry now for not attending these shows because they do not like the newer and straighter material.
Setlist: Iron Tusk, March Of The Fire Ants, Mother Puncher, Chimes At Midnight, Steambreather, Sleeping Giant, Toe To Toes, Ghost Of Karelia, Capillarian Crest, I Am Ahab, Megalodon, Ancient Kingdom, Scorpion Breath, Crystal Skull, Aqua Dementia, Spectrelight, Crack The Skye, Diamond In The Witch House, Blood And Thunder
Upshot: A great concert evening with a lot of entertainment, frighteningly high merch pricing and a comfortably mixed audience. All that although we were at the Turbinenhalle…