Matrix… Turock…Matrix… Turock… better to go to the Matrix? Yes! I decided in favor of the Matrix! *argh* I really hate overlaps when it comes to the heavy show season in fall. Maybe I should have a quick trip to China for a high-speed-clone-session. Need at least five models ;) Much better would have been to stay in bed and to cure my bad cold. Last night's Turock Open Air has left its impact on me. However, no rest for the wicked ;) Right?
:: pics ::
Put on hold for the last eight years it seems that the :: MURDERDOLLS :: don't miss any chance to socialize and to bandy their brand new sophomore Women And Children Last about. Right now they tour Europe supporting Guns'N'Roses, and it's known for such big tours, the dates in-between get filled up with headlining single shows. I don't have a clue if and when the MURDERDOLLS played last time around the Ruhr area, the run was immense, although the Matrix was not sold out. Long queues made me scaring if I'd ever reach the stage…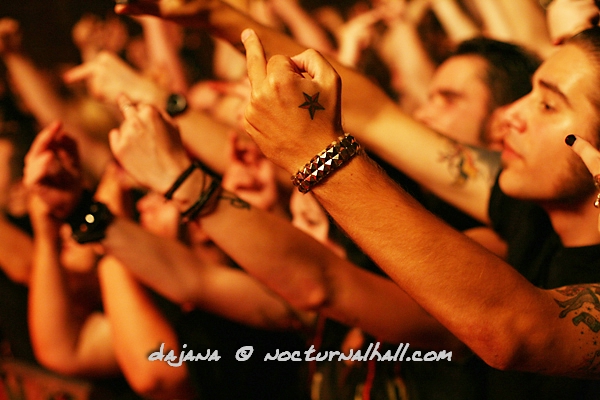 There was no local support, the MURDERDOLLS were about to entertain the crowd solely. To heat up the already excited audience the bad boys took it very easy and delayed their kick off for a three-quarter hour. But for that they delivered following an almost 2 hrs running, incredibly energetic and cocky show, with a nonchalant (but insincere) Punk attitude.
Joey Jordison looked like just coming down from stage with a Black metal band, panda-corpse-paint instead of bloody Horror outfit. That makes him somehow likeable ;) The rest tried it the Horror Punk way and burnt the stage. Ok, except for the bass player who extremely stayed in the background. And when he once came in front he got… erm… pinched in the ass and toddled off backwards. By the way, Mr. Jordison had his own cooled bar next to his guitar stuff, and a stage-hand who mixed beverages when needed *lol*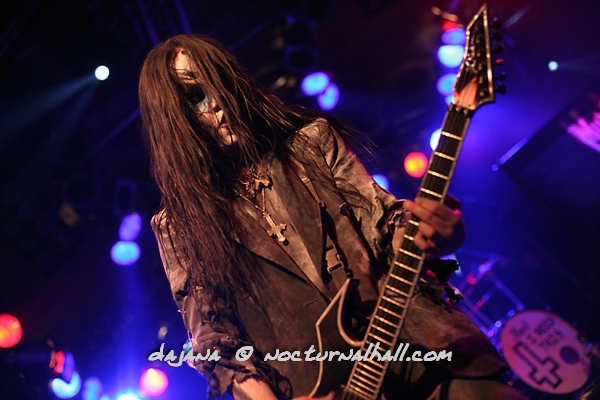 Over the time it got unbelievably hot in the Matrix and girlies from the first rows started to keel over. Apropos girlies… there screams were ear-battering.
Regarding the set the MURDERDOLLS went through their entire history… *laughs*… ok, with just two albums out it might be a bit exaggerated… hahaha. Two album = 29 tracks; 23 got played, that's a good average. The crowd completely freaked out from the first tunes on and sang along every song. The peeps in the first rows tried to touch Wednesday 13 and if they made it their faces were remained engrossed and ecstasized for the rest of the show ;) Pretty funny. Wednesday 13 was heavily dripping of sweat, mostly running out of his black rubber gloves, by the gallon. I also had the impression that this dude wasn't really sober at all, but hey, as for the mental backing he got the lyrics nailed down on his monitor box and regarding his action he was hardly to stop. He rocked, ran, jumped, twisted and flirted with the audience, during the entire show inclusive the encore, and without a break and losing any grain of energy. Wow! Oh, another detail I would like to mention: Mr. Wednesday 13 had some sort of a fox brush hanging from his belt, what looked pretty fluffy between his legs when he had some certain positions… *laughs*
Setlist: The World According To Revenge/Intro, Chapel Of Blood, Slit My Wrist, Twist My Sister, My Dark Place Alone, Drug Me To Hell, Summertime Suicide, Love At First Fright, She Was A Teenage Zombie, Die My Bride, People Hate Me, Death Valley Superstars, Blood-Stained Valentine, Pieces Of You, Nowhere, Welcome To The Strange, Motherfucker, I Don't Care, 197666, Rock'N'Roll // Dawn Of The Dead, Hybrid's Moment, (Mad Manager), Dead In Hollywood, I Love To Say Fuck
Yes, I have to confess, I was surprised and I really liked the show. I was not sure what to expect, maybe something like a cheesy clone of MM or Rob Zombie, dunno. Nope, MURDERDOLLS really rocked the Matrix.
Unfortunately or luckily (?) the show found its end at the same time as the Turock Open Air. I actually was hoping to be back to see the Unleashed show… *sighs* Instead I lay in bed at midnight, which was – in the view of a morning shift next day – not the worst thing ever ;) I really could have nap before getting up at 4:30 am again ;)
Those of you who could not see the MURDERDOLLS on Bochum, the dudes gonna play another single show in Cologne next Tuesday. The last chance that is! For now.