Just another band from Sweden
What can still be said about OPETH that was not said already? Every single record, every interview, every rig rundown as well as the band's musical and personal development was scrutinized to the smallest detail and largely discussed.
For nearly 30 years now OPETH is named as one of the most impressing and most thrilling bands within the Scandinavian Rock and Metal scene. Excursions to artistic outskirts always go along with their steadily growing commercial success. And this does not change with their new and 13th record, the highly acclaimed In Cauda Venenum, which was released on September 27 and directly made its way on #5 in German album charts and #2 in Finland.
Now, OPETH have embarked on their European tour in support of In Cauda Venenum, making five stops in good old Germany. And an OPETH show is always a surprising musical experience, worth the ride wherever you might catch them.
I once again took the road towards Cologne to see OPETH at the nearly sold out :: E-Werk ::. It is the third time I see them there. They must feel home already ;) The drive was almost relaxed, the arrival was not. The whole quarter is full of event halls and on this evening the Palladium vis-à-vis was sold out as well as the Schauspiel and Carlswerk Victoria. Means, around 8000 fans tried to catch one of the felt 500 parking lots. You know what I mean? There have been angry people that missed the support band.
:: pics :: THE VINTAGE CARAVAN ::
Knowing the situation my time buffer was comfortable enough. I was already in and acclimatized when :: THE VINTAGE CARAVAN :: took to the stage 15 minutes earlier than announced. I'm not a huge fan of their music but I have already seen them live several times and knew what to expect. The Islandic guys are young and wild and play highly energetic shows. To face them is like to face a Stoner Rock explosion.
THE VINTAGE CARAVAN tear down stages! And so they did on this evening. THE VINTAGE CARAVAN kicked off with songs from their latest effort Gateways and delivered a rip-roaring set through three of their four albums (the debut album was left aside). The won the crowd right from the start. Every new song was responded joyfully and the crazy solo performances by each member were even frenetically applauded.
It was a pleasure to watch the trio perform and made me smile following their face expressions and their style to play their instruments. Indeed, the perfect band to support Opeth and to heat up the crowd.
Band: Óskar Logi Ágústsson, Alexander Örn Númason, Stefán Ari
Setlist: Reflections, Set Your Sights, Crazy Horses, Innerverse, Babylon, Expand Your Mind, On The Run, Midnight Meditation
:: pics :: OPETH ::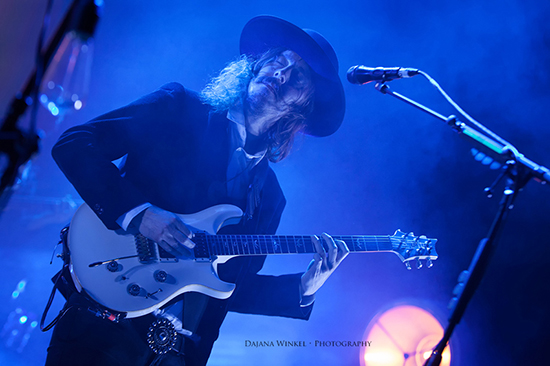 Change-over, time for a break. The now uncovered stage setting promised something big. And lights. A lot of lights! To take photos at ISO 100 during an inside show was new to me. It was almost a bit too much ;) But yeah, the light show was spectacular. I loved the interstellar delights and the LED installations. There were special retro flood lights in the back and little light bulbs glowing at the front of the stage. It was really wonderful.
As expected, :: OPETH :: got off the grid with new tracks from In Cauda Venenum, the Swedish way. But, as unpredictable as OPETH is, fans did not have time to tune in, as the growled The Leper Affinity from the legendary Blackwater Park followed hot on the heels. Of course, there have been other classics too but the band focused on newer releases as the setlist proves. I heard some nagging that OPETH ain't Metal anymore. Well, there are seemingly still fans that did not realize the musical development over the last decade or did not want to do so. Sure, that might cause some disappointment but on the other hand, remember the tour and show in 2016 at the same place, when OPETH left the then brand new album completely aside and played an old school set instead. Well, you actually can never satisfy every OPETH fan during their live shows ;)
That is how OPETH please their fans! You never know what you get ;) And of course, Mikael Åkerfeldt started his black humorous banters and gestures and answered wittily the crowd's heckles. Laughter everywhere. Oh, and let's talk about his hat ;)
What a stunning show that was. Once again. A brilliant live experience with a band in high spirits that loves to perform, with perfectly balanced lights and sound, a nice setlist with some surprises. As already mentioned, every OPETH show is a ride, a fantastic journey through the band's history, a journey that always turns out to be different from what you have already experienced before. That's why OPETH are so successful and popular. Oh, by the way, I ♥ OPETH too ;)
Band: Mikael Åkerfeldt, Fredrik Åkesson, Martin Mendez, Joakim Svalberg, Martin "Axe" Axenrot
Setlist: Livets Trädgård (Intro), Svekets Prins, The Leper Affinity, Hjärtat Vet Vad Handen Gör, Reverie/Harlequin Forest, Nepenthe, Moon Above - Sun Below, Hope Leaves, The Lotus Eater, Allting Tar Slut // Sorceress, Deliverance