When I first time saw the announcement for these Greek shows I couldn't believe it! WOAAAAAAHHHH!!! What a great line-up! Three of my all-time faves, plus AGUA DE ANNIQUE with the lively Anneke van Giersbergen I did not see playing live yet and all of them on one stage! No question, I definitely have to be there! Too bad, that PAIN OF SALVATION still had not confirmed the shows yet, while DISILLUSION shocked me with the news that longtime guitarist Rajk Barthel has quit the band *hmpf*
Luckily, with the beginning of the new year, doubts ended up in smoke, all bands confirmed their participation and I booked me flights and hotels. I hardly could wait for the day to start, since I have never been in Athens and Thessaloniki before *jumps*
:: pics ::
Then, time has come: Friday, 22nd January :) The aircraft gets me to Athens, AGUA DE ANNIQUE sit in the row before me and the guys of DISILLUSION I meet on the sightseeing trip on top the Acropolis. Weather is perished with piercing winds on the rock, but I walk under a blue sky and sun. Down in the city it's almost springlike warm with +8 °C ;) I only have time for the Acropolis and the area around. After a snack and a stop at the hotel I walk down the street towards Gagarin 205 Club.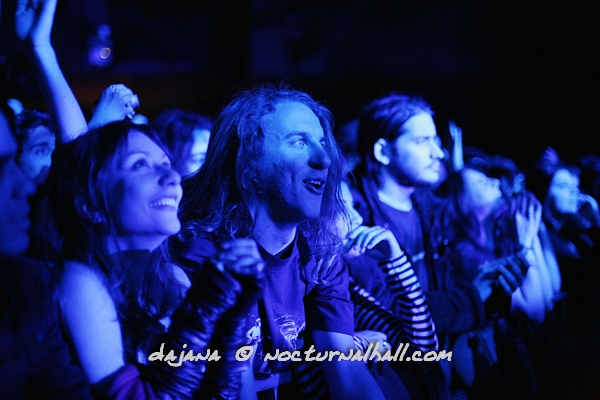 Doors are set for 6pm but it takes a half hour more till they finally get opened. I have a look around and get my stuff into the photopit. Short after Greek :: SCAR OF THE SUN :: enter the stage and open the evening. I have not heard of them before but checked their stuff on their myspace site and liked what I was listening to. Songs of tonight's show came from the band's to date unreleased debut CD A Series Of Unfortunate Concurrencies, seeing the axe-man Alexi taking over the part of guest singer Mikael Stanne in Ode To A Failure. I have to admit, I didn't like the show that much. Sound was unbalanced, singing too much in the foreground and the melodic parts (key samples) almost suppressed. It all sounded a bit too… harsh and edgy. Pretty a difference to the songs on the player.
Setlist: Disposable, Swansong Of Senses, Ode To A Failure, Burn The Memory, Disciple Of The Sun, Gravity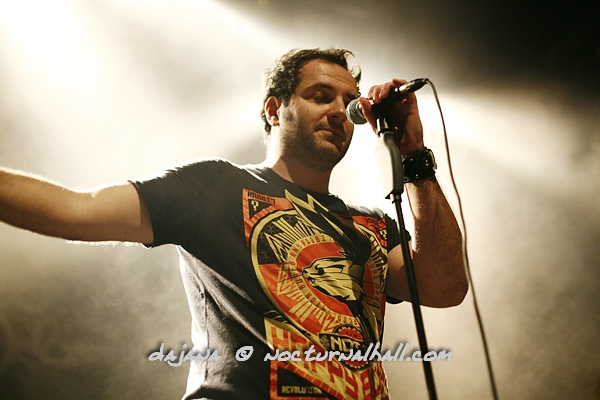 Afterwards it was up to :: DISILLUSION :: who made a short line-check and then kicked off with The Hole We Are In. Damn! I did not see them for ages and their still current masterpiece Gloria already dates back on 2006. Hmmm, well. The Gagarin Club is well-filled, at the end approx. 1000 fans will attend this concert. There are two new faces in DISILLUSION: first the one of new bass player Matthias Becker, who plays his very first live show for DISILLUSION tonight and Heiko Tippelt, who fills in for Raijk Barthel, who traveled to Athens too ;) The show does not run smoothly. At The Black Sea the equipment of singer and guitarist Andy backs out of its service. Andy is joking and requests if he can restart, which gets promptly allowed *lol* Generally speaking I was surprised how many fans were here to see DISILLUSION and seem to know and welcomed every song. Good evening for the guys hailing from Leipzig, Germany ;) It was just too bad that audience generally was quite lame and lacking of some active movement.
Setlist: The Hole We Are In, Gloria, Dread It, Alone I Stand In Fires, Back To Time Of Splendor, The Black Sea, Don't Go Any Further
During the next break I tried my first beer at the bar and got almost struck by lightning. 5 Euro ??? For a cup of Heineken? WTF? *ouch* When talking with Andreas of the stage-security he explains that beer is actually more expensive at other places and that it used to be more expensive in this club too. That's just great!
Also Anneke van Giersbergen cannot complain about a lacking fan base, no matter in what band she is playing ;) :: AGUA DE ANNIQUE :: get almost frenetically welcomed. Musically they go through their two albums Air and In Your Room, with additional cover songs by The Editors (Papillon) and the Devin Townsend Project (Hyperactive) and two old The Gathering songs. Also here some technical minor problems, funnily suiting the situation, when Anneke asks: "Are you ready to rock?" and the bass string tears when starting to rock at Hyperdrive ;) She also tells that her beloved acoustic guitar broke on the flight to Athens and that it has broken her heart. Luckily she could borrow another one play My Electricity the way she wanted. Only the micro used to bitch afterwards what she answered with: "this is a piece of shit". Every now and then fans screamed "I/we love you" she promptly replied with "I love you too". Beside the regular AGUA DE ANNIQUE members (Joris Dirks - guitars/vocals; Jacques de Haard - bass; Rob Snijders - drums) also Jasper Geluk accompanied the band on Hammond and Moog synths. However, Anneke and her boys rocked the house and heated up the audience. Still not really enthusiastic reactions... and I thought Greek people are hot-blooded…
As for me I find that Joris could partake in singing more often and that Anneke sounds best when she also rocks with her voice instead of this purring and whispering. Though this was a wonderful show.
Setlist: The World, My Girl, Hyperdrive (Devin Townsend Project cover), Ice Water, Trail Of Grief, Physical, Beautiful One, I Want, My Electricity, Shrink, Adore, Hey Okay, Papillon (The Editors cover), Witnesses
Being a fan for many years and somewhat of reconciled with the last record Moons And Mushrooms after some strange stuff in between I though got quite disappointed by :: LAKE OF TEARS :: They in fact played a nice best-of set including all albums, even the 94 debut Greater Art, but Mr. Brennare himself acted like a prole, spitting onto stage, trying to be super cool and acted pretty static, while the rest of the band played their asses off. In Cosmic Weed he totally paddled. From the current record they played only one and a rather unspectacular song and got stuck with the predecessor Black Brick Road. On the other hand… it was really great to hear old songs such as Raven Land, So Fell Autumn Rain and Hold On Tight ;)
Setlist: So Fell Autumn Rain, Hold On Tight, The Greymen, Cosmic Weed, Raven Land, You Better Breathe While There's Still Air, Demon You/Lily Ann, The Organ, The Shadowshires, As Daylight Yields, Boogie Bubble, Making Evenings, Crazyman
Ah… time passes by and expectations rise. Crowd gets close to the stage and mood finds its climax when :: PAIN OF SALVATION :: get on stage and start to kick asses with Used. It follows and almost 2 hours lasting show of extraordinaire with a set going thru all records and of course some surprises ;) At song six Daniel Gildenlöw takes a seat behind the drums and sends drummer Léo Margarit to the micro, who suddenly starts singing Nights In White Satin! You can imagine the faces of the fans? I bet you do ;) First they were speechless, then started to smile and laugh and applauded Léo for a great singing performance. Undertow again was performed so touching and emotional that there were some tears to spot. One of my PAIN OF SALVATION favorite songs! And with Conditioned we got a first taste of the upcoming double album Road Salt, set to released in spring 2010. Léo played a wonderful drum solo, where Daniel snuck upstairs onto a gallery with a bottle of water to wet drummer and drumkit *laughs* Photogenic! Besides, Johan, Per (Schelander - bass) and Daniel went wild as if there were no tomorrow, except for Fredrik, the cool man behind the keys ;)
Setlist: Used, Diffidentia, Linoleum, Ashes, Undertow, Nights In White Satin (The Moody Blues), The Perfect Element, Fandango, Handful Of Nothing, Drum Solo, Inside, If You Wait, Nightmist // Hallelujah (Leonard Cohen), Conditioned, Disco Queen
2 am and a fantastic concert evening find its ultimate end. I meet ch Lee Barrett (Candlelight, Elitist, Ascendance Records, Extreme Noise Terror), who is a huge PAIN OF SALVATION fan and still impressed by the show and Léo Margarit, who tells me that the band decided like an hour prior the show that he has to sing Nights In White Satin (as he did at earlier shows too).
A big thank you goes to Andreas and the stage security that cared for me, explained things and catered me with beer token and at the end got me on stage for some photos. I returned the favor and hopefully brought the bands closer to them ;) Greeks are really hearty people!
2.30 am I fall into my bed, at 5 am I have to be up again for the airport and me flight to Thessaloniki *coughs*