8/11 • Mainstage • Paradise Lost - Obituary - Mgla - Arcturus - Necros Christos - Tribulation -Gruesome - Mörk Gryning - I I
8/11 • Tent Stage • Purgatory - Bombs Of Hades - LIK - Graveyard - Ered
8/12 • Mainstage • Carcass - Exodus - Dying Fetus - Equilibrium - Destroyer666 - Angelcorpse - Bölzer - Obscura - Wolfbrigade - Goatwhore - Katalepsy - Isvind - Spasm
8/12 • Tent Stage • Bodyfarm - Decembre Noir - Implore - Vidargängr - Cryptic Brood
8/13 • Mainstage • At The Gates - Sodom - Taake - Immolation - Grave - Niefelheim - Memoriam - Suicidal Angels - Sulphur Aeon - Svarttjern - Iron Reagan - Rectal Smegma
8/13 • Tent Stage • Drowned - Rebaelliun - Weak Aside - Mor Dagor - Mosaic - Asomvel
[Dajana] Ah, here we go. Time has come for our annual ceremony of perdition. The PARTY SAN OPEN AIR 2016 calls its followers, and they follow all too willingly.
:: Stories :: Thuesday :: Friday :: Saturday ::
:: Pics :: Thuesday :: Friday :: Saturday :: Fans ::
[Dajana] There's hardly any need to discuss the billing, otherwise you will run the risk of repeating every year's encomia, as it happens with the bands. Some of them stopped by the third or even the fourth time within a handful of years, and this definitely narrows the anticipation. The line-up is still great, no doubt, and the shows of those bands asskicking, no matter if it is the third or fourth time. I'm much looking forward to see ARCTURUS for example, and GOATWHORE, MEMORIAM, NIFELHEIM and of course CARCASS. But also KATALEPSY and DECEMBER NOIR as surprising acts. Though, that way the PSOA is about to get boring and ordinary. Luckily, the festival has some other features that make it still awesome.
[Dajana] From an organizational point of view not that much has changed. Ticket prices have increased a little bit. There have been more bands. The Thursday started earlier on the main stage with more bands and a full set of bands in the tent. Well, you can do so or not. I prefer quality, not quantity. What was new was a vegan food booth. And a very destructive PARTY SAN OPEN AIR own Se7en Lords Irish Pub, offering Kilkenny plus the extremely delicious BEHEMOTH Sacrum Belgian IPA and quite a lot of exquisite Whisky brands.
[Dajana] Weather left a lot to be desired. During the day grey sky and dizzling rain, winterly temperatures at night so that you better did not went sleeping sober.
[BRT] Huh, first night (from Wednesday to Thursday) indeed put even the best winter sleeping bag to the test. In the morning you could hear everywhere boohoos and chattering of teeth. Freezing 3° C were rumored… WTF? Midsummer? August? Hello?
[Dajana] Another matter that was conspicuous: the security was harsher, especially in the photo pit. Stricter rules, stricter controls. Well, I guess, most recent events might have added its bit.
[BRT] Hmmhh, well… we got asked about glass bottles and gas at the entry but weren't checked any closer. But, okay… the we-only-want-the-party-people also increase at PSOA and may look exactly like that, what might have led to closer checks…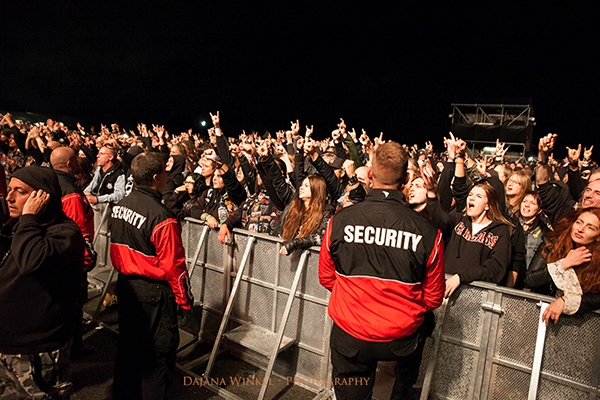 [BRT] The PARTY SAN OPEN AIR 2016 – Announced bands did not really kick me out of my socks. Too many of them I have already seen exactly on this stage here. Nonetheless, I was much looking forward to that family party. 4 days state of emergency in the parallel universe of Schlotheim.
Again I already arrived on Wednesday to attend the warm-up party and to push limits of the alcoholic possible. I entered the holy field at 3pm. The camping ground was already well-filled and the beer cold. Weather was debatable but people already in best mood and involved in drinking competitions. To avoid an early alcoholic disaster I escaped… just to bump into the next group of friends and to get sloshed. And so it went on and on, till I stumbled into the dark party tent, where I met more friends in the ethanol terminal stage. When the bar closed we got swept and probably needed the whole airstrip to get back to our tents.
[Dajana] At this point I would like to say thank you to everybody involved in the PARTY SAN OPEN AIR, but especially to the cleaning squad that all day and night cares for clean toilets and a clean meadow the next morning. And the security guys and girls that stand at the entries for 12hrs and more. Thank you for being there for us! ♥
[Dajana] And last but not least… with the end of PSOA 2016, announcements for the next year's edition were made. The PARTY SAN OPEN AIR 2017 will take place on August 10 – 12 with following bands already confirmed: NECROPHOBIC, VADER, DESASTER, MOURNING BELOVETH, URFAUST, MISþYRMING and HADES ALMIGHTY. Oh yeah, let's destroy the air field! ;)