• Mainstage • At The Gates - Sodom - Taake - Immolation - Grave - Niefelheim - Memoriam - Suicidal Angels - Sulphur Aeon - Svarttjern - Iron Reagan - Rectal Smegma
• Tent Stage • Drowned - Rebaelliun - Weak Aside - Mor Dagor - Mosaic - Asomvel
Red Breasts in a glass of Cognac
[Dajana] Well then, let's get started! ;) My arrival was likewise relaxed. No traffics, no problems, and I slipped through the Hell Is here gate, before long queues were built. My brand new 3 seconds tent lived up to its promise and was built in a twinkling of an eye. Wow. Awesome technology. Set up. Done. Time for the first Köstritzer and the first band. Life's great :)
:: pics ::
[Dajana] :: I I :: (Infernal Invocation) doesn't look like that but that's indeed a German black metal band. Really dark and extremely intensive.
[BRT] Yes, I I hail from Saxony and have already caused a stir with their debut EP, Omnivorous Void. They play a Death Metal tinged Norwegian styled Black Metal. And despite the early hour, the area is already well-filled. Melodies were hardly to find and generally I got reminded of destroying squads such as Teitanblood, Revenge and Archgoat. That was great as a festival kick-off, but I doubt that this kind of monotonous and nasty rumbling is entertaining over the course of a full-length.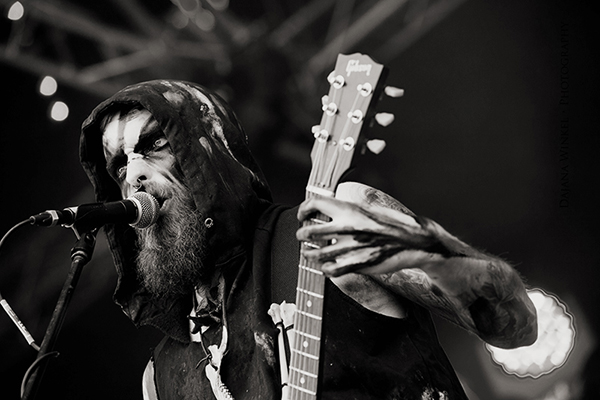 [Dajana] Now we for the first time tested the new Irish Pub with its huge Whiskey selection. First choice due to recommendations was the Redbreast Irish Whiskey. Great smell, great taste. Pretty mild and somehow fruity.
[Dajana] Swedish black metallers :: MÖRK GRYNING :: are about to celebrate their 25th anniversary (in 2018). Last time they played live was 15 years ago. So, to see them here playing was something special. Since their split up in 2005 they didn't release anything. But their debut, Tusen År Har Gått..., got now re-released on vinyl, for the very first time and that made the band so obviously happy. 2 of those LPs they threw into the crowd. Much likeable band, great show!
[BRT] Unfortunately, I only know the debut Tusen År Har Gått.... It's that kind of Black Metal that reminds of Dissection and Sacramentum. The beginning was rather rumbling and the band everything else then homogenous (guys, you better decide for one kind of stage outfit). Luckily, MÖRK GRYNING grew with every song and I could enjoy the one and the other catchy tune. The we-give-away-vinyl thing was indeed a great deal.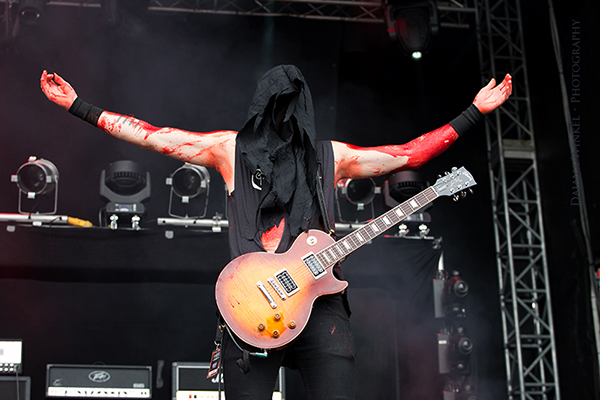 [BRT] Since Chuck Schuldiner refuses to rise from the dead, other bands have to step into the breach of serving Death-styled old school death metal. :: GRUESOME :: is such band. With one LP and EP under their belt they took the crowd by storm. You'll always win with music hinting at Scream Bloody Gore and Leprosy. This legacy still lives on…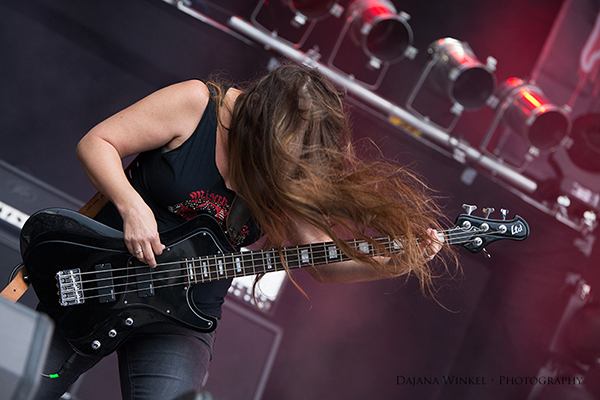 [Dajana] When :: TRIBULATION :: enter the stage, their music comes second, which is actually too bad, because their latest record Children Of The Night is stunning. However, meanwhile the band's capricious show came to the fore. Those, who didn't know the band kept asking if that is an all girl band or if there are girls in the band ;) What struck me was the fact that TRIBULATION, and especially guitarist Jonathan Hultén, played much cleaner and with less mistakes than at Rock Hard Festival, and this despite of all his hops and caper, while whirling and sashaying. Definitely an eye-catcher.
[BRT] TRIBULATION definitely presents themselves much better than on their last tour. Sound was great and the band seemed to be in high spirits, brimming of delight in playing. And especially songs from Children Of The Night were highlights to the Lord… erm… the other one, you know… ;)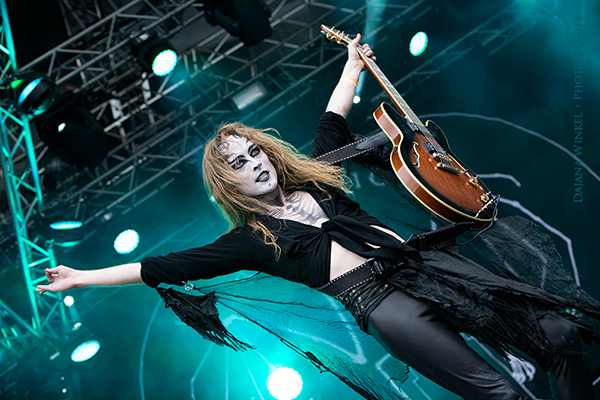 [BRT] :: NECROS CHRISTOS :: are and remain a force live on stage. Their raw death/doom metal with the willful growls by Mors Dalos Ra (be blessed…) already kicked asses 4 years ago at PARTY SAN OPEN AIR 2012, even if NOCTURNAL HALL master chief Dajana can't remember anything anymore from this show (and nothing else that followed…). Back then NECROS CHRISTOS also played on Thursday, and an early show. This year the sun and the blue sky were missing. As for that the show was even more intense.
[Dajana] Yes, and this time I was able to enjoy this show to the full and also can remember every detail (and that goes for the entire day and festival ;)).
[Dajana] Next up was :: ARCTURUS :: a band, I was much looking for. A show of the Norwegians can be an ambivalent matter, but lately, frontman ICS Vortex was in best mood and shape while touring with Borknagar, so I expected something great… And I did not get disappointed. ARCTURUS were downright brilliant, brimming of energy and great mood and served a set of great way-out melodies. I was blown away. Truly. An amazing show it was!
[BRT] Unfortunately, I'm not that familiar with ARCTURUS, although progressive bands of that genre -such as Borknagar, In The Woods and Enslaved - are pretty much my cup of tea. I see some backlog here. I liked the performance yet didn't get rid of the feeling that ARCTURUS were kind of misplaced at PARTY SAN OPEN AIR, as the band's sound is more intellectual and less party-compatible. On the other hand… the area was full and the crowd had its fun. Those people not liking that kind of music kept away anyway.
[Dajana] Because ARCTURUS are different they were not misplaced at PSOA, as the festival always features bands that come other genres. I love that.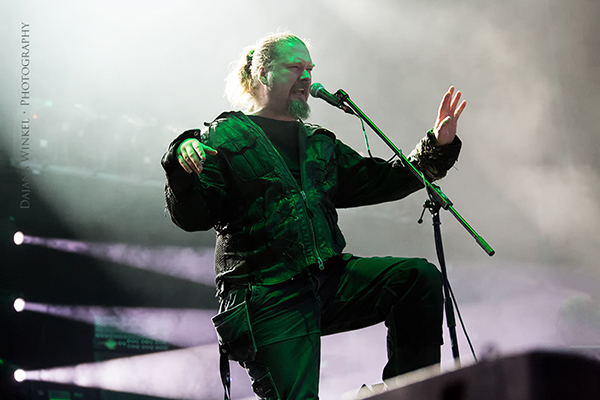 [Dajana] Finally I got the fog spirits performing live too. Polish black metal force :: MGŁA :: get pretty much hyped and appeal to a completely new kind of black metal fan. My expectations were high, but my résumé is rather sober. The show was visually quite statically and musically not as impressive as I expected. Hmm. Besides, it started to rain continually.
[BRT] On CD MGŁA is really a great band. Now I saw them playing live the second time and again, they couldn't enthuse. As Dajana said, stage-acting was static and boring, masks and hoods don't help either in that matter. It might be that my expectations were too high too, however, I prefer to listen to them on CD.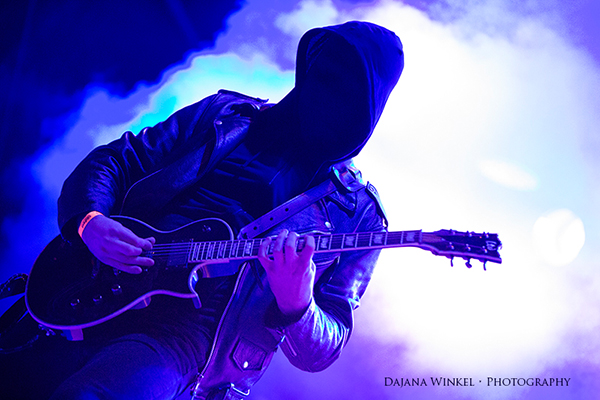 [Dajana] As the party went on, :: OBITUARY :: entered the stage as co-headliner of the first festival day. There is no need any more to introduce them. No need to talk much about their live performance. The Florida death metal veterans played a typical show. OBITUARY are always a force live on stage. And it's always a pleasure to watch them doing so.
[BRT] Boah, yeah, I like OBITUARY too, but this time they didn't touch me. Seems like the ongoing fuel-filling shows its effects.
[Dajana] There is also no need to introduce you to :: PARADISE LOST ::. The Brits are indeed an unusual headliner for the PSOA. However, as it happened several times in the past during their shows and despite the fact that Nick Holmes was in best shape vocally and all the great classics I still love, I can't do that much with them anymore.
[BRT] Much the opposite Ms Winkel! Nick Holmes was - as usual - far away from his top form. But the setlist was really outstanding. After many, many years, the old British gentlemen really captivated me. Okay, I didn't deal with the last 50 records but recognized some hits too. Backlog again? What one could criticize, if at all, is that the guys performed too reserved and too much into routine. Especially Mr. Mackintosh, who actually proved with his second band Vallenfyre that he can act much livelier.
[Dajana] Compared to the PARADISE LOST shows I have seen in the past, Nick Holmes was indeed in best shape and the band brimming over with energy. However, it was raining, I was freezing and I was tired. To listen to PARADISE LOST out of a warm, cuddly and comfortable sleeping bag was a pleasure too ;) Goodnight, over and out.