The Boys are back in Town
[Dajana] Yes, yes, yes! Leaving one festival ground, entering the next. Finally, time has come for our annual pilgrimage towards Schlotheim and the PARTY SAN OPEN AIR 2017.
:: Stories :: Thursday :: Friday :: Saturday ::
:: Pics :: Thursday :: Friday :: Saturday ::
[Dajana] In the run-up to the festival, only one change had to be announced: MORBID ANGEL had to cancel their entire European summer tour including the PARTY SAN OPEN AIR. And so, TRIPTYKON came into play. Um… wait… didn't Tom Warrior say in 2011 that he never ever would play this festival again? Well…
[Dajana] Prices for the tickets have increased this year (around 10 Euro, which is ok I think), even more significantly have the prices for food and drinks. Hmm, but the PSOA remains cheaper than most of the summer festival. Also security aspects got tightened again. The PSOA now also follows the "no-backpack-policy" on the festival ground. That's no drama. Ways are short at PSOA, there's actually no need for backpacks.
Big downer was the weather. Continuous rain, drizzling rain, showers of rain. It was wet and cold. It was no pleasure. Not a bit. But since you can't blame anyone for the weather, you just have to take it the way it is. Luckily, our beloved festival ground doesn't get muddy :)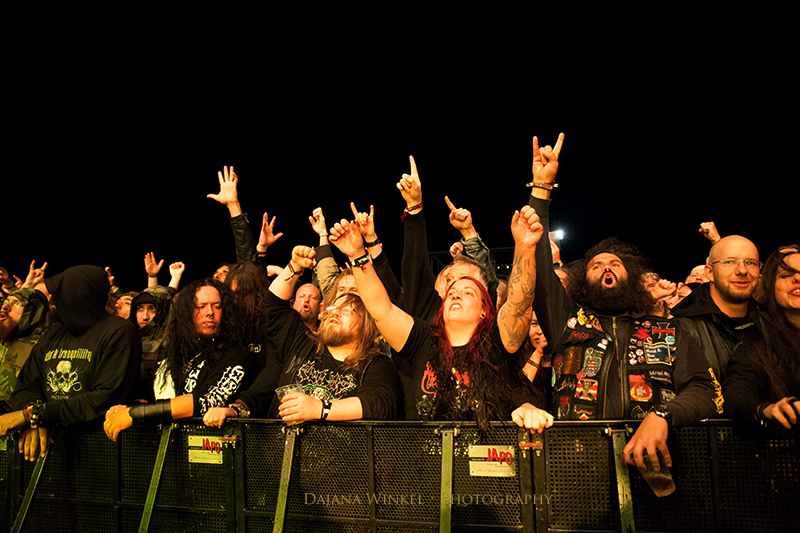 [Öko] Ok, here we go. This is my very first PARTY SAN OPEN AIR. Summing up all the effusive eulogies I heard about before, it must be THE festival of the year. True or not true? Read it in the following comments and the summery at the end of the report.
[BRT] Wednesday! Even though I arrived early, very early, the camping ground was already well-filled. The security was still relaxed and there were no queues at the gate to hell. It is becoming kind of a ritual for many to arrive already on Wednesday – no one wants to miss warm-up party ;) Friends were quickly found and the first beers and booze killed off. Later that evening the party tent was full… people too.