Hard to believe but PRONG finally made it to release a brand new record. Five years after the well-received Power Of The Damager Tommy Victor and his mates unleash Carved Into Stone, in my opinion a crushing piece of music and their matured and sophisticated work so far.
Not enough it's also the 20th anniversary of PRONG's legendary record Beg To Differ, which back then put them on the worldwide map with their unique blend of metal/industrial/groove that was their trademark for several years.
To celebrate both events properly PRONG embarked on a short but exclusive European tour playing extended 2-set show with Beg To Differ in a whole and a second one introducing fans to the new album, mixed with some classics. Yeah, the perfect Dajana-concert ;)
:: pics ::
For the last time in May I ride my horse… um… car towards the • Matrix • to assumedly experience one of the hottest shows this year. Expectations are high, anticipation as well. But, as life goes its own ways… expect the unexpected.
As we arrive we get shocked due to missing attendees. Too late? Too early? Wrong day? Not at all. As we expected usual fights for the best places in the first row taking pictures we actually had a photopit from stage to the mixing desk. Well… almost… ;) Great summer weather took its toll I guess… Second shock: no merchandise. Completely sold out it was said. Bummer.
Another surprise occurred as there suddenly was a support band by the name :: COAL BLACK :: Nobody knew anything about it, nor was it anywhere announced. It even seemed that the band itself didn't know that they had to play a show tonight. Must have been a last minute thing, for what reason ever. Anyway, I never heard of the band before. Not that much to learn about them either. COAL BLACK came into existence in 2010. No releases so far. And they play a common mix of melodic Metal/Core and heavy Rock. The guys had to play without their bass player and sober for the first time as the singer said. COAL BLACK played with much enthusiasm but nothing that left much of an impact.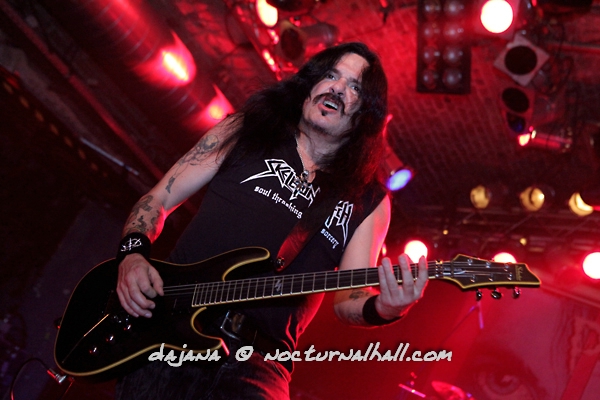 Short break and a beer and then Tommy Victor jumps onto stage. Literally. Time has come for :: PRONG :: Behind the drums Alexei Rodriguez (former 3 Inches Of Blood) is to find and on bass… no, it was not Dave Pybus *scratches head*… he came later. Replacing Tony Campos on this tour was first Matthew Brunson, actually guitarist in Crowbar. He seemed to be a bit insecure and played rather reserved in the background. As for that Tommy Victor was going wild, jumping, posing, pulling faces and getting the crowd up. There was much testosterone and aggression in the air as the crowd was freaking out. Suddenly our job turned into usual trench warfare again *laughs* And it got bloody hot.
Those who now thought we would get a well-sorted 2 set show (as I did) was mistaken. Once again. As PRONG finished Beg To Differ with Third From The Sun Tommy changed his guitar, Matt left, Cradle Of Filth's Dave appeared and they went on without any break with Another Worldly Device from the band's best selling record Cleansing. It followed 3 more songs with one new in between. PRONG came back for 2 encores with another new track from Carved Into Stone, with Matt on bass again.
To sum up that have been frantic 90 minutes with an utmost lively Tommy Victor. But for the final show on tour it was hardly spectacular. Though a great show!
Right after, around 30 seconds later, the band completely appeared at the non-existing merchandise with a pile of CDs and LPs and was already busy signing. Woah, that's great :) Got me copy too and finished a nice evening.
Setlist: For Dear Life, Steady Decline, Beg To Differ, Lost And Found, Your Fear, Take It In Hand, Intermenstrual, D.S.B., Right To Nothing, Prime Cut, Just The Same, Third From The Sun, Another Worldly Device, Revenge... Best Served Cold, Rude Awakening, Whose Fist Is This Anyway?, Snap Your Fingers, Snap Your Neck // Eternal Heat, Unconditional