An evening with friends
Yeah… this evening was supposed to be a grandiose one, already weeks ago :) Four bands – with the members of three I'm friends with for ages. HOWTWOBEATRAY I truly love to see playing live, KEZZA is always great for an ass-kicking Punk treatment and PROOF I finally wanted to see, a brand new Thrash Metal band from my hometown, consisting of notorious musicians I met 20 years ago for the first time (at least one of them) ;)
Additionally the event was set to take place in my hometown, which means to just fall out of the door, riding the bike and to kill some cold brewski (ok, car instead of bike due to rain and my photo stuff, ergo not so many beers…).
Generally I have to state that Muenster is riggin' up when it comes to shows, especially Metal shows. Not only the big ones get booked (as Dark Tranquillity for example next month), but also local underground acts. Great stuff!
:: pics ::
Slightly delayed :: HOWTWOBEATRAY :: got first onto stage. As of late the… um… Noise rockers made themselves bloody scarce, musically as well regarding live shows. The band's latest output Seelie/Unseelie dates back to 2006 and should have gathered layers of dust. Live I saw them last time in 2007 and I think, not so many shows followed. So, it's truly high time for a new dose of H2BR! Next to songs reflecting on the entire history HOWTWOBEATRAY also played three not so brand new songs anymore entitled Christmas Cookies, Grief Thief and Waterlow. The gal and her lads played a bit insecure, which doesn't wonder after such long time of stage absence. Apropos stage… those was tiny seeing the musicians standing on each others feet. Never mind! They had a blast, I had a blast, I loved to see them playing live again and I was happy to see that the old songs did not lose any of their magic :) I want more!
Setlist: Christmas Cookies, Fishermans Fiend, Unspoken, You Are Here, One Minute God, Snailraider, Grief Thief, Waterlow, Schmock, Betrayal, Die With A Smile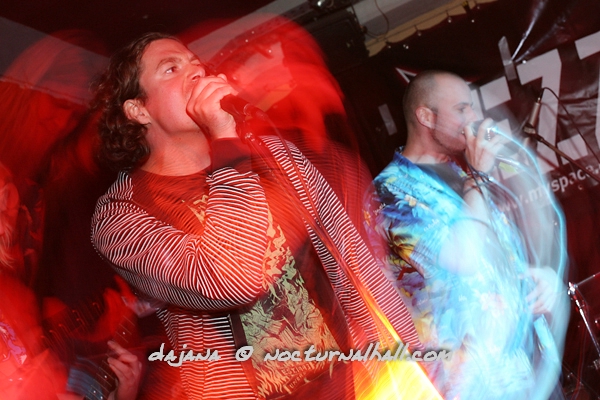 Hailing from Osnabrueck next act :: CUT THE WEAK :: was totally unknown to me. Emanating from the ashes of a band called Sirius in 2009 CUT THE WEAK blend Thrash and Death Metal with a few classic Metalcore elements. And I have to say it was fucking awesome! They so heavily kicked asses. Going wild and with his nonchalant announcements fronter Andreas Fröhlich had not to put much effort into mastering the crowd. The band's highly energetic and groovy performance made every single one having a good time. Yeah, it got to rock!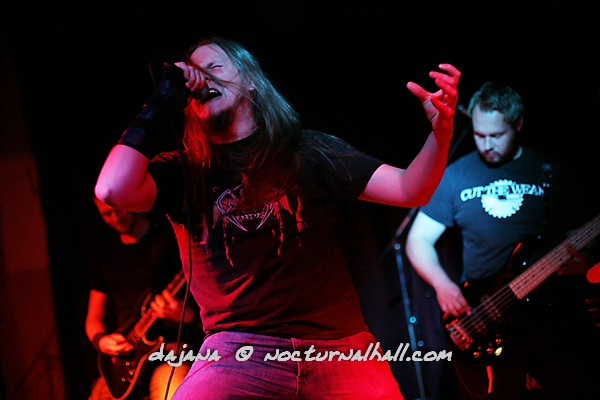 Before it was up to :: KEZZA :: to go on, the audience got almost completely changed. The metal heads went outside for beer and talks, while the Punks got in and close to the stage. Cutting loose with Rock'n'Roll Yakuza the crowd started freaking out. Female bass player Sandra already had her second round (she also plays in H2BR), while her singing lord and master Commaaaander loved to use the room in front of stage between his fans; as far as the chain… um… wire allowed him to go ;) Punk is political and so we got clear and clean statements. Even when the beer was empty… the boss left and got himself a new one from the backstage room ;) KEZZA have meanwhile released their debut entitled Songs For The Almost Dead, limited and on vinyl with wonderful cover artwork!
Setlist: Rock'n'Roll Yakuza, Outta My Way, Industry, Rock On, The Seed, Modern Victim, Highway Killer, Drowning, The Jugger, Homophobic Shitface, Hymns // Blitzkrieg Attitude
Clock was close to strike 12 and :: PROOF :: ready to deliver the final kick for the benevolent followers. Thrash Metal as its best with some restrained Hardcore leanings. With Vince PROOF finally found a great shouter pushing the band straight forward. Since the show was recorded also the fans gave their best moshing and headbanging in front of the stage. Having completed its line-up in late 2008 PROOF don't have a regular CD out yet, but the guys are working on it. As for now just check them out on their myspace site. After around one hour the guys were done and without any gadgets Vince led over to the encore and finished the evening in a much Brazilian style ;)
Setlist: Proud Of Order, President Of Chaos, Too Old, Dystopia, Living Room, Innocence, Said And Done, Higher Power, Powerless Actions, Nevermind // R+R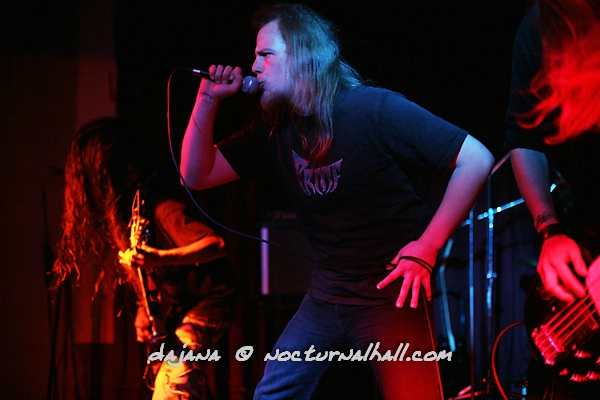 A splendid evening, yes! Even better than expected because of the old friends that surprisingly appeared and joined in :) I just hope that CUT THE WEAK felt welcome between all of us. This evening was more like a private party with friends than an official show ;) However, a big thank you goes to PROOF for organizing this event and let me claim this: I want such event at least once a week, please! :)