It came as a painful shock to us all when we had to learn that guitarist and founding member of Polish Prog luminaries RIVERSIDE, Piotr Grudziński, suddenly passed away last year. Of course, the band was left devastated, as Piotr was also a close friend since childhood days. Everything was put on hold and it wasn't clear how or if at all the band could go on. In the end, RIVERSIDE decided to carry on as a three-piece, to continue Grudziński's legacy, and released the unusual album Eyes Of A Soundscape, which is a collection of older experimental instrumental pieces in addition to four new tracks. It was a heart's desire of the late guitarist. At the end of last year, RIVERSIDE even announced a new record for 2017.
One year after Piotr's passing RIVERSIDE returned onto stage with two special and sold out comeback tribute shows in the band's hometown of Warsaw, Poland. It was likewise a farewell and the beginning of a new chapter, followed by the Towards The Blue Horizon Tour, a 4-weeks spanning live circuit with 5 shows in Germany.
:: pics :: RIVERSIDE ::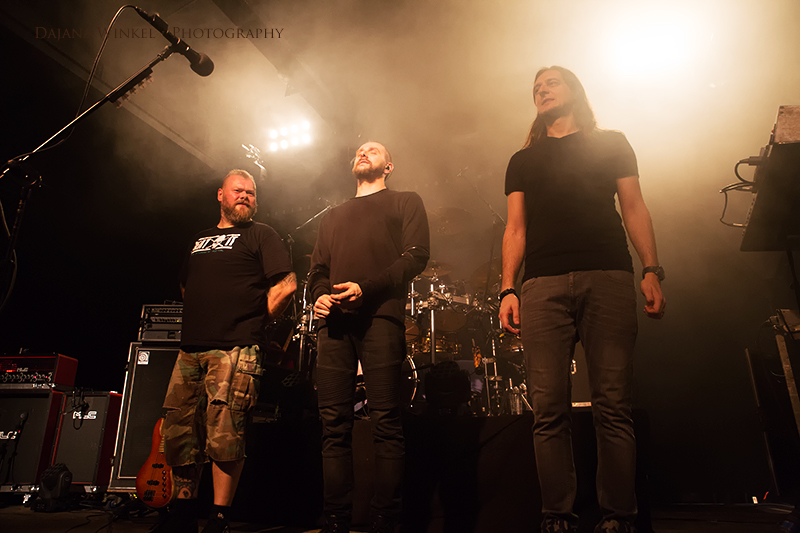 I have seen :: RIVERSIDE :: playing live only once so far, but those show back in 2013 was kind of a revelation. Hearing that the band would go on and start touring again, left me with a smile. To make it to the show at Cologne's finest :: Kantine :: made me downright happy.
It was a summer-like hot Sunday and the second to last show on this tour. I hit the road towards Cologne early as many traffic jams were announced. I bumbled through them smoothly and arrived shortly after the doors opened. As a result, I had enough time to explore the location (I never attended before), to get me some cooled drinks and to longingly watch all those planes taking off from the DUS airport nearby.
Outside I saw a broadcast van from Deutschlandfunk, inside, the photo pit was packed with cameras. Seems like the show got completely recorded and live-streamed.
The show was actually set to kick off at 7pm, early, even for a Sunday, but it was around a half hour later when the ambient-like and atmospheric Eye Of The Soundscape finally set in and wafted subtly through the hall to pull the fans in. Difficult task as it was really hot inside, and sweaty. Around 800 fans tried to fan their faces hectically, although the air condition ran at the maximum.
When RIVERSIDE finally entered the stage, the applause was frenetic. And there was so much love to sense. Instead of now getting into their set, lights went even brighter and the band bowed, genuinely thanked the fans for their never-ending support and love through those hard times and explained what this tour is meant for. That was heartfelt and heartwarming to witness… *sighs*
RIVERSIDE kicked off with Coda, in a really dark and melancholic version. On the quiet, live guitarist Maciej Meller joined in. Maciej and the band know each other for a long time and he just recently started a new project with RIVERSIDE main man Mariusz Duda (called Meller Gołyźniak Duda).
RIVERSIDE played a two hours set with material from 5 of their 7 records. Excellent Prog/Art Rock at the highest level. A warm sound cosmos embraced the audience, causing goose bumps, and supported by a harmonious light show. Every now and then musical heroes such as Pink Floyd, Steven Wilson and Anathema shone through, and though, RIVERSIDE is a band of its own, outstanding and unique.
The grief within the band was still perceptible and though RIVERSIDE emitted so many positive vibes. The musicians played with delight, smiled and looked at each other and to the audience. It felt like an intimate show within a family circle where everybody understands each other blindly.
The crowd celebrated every song, dwelled in sounds and music yet behaved restrained otherwise. As if they didn't want to disturb. It felt odd, somehow.Not like being at a rock show, more like being at a commemoration, what, in fact, it was. It became very emotional during the acoustically played Lost, where the fans were invited to sing along but somehow failed lyric wise. Especially poignant of course was the performance of Towards The Blue Horizon, a song once written for a fallen friend, which now became the hymn for Piotr Grudziński too. It was really heartbreaking. And there were many tears to see running down cheeks.
After 2 hours, RIVERSIDE finished a stunningly awesome concert evening the way they started with: with Coda, now played in a brighter and more positive version, a version that intends to look forward into the future, without sadness but with strength, power and love. Truly an evening of awesomeness!
Setlist: Eye Of The Soundscape (Intro), Coda (Dark Version), Second Life Syndrome, Conceiving You, Caterpillar And The Barbed Wire, The Depth Of Self-Delusion, Lost (Why Should I Be Frightened By A Hat?), 02 Panic Room, Saturate Me, Escalator Shrine, Before // Towards The Blue Horizon, Coda (Bright Version), Where The River Flows