Having missed STEVEN WILSON playing live in the last couple of years I finally could experience a spectacular, even magical headlining show at legendary Night Of The Prog Festival in 2013. Two years later, WILSON has released a new album, Hand. Cannot. Erase., his fourth solo record so far, which may be not that catchy and easily accessible as the previous one, The Raven That Refused To Sing, but nevertheless ain't less a masterpiece again.
:: pics ::
With this new album (entering German charts at #3), :: STEVEN WILSON :: embarks on an extended European tour and causes a run on the tickets, selling out some the shows still in the last year. So it happened to the show at Cologne's :: E-Werk ::, a special and memorable for WILSON, sold out since December last year. Lines are long and there are still fans outside the venue that still hope to snatch one last ticket for the show. Fans were whirling around for drinks and snacks but didn't really storm the pricey merchandise, even though the audience tonight was rather middle-aged and well-heeled. I was fancying a shirt (as if I wouldn't have enough shirts already… well, you NEVER can have enough, right? ;)) and the ltd. CD edition too but gave in eventually. Apropos… why are girlie shirts more expensive than men shirts? It's less cloth…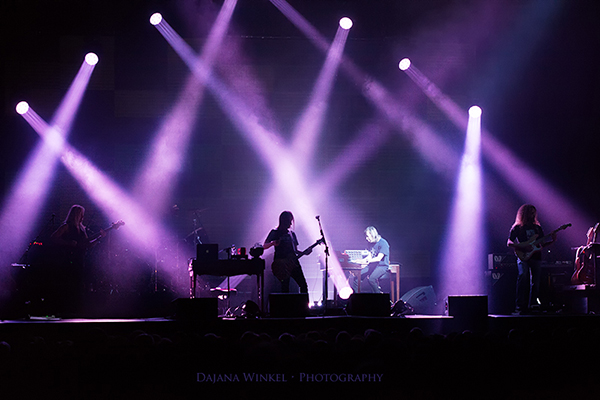 However, the venue is seated, so it takes some time till people have found their places. Much more it's the media people who cause problems, as nobody seems to know where to place us, especially the photographers. With the seats the photo pit is passé, we end up at the back wall… *grrr*.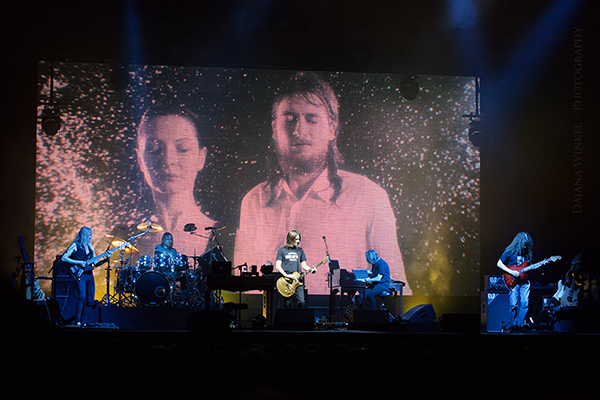 At 8pm lights go out and the (extended) album intro of Hand. Cannot. Erase. sets in to calm down people and let them ultimately take seats. STEVEN WILSON begins with the new album, of course, with the one older track and one Porcupine Tree song in between. Brilliant songs that creep under your skin, every one of them accompanied by a film, telling the story of Joyce Carol Vincent (read our review). The story is disturbing, touching, causes an oppressive atmosphere and leaves the listener with uncomfortable feelings. Despite of many rocking parts the crowd response restrained. Well, a seated venue does not invite that much to freak or rock out that lively. Of course, sound is stunningly perfect. And so is the light show. STEVEN WILSON himself is much talkative, remembers his first time in Cologne, jokes and thanks the fans for their ongoing loyalty.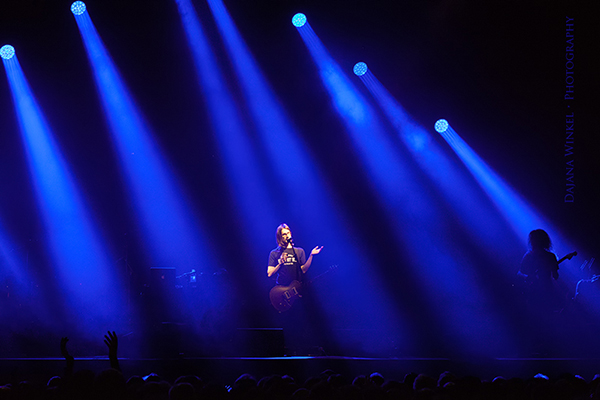 After a good hour kind of a break happens. A curtain falls and a clock intro leads to the second part of the show, consisting of The Watchmaker and Sleep Together, in the style of the The Raven That Refused To Sing tour 2 years ago. STEVEN WILSON finishes the concert evening after almost 2 hours with the title track of that album as encore (The Raven That Refused To Sing as ENCORE!). Now the fans jump up and give the whole band standing ovations while they frenetically applause. What a great show! Admittedly, STEVEN WILSON is a perfectionist and so I did not expect anything less, though a STEVEN WILSON show is such an impressing experience. For all senses. Only personal downer was the fact that we - as photographers - had to leave the hall after the third song. But we were allowed to follow the show from the foyer, through a streaky curtain… yeah! This is something I really need to nag about, because most of the photographers have also to write about the show. How, with only 3 songs seen where you concentrate of completely different things?
Setlist: First Regret, 3 Years Older, Hand Cannot Erase, Perfect Life, Routine, Index, Home Invasion, Lazarus (PT Song), Harmony Korine, Insurgentes, Ancestral, Happy Returns, (clocks intro), The Watchmaker, Sleep Together (PT song) // The Raven That Refused To Sing