[Psycho] British Heavy Metal veterans SATAN are always welcome. And it seems, they get better with every year but still have to lead an unvalued existence. Their just released new effort, Cruel Magic, does not leave anything to be desired for fans of both, sophisticated and powerful as well as crispy NWOBHM. So, tonight's show was a must-attend-event and the date saved early. Next to the popularity problem of the band there were also many top-class shows and events around the Ruhr area that night, so that not even 100 fans showed up at :: Rockpalast :: Bochum. For a band that has released its first album in 1983 surely a tough go. More about this aspect later, but first let's digest the steep ticket price.
[Öko] Yes, that was a shock. 30 Euro at the box office. If I would have known it before I would have stayed home. Well, since we are already here let's make the best out of this. [Psycho] 30 Euro for a show in such a small club is a lot, indeed. If this catches on, bands won't earn any money with touring anymore. And then? At least merch prices were acceptable but it is sad that this needs to be pointed out…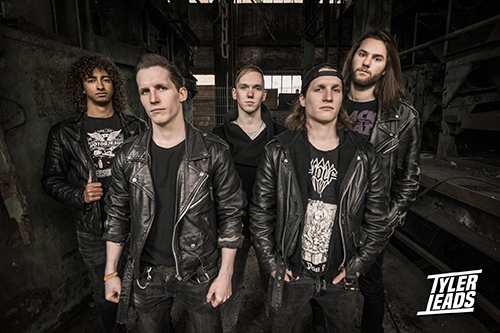 [Psycho] There was actually no announcement but there was a local support act. :: TYLER LEADS :: from a city nearby has secured this slot. I didn't know them before. The five-piece got off the grid with full force. Highly motivated they had a hard time not to bowl each other over. At least for the first minutes… There was a lot of action on stage. Musically, TYLER LEADS call themselves a heavy Rock band. To me it sounded much 70s influenced and with a proper portion of 80s Sleaze. Not really my cup of tea, so the spark rather skipped me. In general, you can't blame the guys. They master their stuff and didn't get confused by the reserved respond.
[Öko] Indeed, TYLER LEADS kicked off wild and passionate. It was a pleasure to hear and watch them. Unfortunately, they shot their wad quickly. After around the fourth track it sounded all the same and singer Johnny was stretched to his limits vocal-wise. That's why I left the last songs aside.
[BRT] Yep, TYLER LEADS got the party started with a high level of energy. Stage action galore. Acceptable Hard Rock with a proper dash of 80s Sleaze. The songs were powerful and driving. As it happens quite often, younger bands still lack of a proper vocal qualities, hooklines and cool refrains. As Öko already said, first songs were great but then everything got repeated. The guys tried hard but didn't came to the point anymore. Not bad at all yet with much room to evolve left.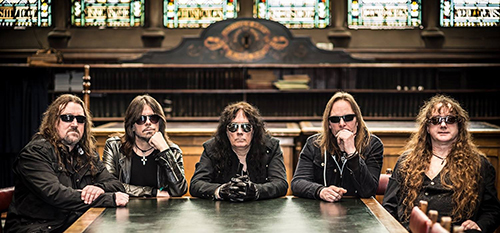 [Psycho] There was not much equipment on this tiny stage, though, it took its time till lights went out again.
[Öko] I was now much looking forward to this show. It's my third one and the first one in a club. Well, I cheered too soon. It took ages, till the overstrained sound engineer got everything ready. :: SATAN :: took it halfway easy but singer Brian Ross took a dig at him.
[Psycho] SATAN needed one song till they got along with the technical issues. But then all hell was let loose. To be honest, I never ever before have seen this band being so lively and talkative.
[Öko] Steve Ramsey was rocking out like hell. Russ Tippins mastered one excellent solo after another while Brian Ross delivered an awesome vocal performance and turned out to be a great entertainer. This all got accompanied by a superb rhythm machine, in particular by Graeme English (he really moved) and Sean Taylor.
[Psycho] Even more important is the music and here SATAN delivered a mind-blowing set. Steve Ramsey/Russ Tippins is a congenial guitar duo, probably the best from the UK since Tipton/Downing split. I loved their double-lined leads and hooks and generally their excellent riffwork: Always heavy yet melodic and catchy at the same time. You hardly can do it any better. Brian Ross again was not only highly entertaining but fantastic singing. No matter if aggressive tunes or high-pitched notes, he has hit them all perfectly. And despite his 60 years, he had much volume and power in his voice. Also the setlist was finely balanced, offering a mix of old and new material ranging from Court In The Act up to Atom By Atom. Also Cruel Magic was considered. Metal heart what more you can long for? Maybe The Fall Of Persephone as a smashing closer instead of the played Alone In The Dock? Well, that's surely a matter of taste and nagging on a spiraling high level. SATAN delivered an outstanding and memorable show. I hope they will go on like that for long.
[BRT] There is nothing to add. SATAN offered passion, enthusiasm, great song material and a vivid stage action. Brian Ross was downright a motormouth and especially in duet with Russ Tippins British humor was dished out at its best. SATAN are often referred to the NWOBHM but the guitar work of Steve Ramsey and Russ Tippins is actually a unique feature. Great!
[Öko] I agree. An awesome evening and at the end it was not that bad anymore that the ticket had cost 30 Euro.
Setlist: Into The Fire (Intro), Trial By Fire, Blades Of Steel, The Doomsday Clock, Twenty Twenty Five, The Devil's Infantry, Into the Mouth of Eternity, Break Free, Ophidian, Siege Mentality, Cruel Magic, Incantations, Legions Hellbound, Testimony // Kiss Of Death, Alone In The Dock